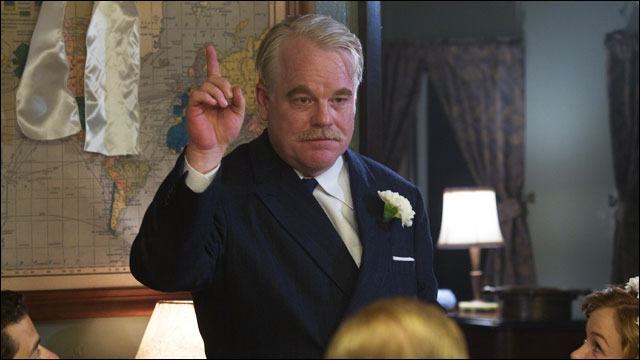 Call it a specialty B.O. revival.
Paul Thomas Anderson's "The Master," which has drawn raves on the festival circuit, may challenge the per-screen box office record set earlier this year by Wes Anderson's "Moonrise Kingdom," according to early Friday estimates. Another limited bow, Lionsgate/Roadside Attractions' "Arbitrage," is also doing healthy biz, while the 3D re-release of "Finding Nemo" has been underwhelming so far.
As of Friday afternoon, the Weinstein Co.'s "Master" was tracking at more than $120,000 per-screen from five locations in New York in L.A., compared to "Moonrise's" $130,752 per-screen from four theaters.
"It all depends on the late-night crowd," one insider says. "Right now it's ahead of 'Moonrise.' "
Starring Philip Seymour Hoffman, Joaquin Phoenix and Amy Adams, "The Master" is the first of the Toronto fest's buzz titles to hit theaters. Weinstein Co. is drawing more attention to the pic among film buffs by offering a special 70mm print of the Scientology-inspired drama.
"I think what 70mm was back in the '70s and '80s is what Imax is today," Weinstein distribution topper Erik Lomis recently told Variety. "It's a fantastic format and how the filmmaker envisioned his film to be seen."
"Arbitrage," starring Richard Gere, is banking on $750,000 Friday and roughly $2.3 million for the weekend at just 197 locations.
The Nicholas Jareki-directed financial thriller, like "The Master," will expand nationwide in the coming weeks.
Opening wide this weekend, Disney's 3D re-release of "Finding Nemo" should fall in the high-teens for the frame, well below the estimated $30 million forecast.
The largest Mouse House re-issue to date (2,903 screens), "Nemo" is neck-and-neck with the 3D offering of "Beauty and the Beast," which opened to a modest $17.6 million in January.
Sony/Screen Gems' 3D "Resident Evil: Retribution" should take the No. 1 spot for the weekend with just over $20 million, according to preliminary numbers.
Pic, directed by Paul W.S. Anderson and starring Milla Jovovich, is the fifth film in the "Resident Evil" franchise, based on the popular horror videogame.