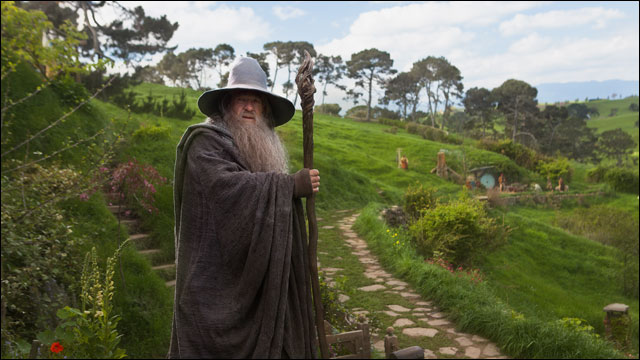 UPDATE: According to Friday estimates, Warner Bros.' "The Hobbit" is on track to become the highest December opening of all-time with an estimated $85 million weekend in the U.S., but won't reach the soaring nine-figure domestic totals that some had predicted.
Peter Jackson's first of three "Hobbit" features earned a total Friday cume of $36 million, which includes last night's midnight haul of $13 million.
While the numbers for the "Lord of the Rings" prequel are slightly down from analysts' predictions, WB and New Line's $600 million trilogy is getting off on the right foot, with an additional $27 million abroad through Thursday.
The previous December record in the U.S. was set by 2007's "I Am Legend," which opened to $77.2 million for Columbia/Sony.
—————————–
"The Hobbit: An Unexpected Journey" barreled onto Stateside screens last night, earning $13 million, of which Imax contributed $1.6 million. Midnight start supports a $100 million-plus opening at the U.S. box office.
Warners' tentpole, directed by Peter Jackson, earned an additional $16m overseas Thursday, including $3.4 million in the UK (68% of the marketshare). "The Hobbit's" foreign cume now stands at $27.3m from 42 markets.
Held at 3,100 midnight locations domestically, with 326 Imax, the strong latenight start matches what the pic has been collecting in advanced ticket sales: Two days prior to its release, "The Hobbit" was outpacing "The Avengers," which earned $17 million this summer in advanced ticket sales.
Probably the best recent midnight comparison for "The Hobbit" would be "Skyfall," which earned $4.6 million from Thursday late-night showtimes. That pic wound up earning $88 million opening weekend — though Bond had a significantly older core demo vs. "Hobbit," which attracts fanboys and benefits from higher-priced 3D.
"Hobbit" expands today to 4,045 total domestic locations.
Stuart Oldham contributed to this story