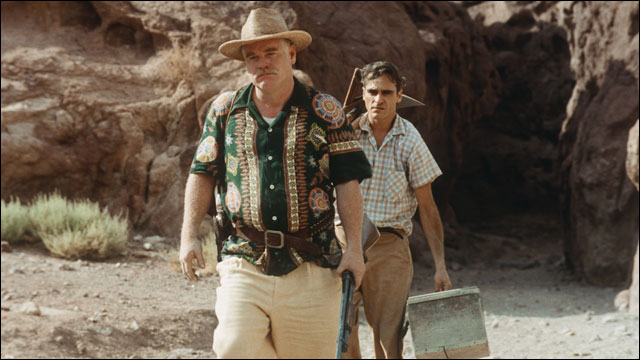 It turns out size does matter — for distribs looking to make an outsized impression for their prestige pics.
Once considered the premium format for franchises like "Star Wars" and "Indiana Jones," 70mm projection has become a boutique format reserved largely for retrospective screenings. But distribs of "The Master," opening today at five locations, and large-scale docu "Samsara," which opened three weeks ago, see the premium presentation as more than just a nod to nostalgic curiosity.
"Master" distrib the Weinstein Co. and "Samsara" distrib Oscilloscope are marketing the 70mm dates as a unique incentive for audiences to see their visually arresting films in theaters, as opposed to on a small multiplex screen or the TV at home.
But the near-relic technology can be both challenging and pricey to implement.
Paul Thomas Anderson's "The Master," which shot in 70mm, bows at New York's Village East and Lincoln Square and the Cinerama Dome and Landmark in L.A. Next to the Dome, moviegoers will be able to see "The Master" with digital projection at the ArcLight Hollywood. Of course, as a film-only medium, 70mm is reserved for theaters still projecting on film rather than digital.
Of the nearly 9,000 commercial film screens left in the U.S., only about 25 have equipment in good enough working order to screen 70mm, while a handful more are in various states of disrepair. And few of today's projectionists have the skills to handle the costly prints.
Weinstein plans to expand "The Master" to roughly half of the nation's 70mm-capable screens — as well as eventually widening to potentially thousands of digital theaters. But the format carries a hefty pricetag of about $13,000 per print — more than 10 times the average print fee. Ideally, ticket sales will help offset the added cost of prints, and the Weinstein Co. is singling out 70mm in its print advertising.
So far, advanced sales have been strong for "The Master" in 70mm, with a sold-out midnight Thursday screening at the Cinerama Dome.
"I think what 70mm was back in the '70s and '80s is what Imax is today," said Weinstein distribution topper Erik Lomis. "It's a fantastic format and how the filmmaker envisioned his film to be seen."
But as Imax becomes known as the format for 3D kidpics and superhero epics, 70mm provides an upscale cachet that's underlined by the limited numbers of theaters that can show it.
Weinstein carried out Anderson's vision by sneaking "The Master" over the past few weeks at 70mm locations in Chicago, San Francisco, New York and L.A. The sneaks came before even the film's so-called world premiere at the Venice Film Festival on Sept. 1, irking some Lido organizers. "Master" won Venice prizes for director and actor, shared by Joaquin Phoenix and Philip Seymour Hoffman.
"Samsara," meanwhile, has played solidly via Oscilloscope Laboratories for three weeks Stateside, cuming nearly $500,000. Last weekend the docu, from "Baraka" filmmakers Ron Fricke and Mark Magidson, scored the nation's No. 7 top-grossing engagement overall — the ArcLight's Cinerama Dome, which contributed $23,586 in three days.
"Samsara," a sprawling, dialogue-less world tour of everything from sacred rituals to disaster zones, was shot on 70mm film over a five-year period in 25 countries. Pic expands today from 25 to 67 locations.
Film orgs have long used 70mm as a lure to get cinephiles away from their DVD collections. The Academy of Motion Picture Arts & Sciences recently hosted the "Last 70mm Film Festival," featuring 70mm screenings of "It's a Mad, Mad, Mad, Mad World," "The Sound of Music," "2001: A Space Odyssey" and a new print of "Spartacus." The Acad apparently is in talks to host another 70mm film festival, based on the success of the first.
And the American Cinematheque, which uses the slogan "Movies on the big screen as they were meant to be seen," hosts regular 70mm screenings at the Egyptian Theater, such as "Vertigo" on Sept. 29.