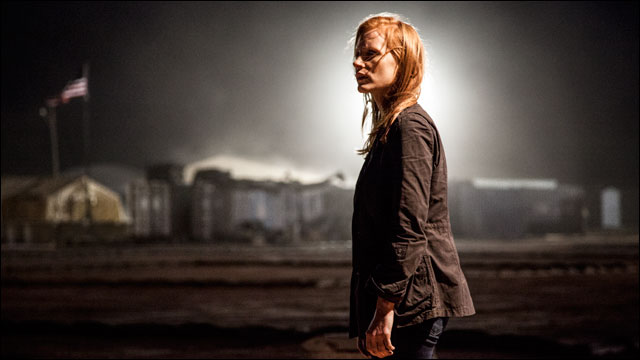 "Zero Dark Thirty" has been named the top film of the year by the National Board of Review.
The recognition comes after the New York Film Critics Circle named "Zero" top film on Monday.
Kathryn Bigelow and Jessica Chastain of "Zero" were also honored in the director and lead actress categories, but adapted screenplay honors went to David O. Russell for "Silver Linings Playbook," which also took best actor for Bradley Cooper.
The original screenplay nod went to Rian Johnson's "Looper." Supporting acting honors went to Leonardo DiCaprio of "Django Unchained" and Ann Dowd of "Compliance."
"Wreck-It Ralph" was named top animated feature.
"Argo" director Ben Affleck earned recognition for special achievement in filmmaking, while his co-star John Goodman drew the spotlight award for his work in that pic along with "Flight," "ParaNorman" and "Trouble With the Curve."
Tom Holland ("The Impossible") and Quvenzhane Wallis ("Beasts of the Southern Wild") received breakthrough acting honors. "Beasts" helmer Benh Zeitlin won for top directorial debut, and "Les Miserables" was awarded a best ensemble prize.
Honors for top foreign-language film and documentary went to "Amour" and "Searching for Sugar Man," respectively.
The NBR also bestowed two Freedom of Expression awards, to "Promised Land" and "The Central Park Five."
In addition to "Zero," the NBR named its remaining top films of the year in alphabetical order: "Argo," "Beasts," "Django," "Les Miserables," "Lincoln," "Looper," "The Perks of Being a Wallflower," "Promised Land" and "Silver Linings."
" 'Zero Dark Thirty' is a masterful film," said NBR prexy Annie Schulhof. "Kathryn Bigelow takes the viewer inside a definitive moment of our time in a visceral and unique way. It is exciting, provocative and deeply emotional."
Top foreign films after "Amour" were (alphabetically) "Barbara," "The Intouchables," "The Kid With a Bike," "No" and "War Witch," and top docs after "Sugar Man" were "Ai Weiwei: Never Sorry," "Detropia," "The Gatekeepers, "The Invisible War" and "Only the Young."
The NBR's alphabetical list of top independent films was "Arbitrage," "Bernie," "Compliance," "End of Watch," "Hello I Must Be Going," "Little Birds," "Moonrise Kingdom," "On the Road," "Quartet" and "Sleepwalk With Me."
A year ago, the NBR gave top awards to "Hugo" and Martin Scorsese for film and director, along with thesps George Clooney and Shailene Woodley ("The Descendants"), Tilda Swinton ("We Need to Talk About Kevin") and Christopher Plummer ("Beginners"). The most recent Oscar best picture winner that was also tapped by the NBR was "Slumdog Millionaire" in 2008.
Meredith Vieira will host the NBR annual gala Jan. 8 in New York.
Complete list of winners:
Best Film: "Zero Dark Thirty"
Best Director: Kathryn Bigelow, "Zero Dark Thirty"
Best Actor: Bradley Cooper, "Silver Linings Playbook"
Best Actress: Jessica Chastain, "Zero Dark Thirty"
Best Supporting Actor: Leonardo DiCaprio, "Django Unchained"
Best Supporting Actress: Ann Dowd, "Compliance"
Best Original Screenplay: Rian Johnson, "Looper"
Best Adapted Screenplay: David O. Russell, "Silver Linings Playbook"
Best Animated Feature: "Wreck-It Ralph"
Special Achievement in Filmmaking: Ben Affleck, "Argo"
Breakthrough Actor: Tom Holland, "The Impossible"
Breakthrough Actress: Quvenzhané Wallis, "Beasts of the Southern Wild"
Best Directorial Debut: Benh Zeitlin, "Beasts of the Southern Wild"
Best Foreign Language Film: "Amour"
Best Documentary: "Searching for Sugarman"
William K. Everson Film History Award: "50 Years of Bond Films"
Best Ensemble: "Les Miserables"
Spotlight Award: John Goodman ("Argo," "Flight," "Paranorman," "Trouble with the Curve")
NBR Freedom of Expression Award: "Central Park Five"
NBR Freedom of Expression Award: "Promised Land"
Top Films
(in alphabetical order)
"Argo"
"Beasts of the Southern Wild"
"Django Unchained"
"Les Miserables"
"Lincoln"
"Looper"
"The Perks of Being a Wallflower"
"Promised Land"
"Silver Linings Playbook"
Top 5 Foreign Language Films
(In Alphabetical Order)
"Barbara"
"The Intouchables"
"The Kid with a Bike"
"No"
"War Witch"
Top 5 Documentaries
(In Alphabetical Order)
"Ai Weiwei: Never Sorry"
"Detropia"
"The Gatekeepers"
"The Invisible War"
"Only the Young"
Top 10 Independent Films
(In Alphabetical Order)
"Arbitrage"
"Bernie"
"Compliance"
"End of Watch"
"Hello I Must Be Going"
"Little Birds"
"Moonrise Kingdom"
"On the Road"
"Quartet"
"Sleepwalk with Me"