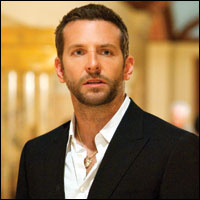 From the start, Bradley Cooper (Hollywood Actor Award) knew he wanted to work with director David O. Russell on "Silver Linings Playbook." "O'Russell," as Cooper calls the helmer, "is irresistible for an actor. From 'Spanking the Monkey' all the way up to 'The Fighter,' he's made great films. Initially it was David who was irresistible because truthfully, when I read the script I was a little nervous. I didn't know if I could fill Pat Solitano's shoes," he says of his mentally disturbed character. "I had to have faith in him, that he had faith in me and that he gave me over to his process."
It helps that Solitano is someone he might know. "I could relate to his obsession with the Eagles. I'm from Philadelphia, and half Italian. I worked with Bob (De Niro) before and trusted him and could believe in his being Dad. That gave me an anchor. Two days into shooting I just loved the collaboration — and it kept going."
It's easy to see why director and actor clicked. "He loves diving into the inner workings of family and a neighborhood and creating that real world. For an actor that's heaven — and it happens on-set. You're discovering on camera. It's high energy and exciting."
It worked so well, in fact, they'll do it again: "In February we're going to make another film together."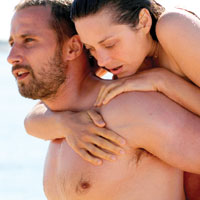 Marion Cotillard (Hollywood Actress Award) is surprised that helmer Jacques Audiard cast her to play a woman who trains killer whales in "Rust and Bone."
"Jacques Audiard is one of the best directors we have in France and I really wanted to work with him, although I never thought he'd want to work with me one day," she says.
Why wouldn't any helmer want to work with the powerhouse thesp who has fueled "La Vie en Rose," "Inception," "Midnight in Paris" and "The Dark Knight Rises"?
"This is something I cannot really explain because I don't know why I thought I wouldn't be the kind of person he'd want to work with. It was just something I thought. I know that's nuts," Cotillard says. "This question I had in mind for myself, but he really rarely works with famous actors."
As Edith Piaf, Cotillard became only the second actress in Academy Award history, following Sophia Loren, to win best actress in a non-English speaking role. "Rust and Bone" puts her in this awards season in another French-language drama.
"Like the first time, I don't see this like 'awards season,' " she says. "I see it as a chance to share with people I love a film with a different audience, a different culture. I'm really taking an adventure with the movie. I want to take the road with this and see where it leads us. What we do as actors is sharing stories. When people like or even love what we do and then we have a reputation for it, it's like the cherry on the cake."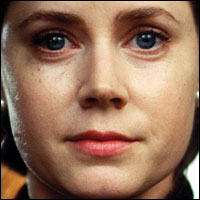 This fall at the cinema, Amy Adams (Hollywood Supporting Actress Award) offers a stark contrast, co-starring as Clint Eastwood's career-driven daughter in "Trouble with the Curve" and as a cult-driven spouse in "The Master."
"I shot them a year apart," Adams recalls. "So I was glad I didn't have to shoot them at the same time. That would have gotten difficult."
As Eastwood's spunky only child, Adams found "a contemporary character, someone I could have been friends with. Playing someone who was so similar to myself, I felt really exposed and vulnerable. But at the same time, it was a great opportunity to explore a father-and-daughter relationship, you don't see that a lot in film."
"The Master" was not such a cozy fit. Adams called it "a totally different, surreal process. I had to lose myself in a character to which any similarities I had or not similarities that I want to bring out of myself — well, to lose myself in a character like that, it doesn't feel as good at the end of the day. Let's just put it that way."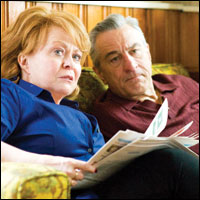 Robert De Niro (Hollywood Supporting Actor Award) lined up with hesitation to work in "Silver Linings Playbook."
"I read the book even before I had the script," he says of Michael Quick's novel, "and I'd seen David O. Russell's movies and I always wanted to work with him. He changed the character I play, this father, in a good way. It was that simple."
The changes to Pat Solitano Sr. were significant, yet not. "In the novel he's more taciturn, more someone who just doesn't communicate. A great character — and this is like the reverse, he talks!" says De Niro.
De Niro counts himself a fan of Russell's kinetically charged directing style. "It's a very particular way of working," the actor notes. "David is very spontaneous; he knows that world and is comfortable taking all the points of view of the characters. What they should say now. He'll throw lines at you while you're doing it. It's all moving all the time. That allows for a certain spontaneity, which is great. It gives it an energy and that's essential."
Hollywood Film Awards 2012
Ensemble kudo's big impact
The Awards
Producers | Actors | Comedy | Spotlight | New Hollywood & Breakout Performance | Animation | Career Achievement | Breakthrough Director | Director | Below the Line