Whether as mixers, editors or designers, these pros helped shape the soundscapes of some of the season's Oscar contenders.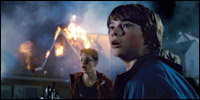 Anna Behlmer
"Thor," "Super 8" and "Puss in Boots" mixer has "It" factor
Sound mixer Anna Behlmer has worked with premier helmers including Michael Mann and Steven Spielberg. In 2011 alone the 10-time Oscar nominee's work could be heard in "Thor," "Super 8" and "Puss in Boots."
And she really wishes she could tell you that she always wanted a career in sound.
Behlmer came in contact with sound work when her then boyfriend and now husband, Curt, was working as a sound engineer. While visiting him at work, someone suggested she get a union card and start working in sound, so she jumped in and never looked back.
Since then, Behlmer has worked at notable sound houses like Todd-AO and at Fox's sound department. Soon she'll start work at the new Technicolor facility on the Paramount lot. She's also had a longtime collaboration with fellow sound mixer Andy Nelson, with whom she shares Oscar nominations. But she sees legendary Richard Portman as an a pivotal figure in her early career.
"I don't know if there was a moment when I knew I could be a good mixer," says Behlmer. "But Richard Portman, who had worked on 'The Godfather' and 'Deer Hunter,' taught me a lot about mixing and he said to me one day, 'I've trained a lot of people and you know when someone has it and when they don't. And you've got it.' "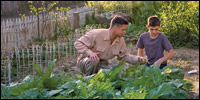 Craig Berkley
Quirky noises in favorite films inspire "Tree of Life" sound designer
Craig Berkey favors the sorts of small, quirky and singular sounds he heard in his favorite films, long before he'd ever worked as a sound editor or mixer.
"In 'Barton Fink' there's this sound of a bell that you hear through the entire hotel when the main character is trying to get someone's attention," says Berkey. "I remember thinking at the time how great that was because it set the mood and showed you something new about the character."
These days Berkey is a regular on Coen brothers projects. He was their sound designer and sound re-recording mixer on "A Serious Man" and "True Grit," the latter of which brought him Oscar noms in both sound editing and mixing.
Berkey's sound sensibilities have also made him a frequent collaborator of Terrence Malick on such projects as "The New World" and "The Tree of Life." He is now beginning work on Malick's latest film.
"Doing a film with Terry (Malick) is great because he really wants you to be honest with him and tell him what you think, even when you don't like something," says Berkey. "The hard part comes when he asks you to come up with a sound that signifies consciousness."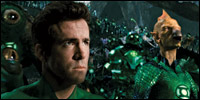 Karen Baker Landers
Hearing-impaired father taught editor the importance of sound
As the daughter of a man with severe hearing loss, Karen Baker Landers was keenly aware of the power of sound.
"My dad loved the sound of a thunderstorm," recalls Landers. "He loved all the crackles, wind noises and the sound of the rain. So shortly before he died, when he had almost completely lost his hearing, I gave him a recording of a storm that he would listen to over and over again on his headphones."
Landers, who took home an Oscar along with longtime collaborator Per Hallberg for sound editing 2007's "The Bourne Ultimatum," was given a tape recorder to play with as a child. She instantly loved capturing all the sounds around her and being able to play them back.
Now a supervising sound editor with Soundelux in Hollywood, Landers has worked on films as diverse as "Ray" and "The Proposal." In 2011 year her work could be heard in "Green Lantern" and "I Am Number Four."
However, there's one type of film she'd still love to do.
"I'm dying to do a horror film like 'The Sixth Sense' because you really get to play with the way sound can get an audience ready for a big scare and then scare them even more when something happens," laughs Landers.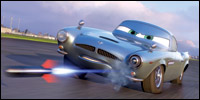 Tom Myers
Three-time Oscar nominee thrives at Skywalker Sound
Tom Myers knew he'd landed someplace special when he started work at Skywalker Sound.
"There was just this attitude here of sharing ideas and giving feedback on each other's work," says Myers, a three-time Oscar nominee. "You can walk down the hall and you have the legends of sound like Gary Rydstrom and Randy Thom right there if you want an opinion on something."
Myers, whose work can be heard in 2011's "Cars 2" as well as past Pixar hits "Toy Story 3," and "Up," went to film school thinking he'd become an editor. During his studies he realized the huge impact sound had on the overall outcome of a film. He was hooked.
Upon arriving at Skywalker, Myers soon learned that it wasn't about using sounds that were a precise reproduction of the noises made by whatever was on screen at the time. It was more important to use sounds that made dramatic sense, regardless of their actual origin.
"On 'Cars 2' and 'Cars' at first there was this idea of using the sound made by the exact make and model of car that was in the scene at first," says Myers. "But it wasn't quite working and we ended up adding other sounds that felt right for the story instead."
Eye on the Oscars: VFX, Sound & Editing
Long pics spur sly tricks | Oscar lacks home for 'designers' | Sound minds | Bakeoff buzz: Heart trumps hardware | Shorter vfx reels demand new strategy | 'Bridesmaids' editors took long view