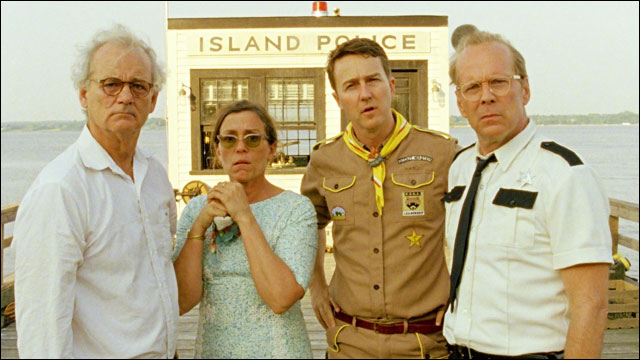 Wes Anderson's "Moonrise Kingdom" took home the trophy for best feature at the 22nd annual Gotham Awards, held Monday at Cipriani Wall Street.
Focus Features' whimsical tale of young romance ranks as the second-highest grossing specialty release of the year. "Moonrise" beat out Paul Thomas Anderson's "The Master" and "Bernie" and lower-profile titles "The Loneliest Planet" and "Middle of Nowhere" for the top prize.
Wes Anderson was not on hand to accept the kudo (he's prepping his next pic in Germany), but moppet Jared Gilman charmed the crowd by thanking "my mom for dragging me to all those auditions."
Kudos, administered by the Independent Film Project, are among th e earliest of awards season, timed to stir up attention for indie fare that might not otherwise receive major awards.
"Your Sister's Sister," starring Emily Blunt, Rosemarie DeWitt and Mark Duplass, edged out higher profile fare for the ensemble performance award. Duplass noted that Blunt and DeWitt worked for $100 a day on Lynn Shelton's IFC Films pic.
Fox Searchlight's "Beasts of the Southern Wild," which had a large cheering section at the ceremony, was recognized by the Gothams as helmer Benh Zeitlin earned the breakthrough director trophy. Zeitlin also took the inaugural Bingham Ray Award, which comes with a $60,000 camera package.
"This ain't no time to sit around crying like a buncha pussies," Zeitlin said in accepting his helming award. "Let's go make movies."
The breakthrough actor trophy went to Emayatzy Corinealdi for Participant Media's "Middle of Nowhere." Helmer David France's "How to Survive a Plague," about early AIDS activism, claimed prize for documentary feature.
The audience award went to "Artifact," the Jared Leto-directed docu about the making of last album by his band, 30 Seconds to Mars. He was on hand to accept the award, though he was introduced under the pseudonym he used on the pic, Bartholomew Cubbins.
The toon "An Oversimplification of Her Beauty," helmed by Terence Nance, won the category of "best film not playing at a theater near you."
Mike Birbiglia, writer-director-star of IFC's "Sleepwalk with Me" (and a nominee for breakthrough actor), hosted the ceremony that also included career tributes to director David O. Russell, thesps Matt Damon and Marion Cotillard and Participant Media founder Jeff Skoll.
Skoll was introduced by Ava DuVernay, director of Participant-produced "Middle of Nowhere." "I just think you're pretty badass," she gushed.
"Silver Linings Playbook" thesps Jacki Weaver and Amy Adams were on hand to fete Russell. "Excelsior," Russell said, in a nod to the pic, in accepting his award.
Cotillard was feted by thesp and former co-star Billy Crudup. John Krasinksi delivered the tribute to Damon, starting by rattling off nonsense about the thesp from IMDB's message board.
"I'm very grateful for what I do," Damon told the crowd. "I've never taken it for granted, and I never will."
Winner's List:
Best Feature
"Bernie"
"The Loneliest Planet"
"The Master"
"Middle of Nowhere"
"Moonrise Kingdom" – WINNER
Best Documentary
"Detropia"
"How to Survive a Plague" – WINNER
"Marina Abramavi?: The Artist is Present"
"Room 237"
"The Waiting Room"
Best Ensemble Performance
"Bernie"
"Moonrise Kingdom"
"Safety Not Guaranteed"
"Silver Linings Playbook"
"Your Sister's Sister" – WINNER
Breakthrough Director
Antonio Méndez Esparza, "Aquí y Allá (Here and There)"
Benh Zeitlin, "Beasts of the Southern Wild" – WINNER
Brian M. Cassidey, Melanie Shatzky, "Francine"
Jason Corlund, Julia Halperin, "Now, Forager"
Zal Batmanglij, "Sound of My Voice"
Breakthrough Actor
Mike Birbiglia, "Sleepwalk with Me"
Emayatzy Corinealdi, "Middle of Nowhere" – WINNER
Thure Lindhardt, "Keep the Lights On"
Melanie Lynskey, "Hello, I Must Be Going"
Quevenzhané Wallis, "Beasts of the Southern Wild"
Best Film Not Playing at a Theater Near You
"Kid-Thing"
"An Oversimplification of Her Beauty" – WINNER
"Red Flag"
"Sun Don't Shine"
"Tiger Tall in Blue"