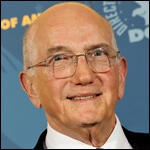 ED SHERIN
Honorary Life Member Award
Ed Sherin was indebted to the DGA long before it announced that he would be presented this month with its Honorary Life Member Award.
About 20 years ago, the DGA bailed him out with a lump-sum retirement payout after he and his wife, actress Jane Alexander, were swindled out of their life savings.
"The fat was in the fire, and they pulled it out," says Sherin, DGA national VP from 1997-2004.
Sherin, a gunnery officer in the Korean War, is being honored for a career that has included work in theater, film ("Valdez Is Coming") and television ("Law & Order"). He joins a distinguished list of winners that includes the likes of Frank Capra, Walt Disney and Charlie Chaplin.
"It's humbling, to say the least," he says. "I had no idea or intention of going into the entertainment business, so the fact that I did and I succeeded and never had to work in anything but the business is quite remarkable to me."
DENNIS MAZZOCCO
Franklin J. Schaffner Achievement Award
For Dennis W. Mazzocco, who helped telecast 12 Olympic Games, getting the DGA's Franklin J. Schaffner Achievement Award is almost like winning a gold medal.
"It's definitely the most prestigious award I've ever gotten," Mazzocco says of the honorarium given to an associate director or stage manager in recognition of service to the industry and DGA. "This is something that really makes one humble."
Mazzocco, abandoning college plans to become a doctor, first made his broadcasting mark at ABC Sports but eventually expanded his resume to include news programs such as "Nightline" and Good Morning America," variety and reality shows such as the Academy Awards broadcasts and "Dancing With the Stars" and daytime serials.
"I wanted to be part of this incredible, powerful medium," Mazzocco says of his career choice. "It was sort of a campfire, if you will, that people were drawn to."
KATY GARRETSON
Frank Capra Achievement Award
Katy Garretson, awardee of the DGA's Frank Capra Achievement Award, envisioned a career in law before a college job as a Universal Studios tour guide shifted her interest toward the entertainment industry.
"I wanted to work in politics — I wanted to change the world," says Garretson, recipient of an award given to an assistant director or unit production manager in recognition of her career and service to the industry and DGA. "That's kind of what drew me into getting involved in the guild because it really is the government of Hollywood."
Garretson, whose career as an assistant director included a long stint with "Frasier," considered her work with the guild a second fulltime pursuit.
"It was important to me to make a difference," she says. "I tended to be somebody who spoke out when I felt something needed to be said, and I was able to rally the troops, so to speak."
DGA AWARDS 2012
Post-party obsession | DGA Awards have film-TV imbalance | Inner circle