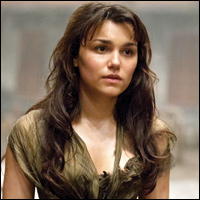 Samantha Barks
"It all started," says "Les Miserables's" Samantha Barks, "when I was 17 on 'I'd Do Anything,' a TV show in England that's a reality search from Andrew Lloyd Webber to find Nancy in 'Oliver!' "
Barks made the final three — "of 15,000 people!" — got an agent and "my first official job," Sally Bowles in "Cabaret."
Then she was cast as Eponine in the West End's long-running "Les Miserables" for a year and shone in the 25th anniversary production at the O2 Arena in London in 2010.
It was while she was onstage, finishing a perf, that Cameron Macintosh emerged from the wings to announce she'd been cast in the movie. "It was the hugest surprise I've ever had," she says, but not a complete one.
"I'd been put through my paces," Barks notes, with 15 weeks of auditions. "It was extremely hard core and every time I went in it made me want it more."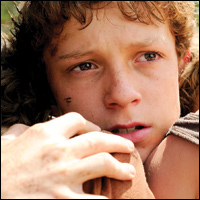 Tom Holland
Tom Holland is another young Spotlight Award honoree who comes from the stage, having starred in "Billy Elliott" in the West End.
"Six weeks after leaving 'Billy' I was in Spain in a water tank," Holland says of his turn in "The Impossible," which re-creates the 2004 tsunami in Thailand. "I was so fit from 'Billy' for all the training I had to do, physically there wasn't much of a change."
Holland, now 16, plays Lucas, the eldest son of a family devastated by the disaster.
Holland credits his emotionally charged perf to acting coach Bob Perkins and the real Lucas.
"When I met Lucas at the end of the shoot, I didn't know who he was because he'd grown so much. I was speechless. He gave me one of the most important insights, which was: People didn't cry. Crying was a privilege. Most people went into shock. You had to be strong but also unaware."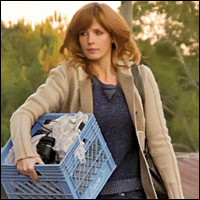 Kelly Reilly
For her first made-in-America movie, "Flight," Kelly Reilly plays Nicole, a masseuse whose heroin habit is the occasion to meet Denzel Washington's alcoholic pilot.
"Oh God, she's complicated," Reilly says of Nicole. "She's somebody who's had life thrown at her and not been able to handle it as well as other people. We don't know too much how she got into it. She finds herself at a very, very low place — that's where we meet her and it's do or die. She has to get out of this. Or she dies."
Nicole's American accent was a familiar acting challenge for Reilly, best known here as Jude Law's paramour in the "Sherlock Holmes" films. But addiction was something else.
"There's a scene where she has to shoot up. I had no idea. But it isn't like other jobs where you learn to drive a car."
Reilly spoke to someone who knew how to shoot up and the side effects. "It was intense. It was wonderful. It was different," she notes.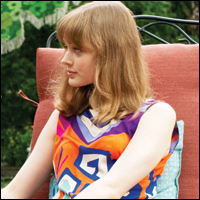 Bella Heathcote
Heath Ledger's family, following his death, set up an annual scholarship fund, which Bella Heathcote won. "It was $10,000 and airfare to the States, basically a start-up fund to come to L.A. to give it a shot," says the "Not Fade Away" thesp from Down Under.
Heathcote got her shot almost immediately, being cast as Amanda Seyfried's doomed mother in the sci-fi thriller "In Time" and then going up for David Chase's debut feature, "Not Fade Away," playing a 1960s New Jerseyite whose life changes from the sounds of rock 'n' roll.
"There was a lot of auditioning for that, five or six times over six months. Then the screen test itself went for seven hours and that was great. I walked away thinking, 'If this is all I get, I'm happy.' "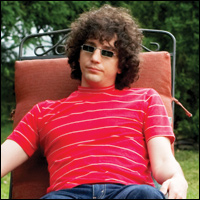 John Magaro
"Not Fade Away" is also the key to John Magaro being honored at the Hollywood Film Awards.
The Cleveland native had "sung in the shower and bars" and played drums "goofing around in my cousins' basement. But I had no real training."
Yet Chase picked Magaro to play, essentially, a young David Chase — a New Jersey teen who hears a new era dawn in the rock 'n' roll of the Rolling Stones and starts his own band. "They had to do a lot of work to teach me," Magaro admits.
The thesp was given drum lessons by Andy White, who played with the Beatles years ago on 'Please, Please Me.' It's amazing, he's from that era and plays the traditional style and whipped me into shape to be a drummer."
And then there was Steven Van Zandt. "Steven in the booth was like our Phil Specter, guiding me on what to do," says the thesp.
Margaro's bewildered dad is played by none other than Tony Soprano himself, James Gandolfini. They'd worked together a few years ago in "Down the Shore."
"It felt like are reunion," says Magaro. "But still, having Jim Gandolfini come grabbing your throat and push you into a table, it's easy to get there when he's coming at you."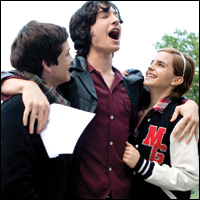 Ezra Miller
Ezra Miller's turn as an out-and-proud high schooler in "Perks of Being a Wallflower" follows his very different perfs as demonic and drug-addled teens roles in, respectively, "We Need to Talk About Kevin" and "Another Happy Day."
"It was a great deal of fun to play someone with that deal of comfort in their own skin. He has a margin of that beyond what I'm capable of," says Miller.
In contrast to sociopathic Kevin, Miller's Patrick is fun-loving, funny, outgoing but often humiliated and hurt by his love for a closeted football player.
"He's 18 and has a long way to go," Miller says. "I always saw him as a proud person experiencing the least prideful moments of his life."
Next up is "Madame Bovary" opposite Mia Wasikowska. "I'm ready to put on a pantaloon," he reveals.
Hollywood Film Awards 2012
Ensemble kudo's big impact
The Awards
Producers | Actors | Comedy | Spotlight | New Hollywood & Breakout Performance | Animation | Career Achievement | Breakthrough Director | Director | Below the Line