The five leading actors for comedy or musical get their laughs for sure, but each has something serious going on underneath as well.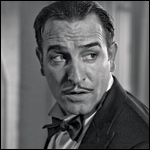 Jean Dujardin
"The Artist"
The eponymous central figure of "The Artist" shares a key characteristic with the picture itself. Just as Michel Hazanavicius' ode to silent cinema's heyday is a collage of images, devices and tropes pulled from the best of the art form, so Valentin seems to be a composite of Golden Age starpower. Look carefully at Dujardin in closeup, and you'll identify Fredric March's brow and laughing eyes; Douglas Fairbanks' moustached, toothy grin; Maurice Chevalier's reckless insouciance; John Barrymore's schnozz. To complete the picture Dujardin adds a quality all his own, an unquenchable optimism through thick and thin. "Yes, I'm down," his smile says. "Yes, I'm in trouble. But it'll all be OK." With the coming of sound, this uncompromising artist is about to lose his very means of expression, yet his vitality fuses us to him in fellowship. The best actor prize at Cannes and SAG nom were well deserved, for this performance transforms what might have been a formal stylistic experiment into a warmhearted tribute to the resilience of the human spirit.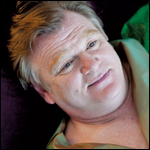 Brendan Gleeson
"The Guardian"
If the most memorable movie cops are the rogue originals, then Brendan Gleeson's Sgt. Boyle qualifies for the pantheon in John Michael McDonagh's engaging, badass variation on "In the Heat of the Night." We all remember Sidney Poitier sailing into Sparta, Miss., to set Rod Steiger straight, but this time it's the visiting cool black cop Wendell (Don Cheadle) who does the underestimating, and the sloppy, bigoted gobshite who turns out to know what's what. Gleeson's is a gleeful, complicated piece of work that plays both to and against stereotypes. He can't keep his big mouth shut about racial differences (rude remarks are understandable, he says; he's Irish). But though Wendell thinks Boyle's an imbecile, over and over we can see he's considerably sharper than anyone in the movie ever expects him to be. "I don't know whether you're really motherfucking dumb or really motherfucking smart," announces an exasperated Wendell. We do. Both pic and performance are really motherfucking smart.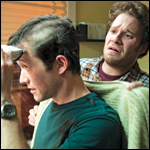 Joseph Gordon-Levitt
"50/50"
The romantic interests of quirky 20-year-olds are a standard movie preoccupation, but at least when they're put in the hands of Joseph Gordon-Levitt, you know you're likely to get a lot more than snappy wisecracks and moony love scenes. The erstwhile kid star of TV's "3rd Rock From the Sun" is fully grown into a cinema actor of ambition and range, equally at home in edgy indies ("Hesher") and massive mainstream hits ("Inception"). For his second nom in this category, after 2010's "(500) Days of Summer," he finds welcome reserves of humor in Adam Lerner, an NPR staffer battling a malignant strain of cancer and discovering his personal blind spots in the process. Seemingly determined to minimize all unnecessary sentimentality, Gordon-Levitt charts a variety of moods to reflect his reactions to the disease's progress, and even more impressively takes chemo with old pros Philip Baker Hall and Matt Frewer, and manages to hold his own with the geezers.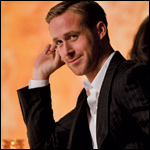 Ryan Gosling
"Crazy, Stupid Love"
Most movie stars have a slick romantic comedy or two on the resume, and Ryan Gosling pulls off his first one with distinction. He's utterly believable as the ultimate tomcat playah with the Photoshopped abs, but also rather winning as he takes middle-aged bourgeois shlub Cal (Steve Carell) under his wing. "I don't know whether to help you or euthanize you," his Jacob observes, yet his narcissism never goes overboard because Gosling insists we appreciate his genuine desire to rescue a new friend. And the performance truly takes off once he finds out protege Cal is actually the father of the girl he's loving and losing. All of a sudden, the cocksure guru becomes the humble grasshopper seeking enlightenment, a turnabout as unexpected as it is delicious. Leave it to Gosling, perhaps the least "actor-y" of all young actors today, to endow a slight (though pungent) romantic comedy with a big hunk of emotional truth.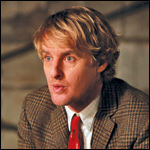 Owen Wilson
"Midnight in Paris"
Owen Wilson's brand of louche California cool doesn't usually find its way into the Woody Allen universe, except occasionally as a source of satire in something like "Annie Hall." Yet the thesp proved an ideal fit for this year's most colorful romantic fantasy, portraying a hack screenwriter of tentpole pix who becomes the starry-eyed prisoner of Parisian magic. Polite yet earnest, compulsively sincere, he's completely credible as an aspiring serious novelist eager to tap into the wisdom of Hemingway, Salvador Dali and Gertrude Stein. The filmmaker has hired numerous stand-ins over the years to convey the Woody Allen character's querulous anxiety and intellectual manias, but surely none has ever been more gracefully charming, or easier to empathize with when he falls under the City of Light's spell. Gil Pender keeps wondering whether his talent runs deep enough, but we never entertain any doubt about whether Owen Wilson's does.
GOLDEN GLOBES 2012
Tales trump top talents | Globes embrace TV's new, offbeat shows
THE NOMINEES
Drama: Picture | Drama: Actor | Drama: Actress | Comedy: Picture | Comedy: Actor | Comedy: Actress
Animation
The Cecil B. DeMille Award: Morgan Freeman