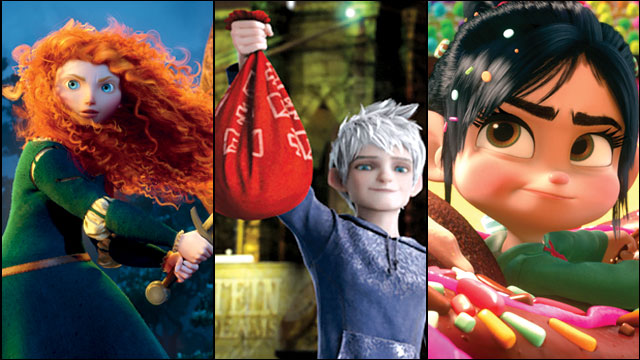 "Brave," "Rise of the Guardians," and "Wreck-It Ralph" lead the Annie Awards with 10 nominations each.
ASIFA-Hollywood chose eight animated pics, including three from the Disney-Pixar stable, to compete for the top prize at the 40th annual Annie Awards. Nominees are Pixar's "Brave," Disney's "Frankenweenie" and "Wreck-It Ralph," Sony's "Hotel Transylvania," Focus Features' "ParaNorman," DreamWorks Animation's "Rise of the Guardians," Aardman's "The Pirates! Band of Misfits" and GKids' "The Rabbi's Cat."
DWA's "Dragons: Riders of Berk" led the TV contenders with 10 nominations.
Disney led in overall nominations with 33. Add in Pixar's 10 bids and it was a big day for the Mouse House family. DWA and Nickelodeon followed with 26 apiece across all categories. No other studios came within striking distance of animation's big three.
ASIFA-Hollywood prexy Frank Gladstone said that there were more submissions this year than ever before. "I'm very excited by this year's slate of nominees," he said.
At least 30 toon studios are represented in this year's contest.
"How cool the wider community recognized us and so many of our crew with all these nominations," said Sam Fell, who is nommed for directing "ParaNorman." "It's a really competitive year, so I certainly wasn't counting on it."
The field for animated pics has been incredibly full this year, with 21 toons making the Academy of Motion Picture Arts & Sciences' Oscar-eligible list, assuring five nominees in the category this year.
The Annie winner doesn't always go on to win the Academy Award for animated feature. They mirrored each other from the time the Acad added the category in 2001 until 2006, when "Happy Feet" won the Oscar after "Cars" had won the Annie. Since then, the Oscars have mirrored the Annies every other year, including last year's winner "Rango."
Another milestone in animation this year is the number of stop-motion pics. Three are vying for kudos this year: "Frankenweenie," "ParaNorman" and "The Pirates."
Said Chris Butler, nommed writer and co-director of "ParaNorman": "I think it's clear there are a lot of filmmakers out there who love stop-motion and are wanting to use it to tell their stories. If you look at the three stop-mo movies this year alone, they're so different, both aesthetically and in tone. I think, at the very least, they show that stop-motion is still a vital and vibrant artform that is going to be around for a long time."
In the main television categories, nominees included episodes of "Adventure Time," "Dragons: Riders of Berk," "Penguins of Madagascar," "SpongeBob SquarePants," "Fairly Odd Parents" and "The Legend of Korra" for best TV production for children. Episodes of "Archer," Bob's Burgers," "Motorcity," "MAD," "Robot Chicken" and "South Park" will vie for best general audience animated production.
For the first time, the Annies has a category for student film. Nominees are "Can We Be Happy Now," by Tahnee Gehm, "Defective Detective" by Avner Geller and Steve Lewis, "Head Over Heels" by Timothy Reckart, "I Am Tom Moody" by Ainslie Henderson, "Ladies Knight" by Joseph Rothenberg, "Origin" by Jessica Poon, "The Ballad of Poisonberry Pete" by Karen Sullivan and "Tule Lake" by Michelle Ikemoto.
Special laurels will be handed out to Argentine animator Oscar Grillo, filmmaker Terry Gilliam and Disney's Mark Henn, who will receive the Winsor McCay Award for lifetime achievement in animation at the ceremony. Howard Green, Disney's VP of studio communications, will receive the June Foray Award for charitable contributions to the industry. The Ub Iwerks Award for technical achievements will go to Toon Boom Animation Pipeline.
The Annie Awards will be held Saturday, Feb. 2, at UCLA'S Royce Hall.
The nominees: