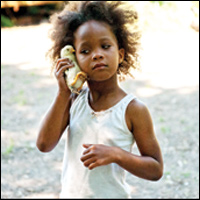 Quvenzhane Wallis
At age nine, Quvenzhane Wallis (New Hollywood Award) is definitely the youngest of the many thesps being honored by the Hollywood Film Awards this year.
Just 5 years old when she played plucky, pint-sized Hushpuppy in "Beasts of the Southern Wild," Wallis carries this magical-mystical tale of Louisiana Island residents surviving Hurricane Katrina on her shoulders.
While she's watched "Beasts" several times, what she sees onscreen is pretty much what every body else sees. "She acts like another person and yet I know it's me," the fourth grader says. "I love all the stuff I did, although I didn't like handling fish. They're too slimy."
Wallis has just finished her second film, Steve McQueen's "12 Years of Slaves" with Brad Pitt.
Asked about filming with a superstar, Wallis confides, "It was fun because I had people I could play with and hang out with."
Explains her mother, Qulyndreia Wallis, "That was the little boy on set. He may have been 5 years old and he plays the son and she plays the daughter so in-between takes they play together."
Take that Mr. Pitt.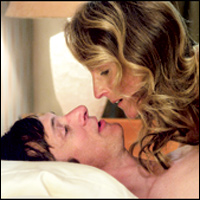 John Hawkes
John Hawkes (Hollywood Breakout Performance Award) has a few years on Wallis. He's even been Oscar-nommed, for "Winter's Bone." But it's expected that his turn in "The Sessions" will definitely raise his profile. That's a bit of a problem for the 53-year-old Hawkes.
"For me to be effective requires a certain anonymity. I'm trying to cling to that as much as I can," says the actor.
That may be difficult once moviegoers see his turn as iron lung polio-struck poet Mark O'Brien. "The Sessions," a Sundance hit, chronicles the true story of an iron-lung polio-struck poet whose quest to not die a virgin.
Initially, Hawkes had to convince writer-director Ben Lewin that he was right for the role. "The story goes that he had watched 'Winter's Bone' and said, 'What! That old guy?' and wasn't convinced. But I guess he saw something in me as we met," says Hawkes.
Hawkes studied O'Brien by watching the doc "Breathing Lessons."
"An amazing learning tool," Hawkes says. "It gave me a lot of specifics of Mark, his physicality, his attitude, his voice."
Hawkes says he likes specifics. Plus, "for the memory of Mark and for those who survive him, his family and friends, I wanted there to be something in my performance that they could somehow see their friend or relative in what I had done."
Hollywood Film Awards 2012
Ensemble kudo's big impact
The Awards
Producers | Actors | Comedy | Spotlight | New Hollywood & Breakout Performance | Animation | Career Achievement | Breakthrough Director | Director | Below the Line