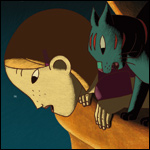 "A Cat in Paris"
Why it'll win: Directed by Alain Gagnol and Jean-Loup Felicioli, this charming French mystery thriller starring a light-fingered cat, a little girl and the photogenic back alleys and rooftops of Paris is the other surprise wildcard in the nominations. Aimed squarely at kids, the 2D toon tells the story of 7-year-old Zoe who discovers that her cat is moonlighting as the real thing — a cat burglar who helps a local thief steal from the rich. And its Oscar chances got a boost thanks to its Annie and European Film Award noms.
Maybe not: Although the animation is pretty and the jazzy score effective, the very short feature (a mere 65 minutes) ultimately feels a little lightweight for adults. And two cat-centric films may be one too many for Oscar voters — especially fans of "Tintin"'s Snowy who's already been kicked off the podium by a lizard and a panda.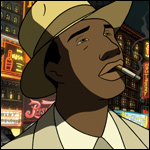 "Chico & Rita"
Why it'll win: In a year that's snubbed some very high-profile projects — including "Cars 2" (making it the first Pixar film to not be nommed since the category was created 10 years ago), "The Adventures of Tintin," "Rio," "Arthur Christmas" and "Happy Feet 2," the Spanish film "Chico & Rita" is one of two little pics that could to make the cut. And it's easy to see why the winner of the European Film Award beat out some of the big boys. Co-directed by Fernando Trueba (whose "Belle Epoque" took the 1993 foreign-lingo prize), designer Javier Mariscal and Tono Errando, the small-budget ($13 million) but ambitious film for adults tells an epic story of love, passion and heartbreak set in the jazz worlds of Cuba, New York, Paris and Vegas across several decades, and is the only nom starring people rather than animals.
Maybe not: While it showcases classic hand-drawn 2D animation, and also features infectious music (and animated cameos) by such jazz greats as Thelonious Monk, Charlie Parker, Cole Porter, Dizzy Gillespie, Woody Herman, Tito Puente and Chano Pozo, it may be too retro for its own good.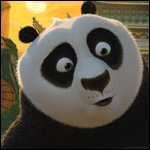 "Kung Fu Panda 2"
Why it'll win: The sole sequel among the bunch, the boisterous CG comedy has a lot going for it: a stellar, international voice-over cast that includes Angelina Jolie, current Oscar nom Gary Oldman and Jack Black, and its lively storyline, colorful animation and celebration of Chinese culture and art helped make it a critical and global hit (it pulled in over $653 million, of which $500 million was international). It was also the first DreamWorks Animation feature directed by a woman — Jennifer Yuh Nelson, who graduated from such projects as "Madagascar" and "Spirit: Stallion of the Cimarron." And that may resonate with many voters.
Maybe not: Harder-hearted voters may resent the occasionally heavy-handed, self-help book approach to abandonment issues, repressed memories and the power of tears to heal.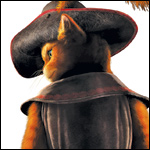 "Puss in Boots"
Why it'll win: Directed by "Shrek 3's" Chris Miller with an appropriately light and charming touch, executive produced by Guillermo del Toro, and produced by DreamWorks Animation, the CG 3D family-friendly feline feature, which once again stars Antonio Banderas (in his eighth performance as Puss), did surprisingly well, both critically and at the box office. Set in a golden, romanticized version of old Spain, the visually captivating prequel to the "Shrek" films racked up nearly half a billion dollars worldwide and was nominated for animated film by such bellwethers as the Globes, the Annie Awards, the PGA and the BFCA. And strong voice-over work from Puss sidekicks Salma Hayek as Kitty Softpaws and Zach Galifianakis as Humpty Dumpty, as well as Bill Bob Thornton and Amy Sedaris as the murderous villains Jack and Jill, adds to its luster.
Maybe not: Voters may feel the tabby tale is just too fluffy. And in an era of outsourcing-backlash, the fact that "Puss in Boots" was partly animated in India may not sit well.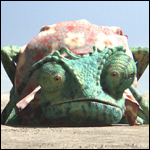 "Rango"
Why it'll win: With "The Adventures of Tintin" out of the running, the first animation film for both "Pirates of the Caribbean" veteran Gore Verbinski and industry VFX powerhouse ILM looks stronger than ever. Paramount pic scored universally glowing reviews (an 88% on Rotten Tomatoes) and charmed auds to the tune of over $242 million worldwide, making it the 18th highest-grossing film of the year. And its victory at the BFCA awards — a reliable predictor of Oscar gold, along with a rack of crix wins can only help its chances. Aesthetically, it also marks a distinct change of pace from the usual toon offerings. Instead of cute, warm and fuzzy characters and corny jokes, this subversive Western starred a delusional bug-eyed chameleon antihero and went for offbeat humor, quirky sight-gags and a photo-real scuffed look that intentionally blurred the line between animation and live action.
Maybe not: Despite critical kudos and impressive BO, its lizardy hero, unconventional attitude and funky outside-the-box visual approach may be a bit too much for play-it-safe Oscar voters.
EYE ON THE OSCARS: BEST PICTURE NOMINEES
Best Picture | Director | Animated Film | Documentary | Foreign Language Film