Related: Samsung Galaxy orbits Apple
Apple, Amazon, Motorola and Nokia may have had the tech community buzzing with new product reveals this month, but Hollywood also has a reason to pay attention. The new screens — from smartphones to tablets — that are set to roll out in the coming months will likely be the devices consumers use to access entertainment like TV shows, movies, music, books and games, and will be key in helping boost studios' growing but still nascent digital business.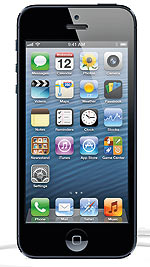 APPLE IPHONE 5
Screen Size: 4″
Price:Starts at $199 for the 16GB version, $299 for 32GB and $399 for 64GB (prices tied to purchase of phone service contract)
Availability: Sept. 21
When it comes to screen sizes, Apple still doesn't believe bigger is better. Its new iPhone 5 will boast a smaller display than rival smartphones on the market. But analysts aren't betting against Apple's success.
In fact, some analysts predict that Apple will sell up to 10 million iPhone 5s by the end of September. And that could ring up impressive sales of digital content for Hollywood, especially with a redesigned iTunes that's meant to simplify the purchase of entertainment on the handset.
Apple controlled just 17% of the world's cell phone biz in the second quarter, compared with 33% for Samsung, according to IDC. But more onscreen real estate and a higher-resolution widescreen 16:9 aspect ratio is expected to make the iPhone 5 a more attractive device to access entertainment on the go for app makers or streaming services like Netflix.
AMAZON KINDLE FIRE HD
Screen Size: 7″
Price:$199 and $299. A $499 model includes 4G LTE wireless connectivity
Availability: Sept. 15; Nov. 20
The Kindle has been a big seller for Amazon since it debuted as an e-book reader in 2007. But with the Kindle Fire, the tablet is now a full-fledged entertainment device that's capable of competing with Apple's iPad (which has a bigger 9.7-inch screen and larger $399 pricetag) as a platform for video as well as text. Adding a crisper high-definition screen only makes it more attractive.
Amazon's Kindle Fire HD is one of four new tablets company chief Jeff Bezos is rolling out this fall as a way to sell more movies, TV shows, books and games, through its online store while giving subscribers of Amazon Prime more mobile content to access for $79 a year.
Amazon says that there are now more than 25,000 movies and TV episodes available in the Prime Instant Video catalog, which doubled after a new deal with Epix.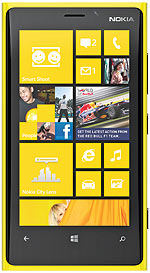 NOKIA LUMIA 920
Screen Size: 4.5″
Price: Not yet announced
Ship date: Fourth quarter in select markets
After sales slumped for the once-dominant phone maker — down from 40% marketshare in 2008 to 29% in 2011 — the Finnish company is betting much of its future success on the brightly colored Lumia line that operates on the Windows Phone 8 operating system, rather than Google's Android or its own previous Symbian software.
The higher-end 920 features wireless battery charging, the ability to swap files with another Nokia device , and an impressive eight-megapixel camera designed to rival some professional cameras.
But the 920, and its cheaper 820 sibling with a 4.3″ screen, are also meant to turn Windows Phone 8 into a major mobile entertainment platform — which will be key in putting content on Nokia's HD displays. The big selling point will be the availability of Xbox Live, which offers apps from more than 50 content partners including Netflix, Hulu Plus, Amazon Instant Video, YouTube and HBO Go.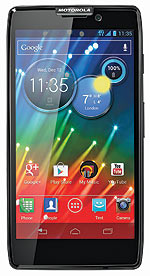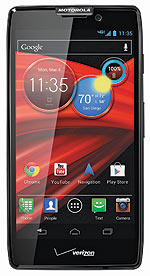 MOTOROLA DROID RAZR HD and DROID RAZR MAXX HD
Screen Size: 4.7″
Price: Not yet announced
Availability: Fourth quarter
When Google purchased Motorola Mobility last year for $12.5 billion, it was clear that the online giant was looking to own a bigger piece of the smartphone biz with its Android operating system, currently on 68% of handsets in the world, as of the second quarter (up from 46.9% last year), according to IDC.
With that comes new platforms on which Google can monetize the sale of entertainment through its Google Play store and ads that appear on YouTube videos.
The Droid Razr HD (left) and Droid Razr Maxx HD (right) are the first handsets to bow since the takeover. The Razr Maxx HD is the more content-friendly device, boasting a longer battery life that will play 27 hours of streaming music and 10 hours of streaming video, and has a larger 32GB of storage. Both can connect to Verizon's high-speed 4G LTE network, delivering faster, more reliable videostreams and content downloads.