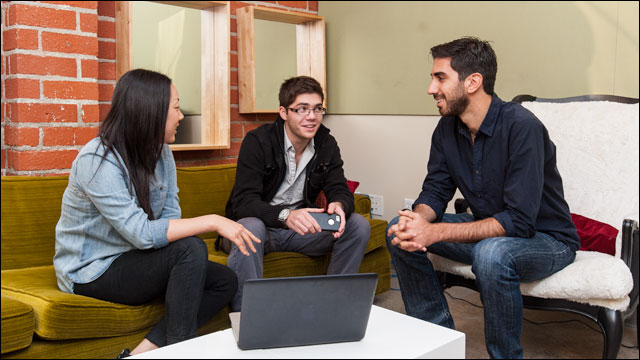 Above: Fullscreen CEO George Strompolos, right, holds a meeting with staffers in Culver City, CA.
There may be no better sign that there's a hot Internet sector brewing than Peter Chernin choosing to invest there — repeatedly. The savvy mogul is clearly placing his bet on the leading video content aggregators within YouTube, known as multichannel networks, or MCNs. After taking a small stake in a little-known company called Fullscreen last year, the Chernin Group invested in another MCN in the U.K., Base79, earlier in November. And he's set to take a stake in another by year-end, according to sources.
Chernin isn't the only one interested in these companies. As Variety first reported Nov. 14, Time Warner is eyeing a minority stake in a rival to Fullscreen, Maker Studios. Not to be outdone, RTL Bertlesmann is said to have kicked the tires of Maker and Fullscreen (though reps for both congloms declined comment).
Fullscreen and Base79 may not be household names, but they are players in a fast-growing cottage industry that attracts billions of views per month, and has drawn the interest of bigger media firms in the process. Investment, however, is just one of the ways that this new breed is coming together with an old guard interested in protecting its future by allying itself with ventures that hold great potential. Congloms are also becoming clients and advertisers of MCNs, which may end up as acquisition targets.
Fullscreen CEO George Strompolos recalls describing the upside of his company to Chernin: "I told him, 'You helped build Fox. This is the new Fox, plus ABC and NBC. You helped build "The Simpsons." The next "Simpsons" is going to come from a company like us.' "
Those are pretty ambitious words from a company that, on the surface, is a far cry from Fox. Anyone over the age of 30 probably has never heard of Fullscreen personalities like Michael Buckley or Lindsey Stirling, performers whose production budgets are smaller than even the smallest TV projects. Like most of the talent that calls Fullscreen home, they are among thousands of independent video producers who in the earliest years of YouTube began amassing millions of views for their content while functioning as one-man production units.
By joining MCNs, YouTubers can grow their audience through cross-promotion executed across the hundreds, if not thousands of channels aggregated by each firm. Multichannel networks provide the production, marketing and technology infrastructure that allows these enterprising souls to focus on the creative in exchange for a cut of the revenues generated by everything from advertising to merchandising. It's not terribly different an arrangement from the classic Hollywood studio-talent relationship, though YouTube creators tend to hold onto ownership of their intellectual property (deal terms can vary).
Perhaps it should come as no surprise that the Buckleys of the world are gravitating to Los Angeles, where they are part of a budding local tech scene that has been christened Silicon Beach. It's a hotbed of activity from Venice to Culver City, where Maker and Fullscreen bought up tens of thousands of square feet of production space a stone's throw from the Sony Pictures lot.
MCNs are not to be confused with the official YouTube channels, though the former are among some of the dozens of premium content partners Google has helped fund via original programming efforts.
As many MCNs as there are in the space, each seems to have a slightly different business model. Machinima, which led the MCN pack in October with 35 million unique visitors according to Comscore, offers amateur content culled mostly from the videogaming world alongside premium originals like the Universal Cable Prods.-produced "Battlestar Galactica: Blood and Chrome." Then there are studios like Alloy Digital, which is far more interested in ownership of content, though not above dabbling on the MCN side with select partners. And there are MCNs devoted to particular market niches, like StyleHaul, which focuses on fashion.
Malik Ducard, whose team manages YouTube's ties to the MCNs as director of content partnerships at Google, sees these companies as an essential element of the site's ecosystem. "So much innovation comes from this group, and this group often pushes the envelope for YouTube in a lot of ways," Ducard says.
But the biggest difference between a premium content company like Fox, which has the skyrocketing costs of shows like "The Simpsons" eating away at its profit margin, and MCNs is that the YouTube talent pool, the best of which pull in six-figure salaries, is comprised largely of promising amateurs who need little beyond a greenscreen and editing bays.
It's the "Moneyball" approach to media: putting low-cost players on the field to garner auds that cable programmers spend a lot more to reach (though a video view vs. a Nielsen rating is not an apples-to-apples comparison). Moreover, the ad revenues TV nets command dwarf those of MCNs
So why is Big Media bothering with what seems like small potatoes?
Because while MCNs might seem to traffic entirely in low-cost amateurs, their links to the premium content world are growing. MCNs provide established brands entree to YouTube, which media companies have learned the hard way is a world where the nuances of content distribution are very different than they are in TV or film. Maximizing audience requires mastering YouTube minutiae like thumbnails, annotations and title tags — what MCNs refer to as "audience development" — that just isn't in old media's skill set.
For instance, Fullscreen has built a side business, Channel Plus, that services the likes of NBC, Fox and FremantleMedia, and schools them on how to distribute content on YouTube.
"I think a lot of media companies that may have dismissed YouTube at one point are taking a second look," Strompolos says.
In the long term, YouTube is being eyed as the foundation of a new programming business model that circumvents the traditional gatekeepers of content in the TV business and simplifies the path from creation to distribution. And MCNs could become the best beachhead for launching such content on digital platforms, while at the same time retaining a vestige of the traditional strategy that cable channels have exploited so successfully: getting traction in the marketplace with low-cost licensed fare before graduating to ownership of premium content.
It's not just because YouTube gets the most eyeballs that makes it the place media companies want to advance that strategy. In contrast with the geographic constraints of a cable operator like Comcast, YouTube is a global distributor. Perhaps even more important, though, is the younger demographic skew of YouTube, which positions the platform as the go-to video destination for content at a time when the median broadcast-TV audience has aged out of its own target demographic, viewers 18-49.
But YouTube has another significant advantage over TV, argues Jesse Jacobs, president of Chernin Group: the value and variety of MCN metrics. "Unlike traditional TV networks," he says, "online video networks are using data to test what time of day to launch something, how long a clip should be, what video should come next in a queue, what ads are working, etc."
Given the infinite channel space that an increasingly IP-driven video world presents, the growth of MCNs are less likely to usurp TV than to coexist alongside it, in much the same way broadcast made room for cable decades ago. "A lot of people talk about them as two different worlds, but these worlds are blending," says Allen DeBevoise, CEO of Machinima. "The people running channels you'd consider user-generated content are potentially the next generation of stars both in front and behind of the camera."
For now, Machinima is satisfied to coexist with TV by making that business one of its fastest-growing categories for ad revenue.
The company has attracted tune-in campaign money from shows like AMC's "The Walking Dead" to Showtime's "Homeland," with the cablers looking to make inroads among the elusive young-male demo that over-indexes in this corner of YouTube.
TV has become a revenue generator in a different way for Collective Digital Studio, the digital arm of management firm the Collective, where YouTube is an incubator for intellectual property across the company's 70 channels — programs that can be moved upstream to TV and film for more profitable exploitation. Collective had success with two kid-centric properties, the "Fred" franchise that moved from YouTube to a series of films at Nickelodeon, and then "The Annoying Orange," which followed the same arc to its own Cartoon Network series.
"These two exercises were sort of the premiere case studies in taking something that was born on the Internet and leveraging it into the offline world, whether it was television or merchandising," says Dan Weinstein, head of digital content at the Collective.
But the flow of IP can go both ways. Though the majority of the 3,000 channels in the Maker system are fronted by creators with little visibility beyond YouTube, brands with old media bona fides are knocking on its door in pursuit of access to a young, global audience. In May, Maker struck a deal with film producer Tribeca Enterprises for a channel intended to show off shortform content from up-and-coming filmmakers. At the other end of the cultural spectrum, rapper Snoop Dogg partnered with Maker in July to develop a slate for his own YouTube channel, WestFest TV.
"Five years ago, (Snoop Dogg) would have been going to cable TV," says Courtney Holt, chief operating officer of Maker. "As opposed to us taking these franchises to other platforms, we're having people who have been successful on other platforms come to us."
Of course, the most direct way MCNs will intersect with the congloms is via acquisition. That precedent was set in March when Discovery snapped up Revision3. The two companies provide a model for what a commingling of the two worlds can bring, from Revision3 creating a range of programming online that are extensions of Discovery's TV series to using the TV side as a promotional platform for online properties, as was done when digital star Philip DeFranco was tapped to serve as an on-air personality for "Shark Week."
Revision3 CEO Jim Louderback believes his company is just the first of the MCNs that congloms will acquire. He projects about half of the companies in the space could go that route, while a fifth could go public and grow independently — and as many as one in 10 could actually get big enough to acquire a media brand that might have presumably been the buyer.
"Could a Maker or a Machinima buy a Turner or Comedy Central?" asked Louderback. "I think it's a possibility 10-15 years from now."
Rachel Abrams contributed to this story.