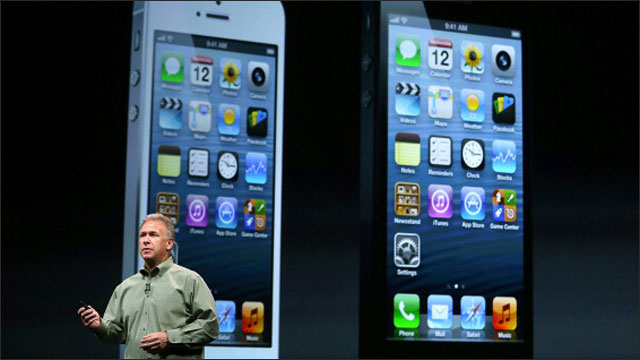 As more consumers watch video on their cellphones, Apple is expanding the screen size of its iPhone for the first time since the smartphone was first introduced in 2007.
The new iPhone 5, which carriers will start offering Sept. 21 (pre-orders start Friday), will sport a four-inch touchscreen that can play HD video in widescreen and will feature a revamped iTunes store meant to simplify the process of purchasing music, movies, TV shows, books, games and apps while making it easier to access those items from online storage lockers.
While Apple executives on Wednesday touted the new iPhone as 18% thinner, 20% lighter and twice as fast as the iPhone 4S that bowed in 2010, the device's screen is still smaller than the one on Samsung's Galaxy SIII, which measures 4.8 inches.
"For the first time ever we've increased the size of the display," said Philip Schiller, Apple's senior VP of worldwide marketing during a press conference in San Francisco in which it unveiled the new iPhone 5, as well as updated versions of its iPod Touch, iPod Nano and iOS and iTunes software. "By making the screen taller but not wider, you can still comfortably use it with one hand."
Apple could sell 10 million of the new phones by the end of September, analysts like Gene Munster at Piper Jaffray say. Some believe Apple could sell as many as 170 million overall — or as many as the previous generations combined — while JPMorgan suggested the iPhone 5 could add half a percentage point to the growth of the U.S.' gross domestic product.
Apple CEO Tim Cook didn't seem to be feeling much pressure to deliver those kinds of numbers as he took the stage.
Still, with the iPhone accounting for some 70% of Apple's profits (it generated 43% of Apple's $108 billion in sales last year), the company has a lot riding on the continued success of the smartphone that faces increased competition from Samsung, with its Galaxy SIII, HTC's One series and Nokia's Lumia line.
Apple has certainly come up with an attractive package for the iPhone 5. Offered in black and white, the device is made of aluminum and glass and features a higher-resolution "retina" display that features video in a widescreen 16:9 aspect ratio. It's also Apple's first 4G LTE phone featuring what the company calls an "ultrafast" Wi-Fi connection — helpful when viewing HD video files online.
New built-in camera, with an 8-megapixel sensor, is 25% smaller and improves photos taken in low light settings without a flash. Photos can also be captured 40% faster than using the iPhone 4S.
"The ocean looks bluer in the iPhone 5," Schiller said. "Kids look happier and the world is a more beautiful place." But "while the camera is amazing for taking pictures, it's also a lot better for video as well," the exec added, before demonstrating its 1080p capabilities with better video stabilization and additional 720p front-facing camera.
Pricing for the iPhone 5 starts at $199 for the 16GB version (same as the iPhone 4S), $299 for 32GB and $399 for 64GB. The iPhone 4S will drop to $99.
While it didn't have a physical update for its iPad tablet to announce, Apple touted the device's 68% market share in the tablet segment in April, up from 62% last year, despite dozens of tablets launching over the last year. It sold 17 million iPads last quarter and 84 million of the tablets through June 2012.
Device accounts for 91% of tablet Web traffic. "I don't know what these (other) tablets are doing," Cook quipped during the presser. "They must be on shelves and in warehouses."
On the new hardware front, Apple also showcased a redesigned fifth-generation iPod Touch, with a four-inch touchscreen that now resembles a compact camera with a wrist strap, and seventh-generation iPod Nano, which boasts a 2.5-inch touchscreen that displays video and photos and can access devices via Bluetooth. Both devices bow in October, with the smallest iPod Touch starting at $299 and iPod Nano at $149. Apple has sold more than 350 million iPods to date.
It also introduced EarPods, new earbuds that improve sound quality. It has shipped over 600 million sets of earbuds to date.
On the software side, Apple introduced a simplified iTunes with a redesigned music player that integrates with its iCloud online storage service. Apple hopes the update will result in an increase in entertainment sales for itself and its Hollywood partners.
Company has registered 435 million iTunes accounts with one-click purchasing. The iTunes store is now available in 63 countries.
Since iTunes' launch nine years ago, 26 million songs have been sold through the service.
But the store has also become a prime platform for selling movies, TV shows, books and games, as well, with 60% of downloads made directly on mobile devices.
That could increase as more content is stored in the cloud.
"It's been a huge, huge hit," Schiller said, with over 200 million people using iTunes with iCloud. More than 15 billion pieces of content have been served directly from the cloud, the exec said.
Apple also announced 200 new features to its iOS 6 operating system, available for Apple's newer iPhones, iPads and iPad Touch devices.
Those include upgrades to Siri.
When Scott Forstall, senior VP of iOS, asked Siri, "Can you recommend a good movie in theaters?" the service diplomatically responded with, "That is a very subjective question. Here's what others have found to be good movies," returning top-rated pics found on Rotten Tomatoes like "Robot and Frank" and "Compliance."
Siri now can also post updates to Facebook via voice commands.