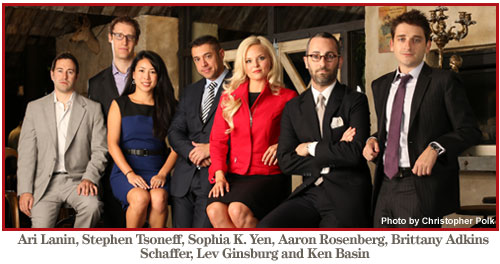 Ken Basin
Associate, Greenberg Glusker
Basin's Russian-Jewish emigre parents were disappointed when he forsook his pre-med studies at USC to study law ("My mother cried like I was going to clown school," he says), but the 28-year-old Orange County native has done them proud since coming to Greenberg Glusker fresh out of Harvard in 2008, tending to big Hollywood players including, Philip Seymour Hoffman, Larry King, Lawrence Kasdan and Marvel Studios — and working on the two-person team that won a multimillion-dollar arbitration award for Toho-Towa, the largest film distribution company in Japan. Apart from the legendary Bert Fields, he might be the only lawyer at Greenberg Glusker who handles both litigation and transactional work. "The litigation allows me to exercise the nerdy parts of my personality," says Basin, a gameshow obsessive who reigns as the only contestant to blow the million-dollar question on the U.S. version of "Who Wants to Be a Millionaire." "The transactional work is much more personal and interactive."
Lev Ginsburg
Partner, Ginsburg Daniels
Juggling the complementary and sometimes conflicting needs of multi-hyphenate talents requires a delicate touch. "They just want to create," says the 35-year-old, Honolulu-born Ginsburg. "But when you're trying to put what they're creating into a transactional environment, it gets complicated." Nonetheless, he's made it work, negotiating deals for Patton Oswalt as a producer and lead voice actor on new Fox pilot "Working Class Hero," and as writer-star of a TV series project for producer Phil Rosenthal ("Everybody Loves Raymond"). He's also helped Ben Schwartz juggle series regular roles ("House of Lies," "Parks & Recreation") with feature writing assignments ("Would You Rather," "No Hearts Club" and the "Soapdish" remake for Paramount), and crafted contracts for TV showrunner Scott Fellows ("Big Time Rush") at Nickelodeon that include live touring components. Earlier, Ginsburg observed the biz from the buyer's side as an intern at Fox Comedy during his undergrad days a UCLA., which "really helped me fully appreciate what clients go through," he says.
Ari Lanin
Partner, Gibson, Dunn & Crutcher
At 36, Lanin has been with Gibson, Dunn since he was a summer associate in law school, and such loyalty has helped earn the rising partner considerable trust at the firm: two years ago he was appointed to the Gibson, Dunn technology committee. "It's an old firm, but it has always taken technology very seriously," he says. Lanin earned kudos for establishing a strategic partnership between the Chernin Group and a Providence Equity Partners investment group to expand into media and entertainment ventures worldwide. He's also been a key adviser for Universal Pictures during its sale of Rogue Pictures to Relativity Media. Negotiating talent is key in his job, and Lanin says a lot of it is psychological. "You have to understand what people want, their goals, what's important to them and their pressure points," says the Brandeis U. grad, adding that he's happy to be mentoring today's summer associates. "It's not about telling people what to do, but helping your team learn to be more effective in working toward a common goal. That's the challenge."
Aaron Rosenberg
Partner, Myman Greenspan Fineman Fox Rosenberg & Light
The Kansas City native, 35, began his fast-rising career as an associate at the New York offices of Greenberg Traurig in 2002, where he landed John Legend, a relative unknown, as his first client. Industry heavyweight Eric Greenspan recruited Rosenberg in 2006, the firm made him partner in '08, and today he reps such clients as Justin Bieber, Jennifer Lopez, Jessica Simpson, Ciara, Nicole Scherzinger, Joss Stone and Legend. "I love working with talent, whether they're big names or complete unknowns. Some of my biggest clients weren't known when I started with them," says Rosenberg who, in addition to the nuts and bolts of drafting and negotiating contracts, counsels and advises clients "in all aspects of their business — especially all the rapidly evolving new technology. And part of the high is being able to help build someone's career — either from nothing into something spectacular, or a known name into something even more spectacular."
Brittany Adkins Schaffer
Associate, Loeb & Loeb
Within just two years of starting to practice law, Schaffer was at work on big-ticket deals. Early on she helped with the diligence review, evaluation and summary of the rights held by Warner Music Group through its publishing and recorded music catalogs during the Group's sale to entrepreneur Len Blavatnik's Access Industries for $3.3 billion in 2011. She's also worked on various trademark, copyright and publishing matters for Duran Duran, Carly Simon and B.B. King. Duran Duran was so appreciative band members thanked her in the liner notes on their last album. Additionally, the 27-year-old helped the John R. Cash Revocable Trust with a variety of issues relating to the use of Johnny Cash trademarks, right of publicity, and records and publishing. Among other things, she handled matters relating to copyright questions, literary publising deals and made-for-TV movie deals for John Carter Cash, son of Johnny Cash. "As a lifelong music fan, someone who has always loved music, this is perfect," says Schaffer. "I definitely wanted to be an entertainment lawyer."
Stephen Tsoneff
Partner, Gibson, Dunn & Crutcher
Tsoneff, 37, reps studios and production companies in their distribution and financial dealings, as well banks in providing production financing for motion pictures. He played an integral part in putting together major film financing deals that funded dozens of films, including "The Mortal Instruments: City of Bones." Most recently Tsoneff repped Fox in the extension of the Dune III slate financing transaction and the studio co-financing deals for the films "Lincoln" and "Robopocalypse." He also repped Paramount Pictures in single-picture financing transactions for the films "The Fighter," "Jeff, Who Lives at Home" and "Area 51," and repped DZ Bank in its financing of the films "The Three Musketeers," "Resident Evil: Retribution" and "Tarzan." "I sense an uptick around the bend," says Tsoneff. "I think investors and studios are trying to be creative in putting new deals together, and investors are ready to be in the film business again."
Sophia K. Yen
Associate, Entertainment and Finance, Manatt, Phelps & Phillips
Yen's expertise in — and love of — all matters financial helped Sony close its $140 million film slate deal with Hemisphere Capital Management, which provided co-financing for "The Smurfs," "The Adventures of Tintin," and "Men in Black III," and the subsequent $100 million ultimates-based debt financing deal. With a background in indie financing, Yen admits the Sony deal, "was pretty different, as there's no defined market way of doing this type of deal. It's all about negotiation and leverage." For Yen, 33, the biggest challenge ahead is "being able to tell who's for real and who can really bring the money they've promised to the table" as she positions herself to deal with the burgeoning influx of Chinese investors looking to get involved with Hollywood — "and vice versa." Fluent in Mandarin, Yen adds that she's, "trying to help both sides, though historically both have hidden behind a lot of smoke and mirrors. So it's a long, slow dance, but exciting."