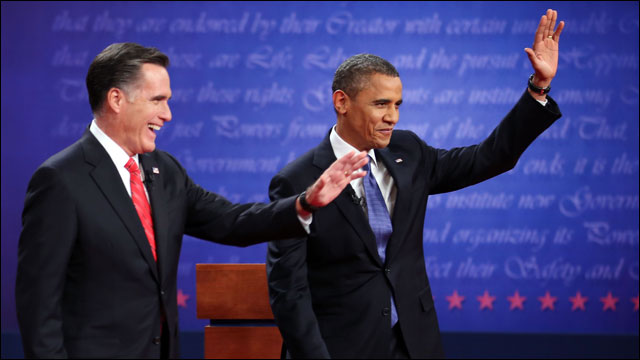 What: Obama, Romney decision puts key showbiz decisions in focus.
The takeaway: A power shift could overhaul lobbying strategy on some issues in D.C.
Performers including Bruce Springsteen, Jay Z and Ricky Martin appeared for President Obama, and Kid Rock and Meat Loaf stumped for Mitt Romney in the final day of the 2012 presidential race on Monday, but there is much more at stake for showbiz in this election than stars and their political stripes.
While a second Obama term would signal status quo on a whole host of industry-related issues, a Romney win would have implications for arts funding, public television, indecency enforcement, media consolidation and net neutrality.
A power shift could mean reorienting lobbying strategy on some issues in D.C., particularly for an industry in which virtually all of the studio chiefs have contributed to the Obama campaign. And even beyond showbiz-centric issues, industry activists would find themselves, at least initially, without significant White House contacts, the kind of access over the past four years that has seen George Clooney, Brad Pitt and others gain entree to the Oval Office to discuss signature causes.
Here's a rundown of the significant areas that could be affected by the results of Tuesday's election:
FCC chairman: There is some expectation that even if Obama wins re-election, Julius Genachowski will step down as chairman, given the past tendency of agency chieftains to see a second term as a jumping-off point. If Romney wins, he will be able to obtain an FCC Republican majority and appoint a new chief. Current commissioner Robert McDowell is one of the names mentioned, as well as communications attorney Bryan Tramont and John Kneuer, former head of the National Telecommunications and Information Administration.
Net neutrality: Many Republicans detest the FCC's net neutrality rules as interfering with a bright spot of the American economy, and a GOP-dominated FCC could rollback regulations or eliminate them altogether. They would be reopening a can of worms, but the GOP saw the issue as important enough to include in their party platform. And even if Obama is re-elected, the FCC may have to grapple with it anyway. Verizon is challenging the open Internet guidelines in court on the grounds that the FCC lacks the authority to implement them.
Spectrum: One of Genachowski's signature initiatives has been the expansion of broadband infrastructure, and a part of that has been freeing up spectrum from broadcasters for wireless use. Although broadcasters have been wary of plans toward voluntary incentive auctions, Congress sees them as a way to collect additional revenue to pay down the deficit. A Romney administration would oversee the first of these auctions, currently expected in 2014, and while it would be difficult to turn back the clock given bipartisan passage, broadcasters are closely watching to see that their reach is preserved as details are worked out.
Piracy: In campaign rhetoric, Romney has pledged to get tough on China, and has even slammed Obama for not doing enough to protect intellectual property there. But it's uncertain how much different Romney's approach to piracy would be to Obama's. The present administration has emphasized crackdowns led by the Justice Department and the Department of Homeland Security, but it also expressed opposition to parts of the Stop Online Piracy Act, which helped scuttle the legislation earlier this year. Yet Romney opposed SOPA, too. A factor in whether any new legislation is introduced in the next Congress — and that is a big if — may be what role the White House takes in helping to frame the issue and perhaps mediate between sides to better line up support on Capitol Hill.
Media consolidation: Republicans traditionally have taken more of a hands-off approach when it comes to mergers in general, and there are many reasons to believe that would be true in a Romney administration. But even Genachowski has shown a willingness to examine media-ownership rules, which include a prohibition on owning newspapers and broadcast stations in the same market. A Republican-dominated FCC could be driven to speed up the process of abandoning such constraints.
Public television: Obama has pledged to continue federal funding for public broadcasting in his budget proposals, but Romney has called for eliminating it. His vow to zero out funding was one of the highlights of the first presidential debate, inspiring memes featuring Big Bird and other "Sesame Street" characters. Yet Romney would still face the barrier of a likely majority of Democrats in the Senate, where even some Republicans have supported public TV.
The arts: Obama has maintained, or even given slight increases, to government-funded arts initiatives. Romney also has called for the elimination of the National Endowment for the Arts and the National Endowment for the Humanities, pointing to both government outlays as ones that it can ill afford at a time of record deficits and borrowing from China. For arts advocates, there's also the power of persuasion: Ronald Reagan also sought to cut the NEA, but Charlton Heston and other industry figures convinced him it was worth preserving.
Indecency: Genachowski's FCC has largely put enforcement of broadcast indecency complaints on hold as it has gone through two Supreme Court reviews. Either administration would be under pressure from parents groups and social conservatives to step up enforcement, but it would be more likely under Romney given his support from the right. In any case, the onus would be on the FCC to follow a process that could withstand First Amendment scrutiny, as the networks would likely again challenge new efforts to crack down on "fleeting expletives."
There also are a number of downballot races that have drawn industry interest:
Berman vs. Sherman: There's no doubt who showbiz is backing in this nasty, bitter and expensive race pitting two Democrats against each other in Hollywood's backyard.
Rep. Howard Berman is the top recipient of showbiz contributions among all candidates, save for President Obama and Mitt Romney, according to the Center for Responsive Politics. And there's a reason for it: Hollywood views Berman as one of the most strident champions of copyright issues on Capitol Hill, enough to where he has been dubbed "Hollywood's congressman."
Berman's district lies in the San Fernando Valley, where he is in an uphill battle against Rep. Brad Sherman, who often falls in the same pattern with Berman when it comes to piracy issues but who simply rubs many in the showbiz lobby the wrong way.
That's why many of Berman's backers saw an opening when Sherman grab-hugged him at a recent debate, and said to him, loudly, "Howard, you want to get into this?"
Yet polls still show Sherman with a significant lead, and a loss by Berman will put the onus on the showbiz lobby to find a new point person to champion IP issues.
McCaskill vs. Akin: Democrat Claire McCaskill has collected more showbiz contributions than any other Senate candidate in a competitive election, as her unlikely reelection in an ever-reddish state suddenly became plausible with a far-right candidate Todd Akin, who badly stumbled over the issue of rape. The ignited a wave of public and financial support for McCaskill, who has seem to overcome traditional attacks on middle-America Democrats who take show biz money.
Warren vs. Brown: If there is a star challenger seeking a Senate seat this year, it is Elizabeth Warren, the Harvard professor who became a star with her criticism of the financial industry, trying to unseat Republican Scott Brown in heavily Democratic Massachusetts.
Ben Affleck and Matt Damon co-hosted a star-studded fundraiser for her in May, and Norman Lear provided early support at an event he hosted last year. In fact, Brown's allies have tried to make an issue of Warren's out-of-state Hollywood support, although that issue has faded as Warren has gotten a boost in the polls.
Baldwin vs. Thompson: This Wisconsin Senate race has been brutal, but surprisingly free of much talk at all about Democrat Tammy Baldwin's sexual orientation. If she wins, she will be the first openly gay U.S. senator. She's drawn support from Hollywood's LGBT community, including Blake Byrne, Rich Ross and Bruce Cohen.
Duckworth vs. Walsh: Showbiz liberals crave a chance to defeat an outspoken conservative firebrand, and they may have found their opportunity in the House seat held by Tea Partier Joe Walsh in Illinois. Duckworth has been to Los Angeles to raise money, drawing support from none other than other Joe Walsh, the Eagles singer and guitarist.
Marriage Equality: A quartet of same-sex marriage ballot initiatives in Minnesota, Maine, Washington and Maryland has drawn interest and money from the likes of Lady Gaga and Brad Pitt, hopeful that marriage equality will prevail in at least one of the elections. If so, champions of same-sex marriage say that they will have denied opponents a talking point, that voters in 32 elections have consistently decided in favor of marriage being only between a man and a woman. The Supreme Court will decide later in November whether to take the Prop 8 case and/or challenges to the Defense of Marriage Act. Some observers suggest that the November result could, in their own way, have an impact on what the justices decide.
California's propositions
Proposition 30: California Gov. Jerry Brown's call to raise taxes on wealthy residents, as a way to resolve persistent budget crises, means higher taxes for many in Hollywood, but Brown has tried to appeal to education advocates by highlighting how the measure will prevent severe cuts. Although the initiative has led in the polls, its margins have fallen in recent weeks.
Proposition 32: Showbiz unions are among the organized labor groups fighting this initiative, which would prohibit unions from using payroll-deducted funds for political purposes. It prohibits union and corporate contributions to candidates and their committees, but critics, like SAG-AFTRA's Gabrielle Carteris, calls it a "sham." She says that loopholes in the initiative still would allow corporations to funnel money into the political process while organized labor would be sidelined.
Proposition 34: The initiative to repeal California's death penalty has drawn the financial support of Barry Meyer, J.J. Abrams, Judd Apatow, the Saul Zaentz Co. and Gary David Goldberg, among others, while Martin Sheen, a longtime foe of executions, has narrated commercial spots. A coalition of peace officers associations oppose the initiative. Support was growing in a recent Field Poll, although passage will depend on late deciders who have a history of voting no.
Proposition 37: A host of industry figures, including Marisa Tomei and James Franco, have campaigned for this initiative to require labeling of genetically engineered food. It may be a no-brainer to health advocates and organic enthusiasts, but the food industry is mounting a heavy campaign against it, warning of higher grocery bills for the average Californian.