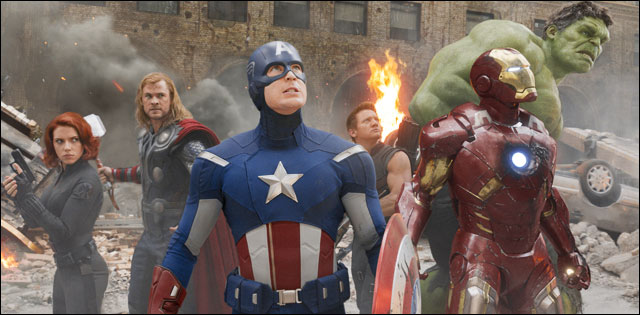 Given the runaway success of "The Avengers" this summer, it was unsurprising that Disney would want Joss Whedon, its writer and director, to tackle the sequel. The question was whether he'd agree to return.
The answer turned out to be yes, Walt Disney Co. chairman-CEO Robert Iger revealed while discussing the Mouse House's third-quarter results on Tuesday. But in addition to the sequel, which has yet to be dated, Whedon will develop a live-action TV show for ABC that features characters from the Marvel universe.
Overall, Walt Disney Co. revenue rose 4% to nearly $11.1 billion, which helped increase profits by 24% to $1.8 billion during the three-month period that wrapped June 30.
"The Avengers," the first Marvel film that the Mouse House fully marketed and distributed on its own (after Paramount released four others under a previous deal), has earned nearly $1.5 billion worldwide since its release May 4. It's now the third-highest grosser of all time behind "Avatar" and "Titanic."
The actioner that assembles the Iron Man, Captain America, Thor, Incredible Hulk, Hawkeye, Black Widow and Nick Fury characters helped Disney's studio arm to profits of $313 million, up over the $49 million it earned during the third quarter a year ago. Last quarter, the studio lost $84 million when "John Carter" failed to lure auds to megaplexes. The fantasy pic also pulled down homevid sales.
Studio's $1.6 billion in revenue was flat with last year's third-quarter haul, with Pixar's "Brave" also contributing to the B.O. Pixar's 13th toon to open at No. 1 still has some key foreign territories to open.
"We feel good about 'Brave,'" Iger said. "Pixar put a character in the marketplace that is clearly very popular and has long legs in (its) franchisability. "We've instructed Pixar to do what they've been doing quite well: telling great stories."
Marvel already has dated "Iron Man 3," "Thor: The Dark World," "Captain America: The Winter Soldier" and "Guardians of the Galaxy" through 2014 and is developing a film based on "Ant-Man." An "Avengers" sequel is likely to bow in 2015.
"We're confident Marvel will be able to build franchises to drive significant value across our company," Iger said.
One such property is Whedon's TV show, about which no other details were given. ABC also is developing a reboot of its "Incredible Hulk" series with Guillermo del Toro.
"Joss Whedon has signed an exclusive deal with Marvel Studios for film and television through the end of June 2015," Marvel Studios said in a statement. "As part of that deal, Whedon will write and direct Marvel's 'The Avengers 2' as well as help develop a new live action series for Marvel Television at ABC. He will also contribute creatively to the next phase of Marvel's cinematic universe."
The success of "The Avengers" also boosted the bottom line of Disney's consumer products division, which saw revenue increase 8% to $742 million and operating income rise 35% to $209 million.
Given sales so far, "The Avengers" does not seem to be as strong a consumer products property as "Cars," Iger said, but it's still too early to tell with Disney expected to unleash a new line of merchandise around the September homevid launch, Christmas and upcoming films featuring the Avengers team of superheroes.
"You can't look at its strength in one quarter," Iger said. "Because it incorporates other characters, we're selling product against all those characters. It's a long-term proposition."
Happily summing up the state of Disney, Iger said, "We had a phenomenal third quarter, delivering the largest quarterly earnings in the history of our company. Earnings per share were up 31% over last year, driven by growth in every one of our businesses."
The June opening of "Cars Land" at California Adventure and the culmination of a five-year $1.1 billion redesign of that theme park helped boost results at the company's resorts biz, as did strong attendance at its other parks around the globe and bookings on its newly expanded fleet of cruise ships.
As a result of the upgrades, California Adventure now reps around 50% of attendance at the Disneyland resort in Anaheim, up from 25%.
Disney is seeing gains at its parks overseas as well, with attendance at Tokyo Disney up and Euro Disney reporting 4% growth in the third quarter. Sales rose 4% to $444 million at the park outside Paris due to a rise in visitors and spending.
Iger wasn't concerned over plans by DreamWorks Animation and the Chinese government to build an entertainment destination in Shanghai. While some reports have described it as a theme park, Iger objected to that term. "They're not building a theme park in Shanghai," he said. "They're building an entertainment center. It's not being characterized as a theme park and not being capitalized (with) what it would take to build a theme park."
Disney's media networks continue to grow, with sales up 3% to $5.1 billion during the period, sending profits up 2% to $2.1 billion. The division paid higher rights fees for NBA and Major League Baseball telecasts during the quarter and saw advertising sales impacted by the Olympics.
Cable networks ESPN, Disney Channels and ABC Family generated $1.9 billion in operating income during the quarter, an increase of $14 million.
Iger said the Summer Olympics "siphoned money out of the marketplace, particularly with strong ratings," but ESPN benefitted from "selling deeply" into the quarter during the upfronts to "leave itself less vulnerable" during the London Games. Looking forward, he said ad sales for the upcoming college football and NFL seasons "are strong and encouraging." Overseas, however, "ESPN's track record has not delivered the kind of results as expected," Iger said.
ABC boosted operating income by $18 million to $268 million on higher affiliate and royalty revenue and lower programming and production costs. Advertising revenue at the Alphabet web decreased modestly, with higher rates offsetting lower ratings. The network sold 80% of its ad inventory during the upfronts at increased rates, Iger said.
Disney still aims to make its interactive division profitable by 2013 by focusing on mobile platforms and social games on Facebook. Division lost $42 million during the quarter, a 51% improvement over the same year-ago-period. Revenue declined 22% to $196 million, however.
Division will launch 10 games this year based on Disney properties.
Disney's stock is up nearly 33% this year and reached a 52-week high of $50.54 on July 27.