Today's column deals with the way the media/political landscape has changed since Arnold Schwarzenegger was elected California's governor seven years ago. (Oh, and one addendum: Alec Baldwin discussed his political aspirations on CNN's "Parker-Spitzer," also known as "Witness Protection TV." Woo-hoo!)
Back when Schwarzenegger entered the recall-election race — and I had just arrived back at Variety for my triumphant encore stint — I wrote another piece recount, among other things, my impressions of him from having met him back in the early 1980s, when I was a reporter/critic for UCLA's Daily Bruin and he was promoting what turned out to be his first big role, "Conan the Barbarian."
I've always been rather fond of that piece — even if Schwarzenegger's time in office could hardly be called a rousing success. So here it is — a rare "greatest hits" column, from September 2003:
Another decades-old take on Schwarzenegger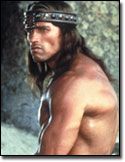 BEFORE ARNOLD SCHWARZENEGGER entered California's recall election, pundits warned that the actor would be subjected to a previously unfamiliar level of press scrutiny — trading in the customary softballs pitched by Hollywood lap dogs for a Washington-style brand of hardball. Yet so far as I can tell, the only gloves laid on him by hardened political reporters are that he's a girly man who wimped out on early debates, and that he said brash and imprudent things in musty old interviews — including one published in a skin magazine a quarter-century ago.
Well heck, had I known that was all it took to barbecue the former bodybuilder I could have taken him on, dredging up my 21-year-old interview from the press junket for "Conan the Barbarian." Only I reached a different set of conclusions in reviewing that exchange, his decades-old words painting him as someone who defined a plan of attack on stardom, pursued it with a vengeance and managed to pull it off despite obvious limitations.
TO PROVIDE SOME BACKGROUND, Schwarzenegger was a 34-year-old behemoth starring in his first major film as the sword-and-sandal hero, while I was a geeky (if somewhat thinner) sophomore at UCLA, reporting for the Daily Bruin. The actor puffed on a cigar and patiently endured a day of round-robin interviews, clearly accepting that publicity was all part of the job. He didn't even flinch when my pool partner suggested he'd be perfect to star in an autobiography of Rondo Hatton, the grotesque actor — deformed by a pituitary disease called Acromegaly — who played the Creeper in films during the 1940s. I assumed Schwarzenegger didn't know who Hatton was, or he'd have torn the guy's little arms off.
Schwarzenegger was bawdy and tossed around four-letter words, though I admit to inviting some of the former by mentioning that I harbored impure thoughts (and still do, come to think of it) about "Conan" co-star Sandahl Bergman.
What really struck me even then, though, was Schwarzenegger's vision that the discipline he brought to bodybuilding could transform him into a movie star — despite unorthodox leading-man looks and an accent that sounded like something out of "Hogan's Heroes." He had done a small part in Western spoof "The Villain" knowing the movie would stink, he said, to learn from working with Kirk Douglas and Ann-Margret. "This is the way I chose my roles," he explained. "I always had to find something in the package that interested me or could move me up slowly."
"Slowly" also meant not wolfing down parts with an unwieldy amount of dialogue. In "Conan," he was pretty much confined to glaring and hacking people up, proudly stating that John Milius called him "the perfect actor" because he didn't know enough to question the director's instructions. In fact, he could barely burble out one of the best lines in Hollywood history — the barbarian's mantra that what is "best in life" is "To crush your enemies, to see them driven before you, and to hear the lamentation of their women." (Rumor has it that Ovitz told new CAA recruits something very similar, but I digress.)
ARNOLD THE CANDIDATE has certainly made some tactical errors, foremost among them campaigning as if he's trying to run out the clock on a big lead. Even if you win employing that strategy, it's ugly. As for smarmy muttering about womanizing, history would indicate that isn't a disqualification from higher office, much less governing Cal-ee-fornia.
Setting politics aside, I'd personally find it hard voting for Schwarzenegger simply because I have misgivings about the concept of high elected office as on-the-job training — a bias that also applies to Gen. Wesley Clark's presidential bid. Call me naive, but people should oversee a city, say, before they try guiding the nation or its largest state — in the same way I'd like my doctor to hone his skills on cadavers and college students.
Yet whether he crushes his political enemies or not, watching Schwarzenegger's career unfold just as he planned it tells me he shouldn't be sold short or treated like a punch line, as more jaded critics seem determined to do. Then again, having survived various predators during his improbable climb, he has relatively little to fear from the tiny fangs of condescending snobs.