1985
Undergrad baseball player Dan Whitney gets up on comedy night at a West Palm Beach bar. "I got hooked and never went back to college." A year later he's house emcee at the Comedy Corner.
1989
Ad libs a bumbling cable guy one night when his regular jokes are dying.
1991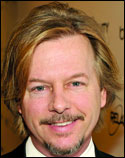 Visiting "SNL" stars David Spade and Rob Schneider encourage him: "Man, that character is really funny, you've got to keep working on that." Tampa radio personalities Ron and Ron arrange to call Whitney as "Larry" to complain he never showed to hook up the station's cable. He begins writing daily radio commentary.
1995
Miffed to be billed as "Dan Whitney, Also Known as Larry the Cable Guy," the comic says, "OK, if it helps you sell tickets." "Help me sell tickets?" exclaims the owner. "I sold out two shows." After five minutes the audience is screaming "Do Larry." Before the second show, he changes into blue jeans, lace-up Ropers, cut-off Nebraska T-shirt and NASCAR hat. Dan Whitney is no more.
2000
Is called to South Carolina to join Jeff Foxworthy (a pal from the '80s), Bill Engvall and Ron White on the Blue Collar Comedy Tour, kicking off six years of sold-out arenas.
2001
First album "Lord, I Apologize" goes gold and sits at No. 1 for 15 weeks on Billboard's comedy chart.
2003
"Blue Collar Comedy Tour, The Movie" becomes Comedy Central's highest rated attraction. In all 4 million DVDs are sold.
2004
Foxworthy, Engvall and Larry team up for the WB's "Blue Collar TV." "Git-R-Done" DVD is certified platinum, as is the CD "A Very Larry Christmas."
2005
"Git-R-Done" is a New York Times bestseller. "Right to Bare Arms" is the highest- grossing comedy tour of the year, its CD nabs a Grammy nom. Larry wins comedy artist and comedy album of the year from Billboard.
2006
Theatrical release of "Larry the Cable Guy: Health Inspector" is tepid, but the DVD sells more than 1 million units in the first week. Pixar's "Cars," in which he voices Mater the tow truck, grosses more than $200 million domestic. Billboard names him top Comedy Tour of the year.
2007
"Delta Farce" opens to weak B.O. but sells more than 1.25 million units on DVD.
2008
"Witless Protection," follows same pattern: quiet in theaters, big at home. "I didn't like that one as much," he says. "It made Larry too mean."
2009
A Cornhusker crowd of 50,000 pays $4 each for a thank-you concert, "Tailgate Party," yielding another smash CD and DVD a year later. The Git-R-Done Foundation gives $1 million to Lincoln, Neb.'s, Child Advocacy Center, and $1.2 million more for a 14-bed children's center within the Madonna Rehabilitaion Hospital.
2010
Kicks off the Them Idiots Whirled Tour in January with Blue Collar vets Engvall and Foxworthy, averaging about 8,500 ticket sales and $500,000 gross per night.
Git-R-Done endows the Arnold Palmer Hospital in Orlando, Fla., with $5 million to develop the Wyatt Whitney Hip and Musculoskeletal Center..
2011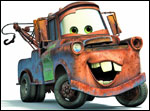 Hosts "Only in America With Larry, the Cable Guy" on the History Channel. "Cars 2" opens in theaters today.
LARRY THE CABLE GUY AT 20
Larry the Cable Guy: No universal appeal, no problem | Americana as viewed through Larry's lens | Git-R-Done Foundation's wide reach | Larry the Cable Guy's rise from rube