Hilton isn't a businesswoman, she's a business, woman. She develops products in 17 different categories with 11 active lines, and runs 30 Paris Hilton signature stores in various countries. She'll visit India in September to open two new stores, with a third also bowing in that country.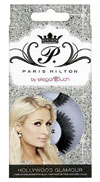 FALSE NAILS & FALSE LASHES
April 2010
Sold in about 2,000 locations worldwide, line is in its first season with four different looks. Nail stickers are in development.

APPAREL
Spring 2009
T-shirts, dresses, tops, leggings, pants and tracksuits by Paris are available in Italy, Spain, Russia, Switzerland, the U.K., the U.S. and online.
PARIS HILTON RACING TEAM
2010
Competing in the MotoGP class for 125cc two-strokes, the team has won races in France, with 16-year-old phenom Maverick Vinales winning at Le Mans. The racing press has discarded its snark and acknowledged that her team — which includes talented vets — is good.
HAIR CARE
April 2008
Paris is famous for her long blonde locks, and for going from long waves to a short bob overnight. She launched hair extensions in 2008 and a line of hair styling tools in November 2009.

FOOTWEAR
February 2008
Sold at about 1,500 locations in 15 different countries, the line is projected to sell more than 8 million units over the next 10 years, according to Hilton.

HANDBAGS
August 2007
Sold at about 2,000 locations worldwide.

WATCHES
2005
Time for bling — the most recent line was established in late 2009, and the products continue to do well.

FRAGRANCES
2004
Hilton's 11 scents gross upward of $100 million annually. They've garnered more than $1.3 billion in revenue since 2004. In 2009 she was honored with the Fragrance Foundation's FiFi Award for her success.
BILLION-DOLLAR ENTREPRENEUR: PARIS HILTON
Business according to Paris | Timeline: Media blitz | Working with Paris | Smallscreen 'Life' leads to big global biz | They'll always have Paris | Hilton covers customers from head to toe