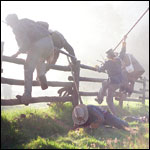 Richard Bedser & Ed Fields
"Gettysburg"
History
Highlight: "Unknown" Union soldier Amos Humiston becomes one of the most famous figures in the Civil War when his unidentifiable body is found with a photo of his family. His family finally learns his fate when the photo runs in a newspaper.
Why they might win: Bedser and Fields make "Gettysburg" the story of individual soldiers by tracing their actual moves that lead them to the battle.
Maybe not: Recent history is beautifully documented in "No Reservations."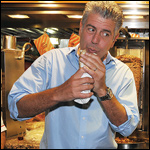 Anthony Bourdain
"Anthony Bourdain: No Reservations"
Travel
Highlight: The usually unfazed Bourdain is unapologetically emotional about the tragedy that has befallen Haiti, and his conversations with Sean Penn revealed an uncertain future for the country.
Why he might win: Bourdain's portrait of Haiti in crisis and the people who live there is both unflinching and deeply compassionate at the same time.
Maybe not: No shortage of other nominees telling high-stakes stories.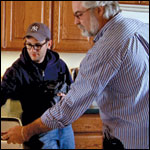 Josh Fox
"Gasland"
HBO
Highlight: Fox captured a legendary moment, that still has people talking, when one homeowner opens a kitchen faucet and then lights the water on fire because it is so contaminated with gas.
Why he might win: The stories of those who agree to have hydraulic fracturing are explored in an achingly personal manner, one that shows the real long-term impact on their lives.
Maybe not: When Fox veers away from their stories and inserts himself too much into the narrative, the impact wanes.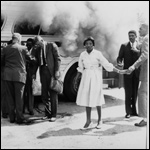 Stanley Nelson
"Freedom Riders"
PBS
Highlight: Testimony from the Freedom Riders who journeyed across America to violate and change Jim Crow laws paints a harrowing portrait of a campaign that took place only 50 years ago.
Why he might win: Nelson's film is both skilled journalism and a dramatic compelling narrative that tells a significant story with all the tension of a top-notch thriller.
Maybe not: Nelson is going head to head with "Gettysburg," another historic heavyweight.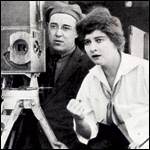 Jon Wilkman
"Moguls & Movie Stars — The Birth of Hollywood"
TCM
Highlight: D.W. Griffith makes the controversial "The Birth of a Nation" and evokes charges of racism while expanding cinematic story-telling techniques in one troubling project.
Why he might win: Wilkman masterfully grounds the beginnings of Hollywood in the personalities of those who created it.
Maybe not: In a field full of historical and activist-oriented subject matter, this could seem like a lightweight.
ROAD TO THE EMMYS: THE WRITER
Showrunners don't run from non-writing duties
Drama | Comedy | Movies & Miniseries | Nonfiction | Variety, music or comedy series