After 2009 and 2010 Emmy seasons that saw only two nominees in the miniseries category, the TV Academy opted to fold the sparsely utilized format into the more typically robust made-for-TV movie category.
That cost somebody a trophy, but it didn't change HBO's relative strength in these areas, with the cabler earning half of the six noms in the combined minis-movies competition thanks to mini "Mildred Pierce" and telepics "Cinema Verite" and "Too Big to Fail."
Elsewhere, the lone PBS nominee — Masterpiece's "Downton Abbey" — represents that rarity in the costumed English miniseries world: an original work, not based on any classic piece of literature. In fact, it's the only nominee without any origins in real-life or another medium, in contrast to the HBO entries and the remaining nominated minis, ReelzChannel's "The Kennedys" and Starz's "The Pillars of the Earth."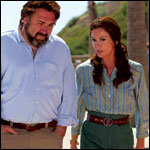 "Cinema Verite"
HBO
Logline: The story of the personal and ethical concerns behind the filming of "An American Family," the groundbreaking 1970s television documentary that depicted a fracturing Southern California clan.
Highlight: Emboldened by her decision to leave her husband and recognizing the power of having a camera crew in tow, Pat Loud (Diane Lane) lays down the terms to producer Kevin Gilbert (James Gandolfini) about which parts of her on-camera breakup will be private and which will be public.
Why it may win: HBO's track record with docudrama is sturdy and the casting was spot-on, while the story's depiction of the seeds of reality television give the film a referential cachet that could appeal to Emmy voters with a strong sense of the medium's history.
Maybe not: It faces stiff competition in the true-life sweepstakes alongside HBO's own "Too Big to Fail," which touches on more resonant issues pertaining to what people are thinking about today.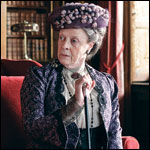 "Downton Abbey"
PBS
Logline: The financial and personal travails of the inhabitants of an upper-class household in Edwardian England are explored in this three-part, six-hour miniseries.
Highlight: The unexpected fate of a visiting Turkish attache after a nighttime tryst with Lady Mary (Michelle Dockery) forces her, Lady Cora (Elizabeth McGovern) and Anna (Joanne Froggatt) to quickly solve the situation, placing the three women in a shaky, secretive pact.
Why it may win: A banner year for the "Masterpiece" brand was led by this wildly popular and sophisticatedly entertaining British import, with a second edition to follow in 2012. Emmy voters are generous to a fault with well-received costumed period offerings when given the chance.
Maybe not: The throwback nature of this resolutely polite and occasionally stereotypical series — reminiscent of "Upstairs Downstairs" — may hurt its chances with voters looking for something edgier.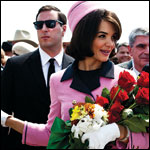 "The Kennedys"
ReelzChannel
Logline: This eight-part docudrama explores the highs and lows of 20th-century America's most celebrated, scrutinized and tragic political family.
Highlight: Racked with grief over his brother's assassination, Bobby Kennedy (Barry Pepper) breaks down over a heart-gripping fear that his mob hearings indirectly led to Jack's death.
Why it may win: Emmy voters with the curiosity to check out a miniseries tarred by accusations of historical inaccuracy and political bias may find a less sensational and more entertaining biographical epic than imagined.
Maybe not: A miniseries dumped by its original network is never a good thing reputation-wise. But even liberal Emmy voters who can appreciate the nominated turns by Barry Pepper and Greg Kinnear may not be ready to honor such a controversial project and could look at its nomination as prize enough.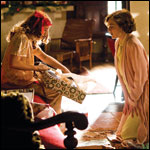 "Mildred Pierce"
HBO
Logline: This five-part adaptation of James M. Cain's 1941 hardboiled novel follows a Depression-era divorcee in Southern California and her struggles for self-empowerment and a better life for her talented but viciously snobbish daughter.
Highlight: Confronted with irrefutable evidence of the cold, ungrateful treachery by opera-singing daughter Veda (Evan Rachel Wood), Mildred (Kate Winslet) lashes out with an act of violence that is shocking, emotionally direct and yet oddly born of intense motherly passion.
Why it may win: Director Todd Haynes' artistic pedigree as a filmmaker is unparalleled, and his rigorous aestheticism, love of Hollywood melodrama and sharp way with period storytelling and actors spelled the kind of prestige effort that routinely wins Emmys. Besides, it's the nomination leader this year with a whopping 21.
Maybe not: Critics and viewers frequently mentioned problems with the miniseries' length and complained that it didn't match the classic heights of the legendary 1945 movie adaptation, even if the movie wasn't as faithful to the novel.
"The Pillars of the Earth"
Starz
Logline: Eight-part miniseries adapts Ken Follett's bestselling novel about royal intrigue, churchly machinations and thwarted love spanning the years of a cathedral's building in 12th-century England.
Highlight: After more than a year apart, builder's apprentice Jack (Eddie Redmayne) is reunited with true love Aliena (Hayley Atwell), who introduces Jack to their son for the first time.
Why it may win: Emmy voters may find nostalgia in this rip-snorting tale of power struggles, personal ambition and revenge from a bygone era, a throwback to the kind of multicharacter historical saga that once routinely characterized the miniseries form.
Maybe not: Hardly thought-provoking or morally complicated stuff, the project's more conventionally bloody, prurient and ham-fisted elements may have Emmy voters looking for something more refined to honor.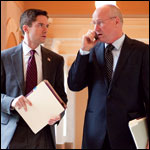 "Too Big to Fail"
HBO
Logline: Based on Andrew Ross Sorkin's nonfiction book about the 2008 financial crisis, the film dramatized the efforts of then-Treasury Secretary Hank Paulson (William Hurt) to stave off an economic meltdown.
Highlight: The seemingly unflappable Paulson, in the wake of yet another crisis-averting deal falling through, retreats to an office bathroom, while we see his staffers awkwardly hearing him throw up.
Why it may win: Brisk, pointed and studded with rich character turns by more than a dozen acclaimed actors; director Curtis Hanson and writer Peter Gould turned tricky financial details and lots of talking into high-stakes drama, and Emmy voters love nothing more than awarding Emmys to quality docudrama ("Temple Grandin," "Recount").
Maybe not: Sharing the nomination field with eligible minis has led to some speculation that a brisk 90-minute movie like "Too Big to Fail" full of talking heads may not match up against more lavish, multipart contenders.
ROAD TO THE EMMYS: MOVIES & MINISERIES:
Minis surprise with bounce-back year | 'Kennedys' path to Emmys a saga of its own | The nominees