While the show's premise can be enough to attract viewers, sometimes it's the personalities that make a series appointment television.

Lisa Ling
"Our America With Lisa Ling" (OWN)
After a celebrated stint as a special correspondent on Oprah Winfrey's talkshow, Ling debuted a new documentary series "Our America With Lisa Ling" for the Winfrey's fledgling network OWN. Ling's specialty is immersive empathy, entering controversial American subcultures — transgender lives, faith healers, people seeking online brides, drug users — with an eye and ear toward understanding, rather than objectively probing or exploitatively exposing. She's not averse to being a presence in her subjects' stories, but her clear sensitivity gets her safely past what might be a roadblock for other journalists, and gives her reports an unhurried, non-sensational warmth.

Jamie Oliver
"Jamie Oliver's Food Revolution (ABC)
The Emmy-winning British chef has made it his mission to change the way we eat, turning his first foray into American television ("Jamie Oliver's Food Revolution") into a crusade against unhealthy school lunches, disguised as a reality show. Unlike inveterate screamer Gordon Ramsay, Oliver's formidable tools (besides culinary skills) are boyish charm and enthusiasm, but he's not above TV-friendly displays of despair and petulance when his message isn't getting across. The nutrition-into-Nielsen's equation has been rough, though: ABC pulled his latest season off the air — detailing his uphill struggle to fix food in LA's schools — due to low ratings in a competitive Tuesday timeslot but has brought it back for another chance.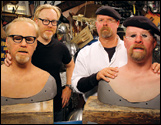 Jamie Hyneman & Adam Savage
"Mythbusters" (Discovery)
The grown-up versions of kids in the backyard with a makeshift rocket, Hyneman and Savage have turned nagging pop culture curiosity into do-it-yourself science-reality success with their eight-year-old Discovery hit "Mythbusters." That most of their experiments involve blowing things up is, naturally, a part of what makes their show eye-popping fun, but these special effects experts with mad building skills never come off like crass danger-seekers. One could argue that ever since they eased a nation's worried mind about mixing Pop Rocks and soda in one's stomach (it's OK kids, really), they've been performing a reality-TV service.

Lisa Vanderpump
"Real Housewives of Beverly Hills" (Bravo)
In a reality series already plunging-neckline-deep with outsized personalities, "Real Housewives of Beverly Hills" star Vanderpump quickly stood out. By keeping her bemused British self above the catfighting fray with deliciously wry one-liners and observations about her castmates delivered in a honey-dipped sneer, Vanderpump, who somehow avoided caricature even with a coddled Pomeranian forever in her lap, eventually laid claim to being perhaps the sanest, smartest and shrewdest woman in Bravo's feminist-unfriendly franchise. Even her miscalculations — a mysterious French hunk she kept around for kicks until he proved mean and shady — earned her sympathy, not scorn.

Mike Wolfe & Frank Fritz
"American Pickers" (History)
Iowa-based scavengers-for-profit Wolfe and Fritz have become two of the more unlikely reality-TV heroes this past year. Their History network show "American Pickers," depicting the pair's foraging through barns, sheds and storehouses full of junk for resale-able items, has made them stars of the latest trend in reality: buying-and-selling shows. Theirs is a careful haggling dance with owners who more often than not aren't fully aware of the value of that old sign, dusty toy or long-unused piece of hardware. Are they taking advantage of people, or helping them de-clutter?

Dr. Drew Pinsky
"Celebrity Rehab with Dr. Drew" (VH1)
Radio and television are packed with names beginning with "Dr.," but Drew Pinsky's healing bonafides — he's board-certified, and an addiction specialist — have made him a persuasive TV personality-expert on a much-mined pop culture topic: The famously self-destructive. His VH1 stars-away-from-bars hit "Celebrity Rehab With Dr. Drew" gives the silver-haired empath a rich forum to instruct home voyeurs on the fascinating nexus between fame, ego, dignity and excess. His democratic treatment of all the differently troubled and often repulsive boldface patients in his care is justifiably impressive, and an ad in and of itself for the kind of tough yet non-judgmental approach recovery often needs.
ROAD TO THE EMMYS: REALITY & NON-FICTION
Reality as teaching tool | Are reality stars real? | 'Stuff' shows are a reality staple | Reality skeins in the running | Reality personalities that shine