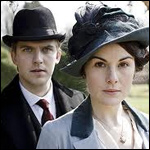 Julian Fellowes
"Downton Abbey"
PBS
Highlight: Fans of a romantic persuasion might cite the long-awaited kiss between Lady Mary and Matthew, while those who prefer mind games would go with the ongoing rivalry between the crusty Dowager Countess and Isobel Crawley.
Why he might win: Fellowes has already filled his mantel with prizes from across the pond, and the miniseries doubled the typical "Masterpiece Classic" audience when it aired in the States. Fellowes has Oscar pedigree, too, with "Gosford Park."
Maybe not: There's another English aristocrat-servant saga on the ballot that might split the vote.
Peter Gould
"Too Big To Fail"
HBO
Highlight: Chagrined treasury secretary Henry M. Paulson admits, "We've been late on everything."
Why he might win: Took a complex subject — the 2008 financial meltdown — and explained it with clarity plus a suspense appropriate to a disaster movie.
Maybe not: Its scope might have been too big for some viewers and felt like homework to others.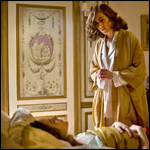 Todd Haynes & Jon Raymond
"Mildred Pierce"
HBO
Highlight: Mildred finally says what we've all been thinking — "To hell with Veda" — though after watching her sacrifice so much for her insufferable daughter, one might think she'd escort her to Hades personally.
Why they might win: Haynes and Raymond scored points with some for remaining true to the substance and scale of the James M. Cain novel and its portrait of a changing America in the 1930s.
Maybe not: Miniseries had its vocal detractors, with critics complaining it was drawn-out, dull and ended with a thud.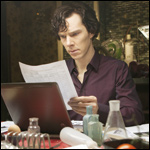 Steven Moffat
"Sherlock: A Study in Pink"
PBS
Highlight: Cab driver challenges Holmes to play a game involving two pills — one harmless and one containing poison.
Why he might win: Cleverly modernized the "Sherlock Holmes" tales in a manner that appealed to both fan boys and the purists who still read books with bindings. Series won best drama at BAFTA.
Maybe not: May be too geeky for some voters, who prefer their British dramas display more restraint.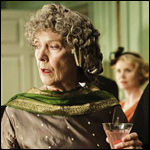 Heidi Thomas
"Upstairs, Downstairs"
PBS
Highlight: Lady Maud Holland arrives with her Sikh manservant and a sense of privilege that could only belong to someone toting a pet monkey.
Why she might win: Took a rather daunting challenge and crafted a worthy successor to the lauded original, delivering many diverting pleasures along the way.
Maybe not: New "Upstairs" didn't inspire the devotion accorded to its predecessor or that other "Masterpiece" series, "Downton Abbey."
ROAD TO THE EMMYS: THE WRITER
Showrunners don't run from non-writing duties
Drama | Comedy | Movies & Miniseries | Nonfiction | Variety, music or comedy series