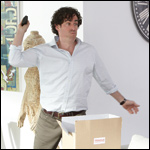 David Crane & Jeffrey Klarik
"Episodes"
Showtime
Episode: "Episode Seven"
Highlight: The season finale's bittersweet climax has Sean and Beverly Lincoln's marriage fall apart at the exact moment their broadcast sitcom "Pucks" gets picked up for a full season, forcing them to work together and remain in Los Angeles.
Why they might win: This new comedy has a familiar face in Crane, who never quite got his due for penning "Friends."
Maybe not: Like many of Showtime's comedies, "Episodes" is thin on actual laughs and, though lighter than its kin, perhaps too heavy for the category.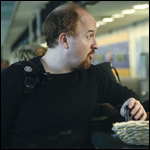 Louis C.K.
"Louie"
FX
Episode: "Poker/Divorce"
Highlight: The episode cold-opens with a poker game that is in turn both grave and raucous as Louis C.K. and his comedian friends discuss the use of a certain homosexual pejorative in standup routines.
Why he might win: Positive critical and fan reception make "Louie" a strong underdog candidate.
Maybe not: Laughs, though good, are few and far between, and the disjointed narrative style may rub voters the wrong way.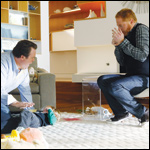 Steve Levitan & Jeffrey Richman
"Modern Family"
ABC
Episode: "Caught in the Act"
Highlight: After Cam and Mitchell spill strawberry juice on the $50,000 rug of upscale restaurant owner Amelia (guest star Rachael Harris), they blame the accident on Amelia's toddler son — who has a strawberry allergy. They fess up to the deed just as she's poised to drive an EpiPen into her son.
Why they might win:Levitan walked away with the Emmy last year and didn't lack for quality this time around.
Maybe not: Competish from racier nets FX and Showtime could cause an upset this year.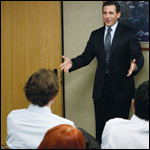 Greg Daniels
"The Office"
NBC
Episode: "Goodbye, Michael"
Highlight: In his final moments onscreen, after Michael takes off his microphone (and asks the camera crew to "let him know if this ever airs"), his final, heart-rending exchange with Pam is left largely to the audience's imagination.
Why he might win: Steve Carell's "Office" exit hit hard on both laughs and heart, which could resonate with voters.
Maybe not: An unsettling tag kept the episode, an otherwise could-be finale, from delivering the closure fans and audiences needed.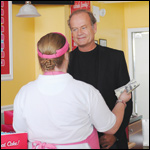 Matt Hubbard
"30 Rock"
NBC
Episode: "Reaganing"
Highlight: In a characteristically irreverent cameo, Kelsey Grammer plays himself moonlighting as a grifter to help Jenna and Kenneth enact a "long con" against Carvel ice cream a la "The Sting."
Why he might win: Both Hubbard and "30 Rock" have a history as Academy darlings.
Maybe not: In upsetting "30 Rock's" momentum last year, "Modern Family" may have dethroned the NBC sitcom permanently.
A Night in the Writers' Room: Comedy
ROAD TO THE EMMYS: THE WRITER
Showrunners don't run from non-writing duties
Drama | Comedy | Movies & Miniseries | Nonfiction | Variety, music or comedy series