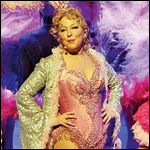 "Bette Midler: The Showgirl Must Go On"
HBO
Highlight: Midler's fifth HBO special, the first since 1997, is a Vegas extravaganza that showcases the Divine Miss M's greatest hits like "From a Distance," "Hello in There," "The Rose," "Wind Beneath My Wings" and "Boogie Woogie Bugle Boy," accompanied by the Harlettes and a 13-piece band.
Why it might win: It's time. The last of her three Emmys was as an individual performer for 1997's "Diva Las Vegas."
Maybe not: It's similar to her other specials and therefore may not be as special.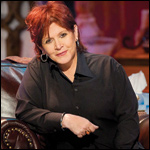 "Carrie Fisher in Wishful Drinking"
HBO
Highlight: The exploration of the scandal in which Carrie Fisher's father, Eddie Fisher, left her mother, Debbie Reynolds, for Elizabeth Taylor — and the fallout on her family. Famous line from the woman who shot to fame at 19 in "Star Wars" as Princess Leia: "Instant gratification takes too long."
Why it might win: The subject matter and Fisher's well-written sardonic humor resonate with voters.
Maybe not: The production itself may not glitter enough to take the statuette.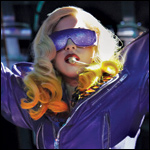 "Lady Gaga Presents: the Monster Ball Tour At Madison Square Garden"
HBO
Highlight: Shot during two February concerts, the two-hour special gave viewers behind-the-scenes access and the first look at the then-unreleased track "Marry the Night." Over the credits, Gaga practices "Born This Way" a cappella with her back-up singers. Critics noted similarities to Madonna's 1991 docu "Truth or Dare."
Why it might win: The enthusiasm of Gaga fans within the Emmy ranks could push it to the top.
Maybe not: Most TV Academy members do not fit into the Little Monster demo.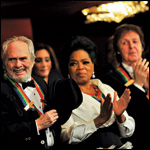 "The Kennedy Center Honors"
CBS
Highlight: While not much could top 2009's rousing tribute to Bruce Springsteen, the 2010 edition featured emotional tributes to Oprah Winfrey — feted by Jennifer Hudson — and Paul McCartney, with a musical montage of his work as the grand finale, performed by James Taylor, Dave Grohl, Steven Tyler and No Doubt. Edited out: a crack by Chris Rock about Sarah Palin's ability to read a book.
Why it might win: Its long track record of excellence as a perennial nominee since 1979 and seven-time winner of the prize, including the past two years.
Maybe not: Academy voters might take the opportunity to crown something else.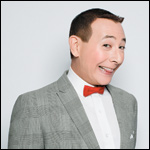 "The Pee-Wee Herman Show on Broadway"
HBO
Highlight: The new secret word was "fun" as Herman took the audience for his show, taped at the Stephen Sondheim Theater, on a 90-minute nostalgic trip back to "Pee-wee's Playhouse." The performance reintroduced characters like Miss Yvonne, Cowboy Curtis and the King of Cartoons along with Herman's catchphrase, "I know you are, but what am I?" It twice referenced masturbation, an allusion to his infamous indecent exposure arrest.
Why it might win: Herman's return was greeted almost worshipfully in some quarters.
Maybe not: It's likely too niche to win Emmy gold.
ROAD TO THE EMMYS: VARIETY, MUSICAL OR COMEDY
Painting shows into a corner? | Bold specials make nice with the niche
Variety, Music or Comedy Special | Variety, Music or Comedy Series