SERIES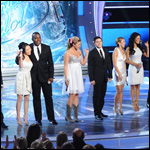 Gregg Gelfand
"American Idol"
Fox
Episode: "Top 11 Results"
Highlight: Contestants broke with tradition and performed in small group numbers, including renditions of "Teenage Dream" and "I Told You So."
Why he might win: Infusing "American Idol," the most formulaic show on television, with a bit of pizzazz, which included surprise guests Fantasia Barrino, Jamie Foxx and Will.i.am.
Maybe not: He's up against some comedic heavy-hitters, and the category isn't usually as kind to the "variety" contingent.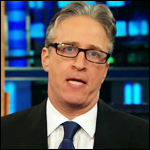 Chuck O'Neill
"The Daily Show"
Comedy Central
Episode: "Jamie Oliver"
Highlight: Jon Stewart's cold-open as a parody of Glenn Beck, followed by an episode of chalkboard-scribbling and much crying.
Why he might win: This heavily stylized "Daily Show" was a pitch-perfect takedown of Beck's now-shuttered Fox show. Plus, "The Daily Show" is on a hot streak, and many of the show's successful gambles can be chalked up to O'Neill's steady hand.
Maybe not: This is O'Neill's eighth nomination, and he hasn't won one yet — he compared himself in a previous Variety report to Susan Lucci.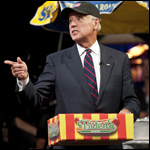 James Hoskinson
"The Colbert Report"
Comedy Central
Episode: "Joe Biden"
Highlight: Modified intro where Stephen Colbert drove a tank through the streets of New York.
Why he might win: The episode was a special tribute to returning Iraq war veterans and included Joe Biden serving hot dogs to the troops and "The Price Is Right"-style tomfoolery.
Maybe not: Tough intramural competition with Chuck O'Neill at "The Daily Show."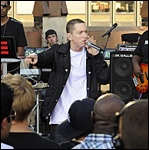 Jerry Foley
"Late Show With David Letterman"
CBS
Episode: "Jay-Z and Eminem"
Highlight: A performance by two hip-hop icons, on the roof of the Ed Sullivan Theater.
Why he might win: The episode seamlessly wove pretaped footage with live material. Foley made the most of Letterman's at-ease interview with Jay-Z, and amped up the awkwardness of Eminem's unintentionally hilarious and stilted "Top 10" segment.
Maybe not: The episode was good, but not entirely out of the show's element. Bigger risks were taken by others this year.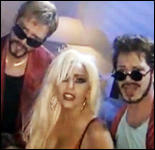 Don Roy King
"Saturday Night Live"
NBC
Episode: "Justin Timberlake"
Highlight: The return of the Timberlake-Andy Samberg duo in another digital short.
Why he might win: This year's season finale was a proper showcase for the newfound silliness at "SNL." Timberlake's monologue included a song-and-dance number; he later swayed next to Jimmy Fallon as Barry Gibb and played an animatronic barbershop singer. And in unrelated-to-Justin-Timberlake news, Lady Gaga performed in all her over-the-top glory.
Maybe not: The episode was certainly electric, but a lot can be chalked up to Timberlake's willingness to give every sketch his all.
SPECIALS
Laurieann Gibson (first Emmy directing nom)
"Lady Gaga Presents the Monster Ball Tour: At Madison Square Garden," HBO
Louis J. Horvitz (15th nom, six prior wins)
"The 53rd Annual Grammy Awards" CBS
Don Mischer (11th nom, four prior wins)
"83rd Annual Academy Awards," ABC
Lonny Price (second nom)
"Sondheim! The Birthday Concert (Great Performances)," PBS
Glenn Weiss (fifth nom, one prior win)
"64th Annual Tony Awards," CBS
ROAD TO THE EMMYS: THE DIRECTOR
Film directors reign at Emmys
Drama | Comedy | Minis, Movies and Dramatic Special | Nonfiction | Variety, Music and Comedy