FILM
Liam Hemsworth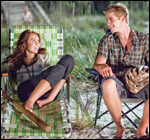 Liam Hemsworth is hoping for the Robert Pattinson effect after snaring a leading role in "The Hunger Games," an adaptation of Suzanne Collins' teen sci-fi books that, it is hoped, will become as popular as the "Twilight" series. Hemsworth will play Gale Hawthorne alongside Jennifer Lawrence as Katniss Everdeen; Hemsworth has trodden the well-worn sudser path Down Under with roles on both "Neighbours" and "Home and Away," while pic credits include "The Last Song," Alex Proyas' "Knowing" and frightener "Triangle."
LEGIT
Ewen Leslie
Playing Richard III in the Melbourne Theater Company's production last year won Ewen Leslie almost unanimous plaudits from critics and the public, and saw the show set B.O. records. So strong was the response that Leslie has developed a film star rep while sticking to theater — a situation that was only enhanced by his turn in Ibsen's "The Wild Duck" at Belvoir Street in March. Pic credits are sparse but include "Kokoda" and the upcoming "Sleeping Beauty."
Ross Mueller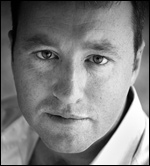 Playwright Ross Mueller has won plenty of kudos — the New York New Dramatists Playwright exchange for his play "Concussion" and the Wal Cherry Play of the Year for his work "The Glory" — but his first commission from the Sydney Theater Company for a main stage play has seen him have his biggest success. "Zebra!" was set post-GFC in a New York bar with two alpha males duking it out and starred to of Oz's biggest names in Bryan Brown and Colin Friels. The play was a sell-out and Mueller's acerbic showdown on of the year's most enjoyable nights out.
TELEVISION
James Warburton
TV exec James Warburton may be tied up in court but there is little doubt that, whatever the outcome, the TV high roller will be a major player in Oz's free-to-air TV future. Warburton has a strong background in sales and was Seven Network's chief sales and digital officer before defecting to Network Ten but he was also in line to inherit Seven's top job from David Leckie. The current court manoeuvring shows Seven thinks it has lost a major talent in the boardroom a move that is sure to be Ten's gain.
MUSIC
Snowdroppers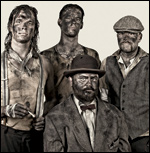 Since launching on the scene in 2007 with the EP "Bottom of the Trough" Sydney-based blues outfit the Snowdroppers has had a phenomenal few years gathering a huge following drawn to its energetic live shows, releasing foot-stompin' debut album "Too Late to Pray" and culminating in the group playing South by Southwest in March. Since then, Johnny Wishbone, Pauly K, Cougar Jones and London have returned to the road to continue their mission of bringing blues back to the masses.
More from World Report: Australia:
Waking up Oz pics | Best TV dramas play behind the scenes | Up and comers Down Under | New blood brings new buzz to Oz stage | Oz pursues runaways | Oz at Cannes