In addition to the nearly 100 films screening at the Zurich Film Festival, a separate forum focusing on film financing will take place in the Swiss city.
The event provides a look at the latest trends, opportunities and challenges in an industry that is being reshaped by digitization and new distribution models that will increase cross-border co-productions, as well as competition.
The Film Finance Forum at the Zurich Film Festival, presented by Winston Baker in association with Variety, gathers industryites to discus the state of European film financing today, according to Katherine Winston, Winston Baker's co-founder and managing partner.
The gathering serves as a venue for financiers looking to do business in Europe. Sessions will focus on what it takes to produce a movie in today's economic environment, including co-production case studies and the latest in sales, marketing and distribution strategies and trends.
For Constantin's Martin Moszkowicz, the forum is an opportunity to speak about the challenges of financing movies today. Specifically, he'll talk about the "click," that moment when a project gets the needed momentum, and examine the fundamentals necessary in today's environment to get a movie financed.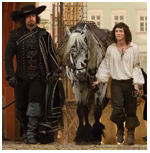 Moszkowicz will also present current and upcoming Constantin productions, including Paul W.S. Anderson's "The Three Musketeers" and historical actioner "Pompeii," as well as the company's CGI-animated "Tarzan," which is in the works.
Exclusive Media Group honcho Nigel Sinclair will be discussing strategies for producers.
But where there are films, there are always discussions of money, and Zurich's panels have a common theme: how to make coin making movies. A panel probes investor strategy: a hot topic as more non-film investors are starting to put funds in movies, particularly in such markets as Russia and China, where a real estate boom is fueling films.
A producers' strategy panel looks at deal structure: With digital distribution options multiplying, TV deals shrinking, DVD sales down and box office booming, deals can become very complicated very quickly. It also tackles the topic of finding capital.
Though many banks retracted from investing in the film industry in 2008, "They are re-entering the space once again and new banks are joining in on that movement as well," Winston adds.
Zurich's reputation as a world financial center has certainly added weight to the film finance forums, drawing heavyweights of the indie world to speak and network. Forum attendees are also invitied to the festival opening night film. This year, it's Steven Soderbergh's "Contagion."
Ed Meza contributed to this report.