If the Zurich Film Festival were a person, it would be entering first or second grade now. But the 7-year-old festival in Switzerland's largest city is not a beginning student.
Though young by established film-festival standards, the Swiss gathering drew 2,000 submissions this year and is supported by 4.9 million Swiss francs ($6 million) in funds. Of the thousands entered, 90 films were chosen.
Steven Soderbergh's "Contagion" opens this year's fest on Sept. 22. The action-thriller stars, among many others, Laurence Fishburne, who will also be on hand at the fest to serve as international jury prexy.
Among this year's lineup are eight films competing in the German-language competition. Festival founder and artistic director Karl Spoerri says Zurich is known for showcasing beginning filmmakers — but that doesn't necessarily mean that they are all twentysomethings.
"You don't have to be young — that's not what we're looking for. Sometimes it's very interesting to see how diverse filmmakers in the early part of their career can be. We don't look at the age," he says.
Overall, there are four competitions. Two German-language (one for feature film and one for documentaries) and two international (again, for a feature and a documentary) with 40 films spread out among the sections.
Among the German language films to be shown is "Kriegerin" (Combat Girls) from David F. Wnendt of Germany. Zurich marks the international premiere for his film about a young neo-Nazi.
In the German-language documentary-film category, Swiss filmmaker Stefan Muggli's "Unter wasser atmen" (Breathing Underwater) docu about Dr. Nils Jent, a leading advocate for the disabled, makes its world premiere.
In the main competition, young filmmakers will compete for the Golden Eye, the festival's main award. In addition to the competition, recent films by renowned filmmakers will be aired at exclusive gala premieres.
The festival also highlights movies from countries with increasingly important movie industries. This year's focus is Turkey. In the past years, the regional focuses have included Israel, Argentina and Australia. The festival tries to pick countries that have recently increased their film production, Spoerri says.
The Zurich festival promotes itself as a European festival with a special emphasis on filmmakers from the continent. But for all its Euro-emphasis, organizers named an American actor — once again — to receive the Golden Icon Award for lifetime achievement. Sean Penn will be formally honored on Sept. 28 for his "unprecedented achievements as a legendary actor and filmmaker," a festival statement said.
The festival will unspool Penn's "Into the Wild" and feature a special retrospective of films featuring him as an actor, including "Mystic River" and "Milk."
The Golden Icon award was established in 2008 and since then every honor has gone to an American actor: Sylvester Stallone, Morgan Freeman and Michael Douglas.
Spoerri says it's only a coincidence that the award has always been delivered to a Yank.
"For some reason it's worked out that way. It's not something we've strived for," he says.
The honorees this year aren't all from the United States. On Oct. 1, Canada's Paul Haggis and Mexico's Alejandro Gonzalez Inarritu will be honored, and screenings of their pics are featured throughout the festival schedule.
Credit Suisse, Die Post, Kuoni and Audi are the major sponsors of the Zurich Film Festival, which has received some good news from an unexpected source. Spoerri says the recent increase in the value of the Swiss franc has helped the festival, since most of its acquisitions are in euros and the franc has appreciated against that and other currencies.
(Ed Meza contributed to this report.)
HIGHLIGHTS
Belated honor
Roman Polanski returns to Zurich to pick up the lifetime achievement award he was to receive in 2009 when Swiss police arrested him in connection with a 1978 case.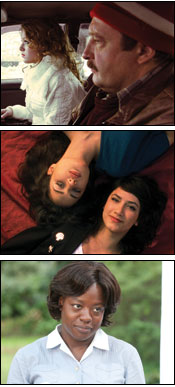 "Gromozeka"
Director: Vladimir Kott
Actors: Nikolay Dobrynin and Boris Kamorzin
Three former school-band players, now in their 40s, reunite for a performance at their graduation anniversary.
"Agnus Dei: Lamb of God"
Director: Alejandra Sanchez
Documentary
Fifteen years after being sexually abused, a former altar boy decides to confront the guilty priest, who is still serving mass in Mexico due to the fact that the local bishop has rejected or disparaged accusations made against him.
"Circumstance"
Director: Maryam Keshavarz
Actors: Sarah Kazemy and Nikohl Boosheri
Set in contemp Iran, the film tells the story of two girls, one wealthy and the other orphaned, who discover and struggle with their burgeoning sexuality, as well as the boundaries placed upon them by society.
"Beauty Day"
Director: Jay Cheel
Documentary
Ralph Zavadil is a stuntman featured in "Cap'n Video," which aired 1990-95 on Canadian TV. His brand of grossout stunt comedy was ahead of his time — and all it took was a broken neck for him to get noticed.
"The Help"
Director: Tate Taylor
Actors: Emma Stone and Viola Davis
The story of African-American maids in the 1960s closes the festival.