Studios love franchises. In an economy where few things are certain, studios can count on installments of a popular film series to bring them not just ticket sales at the box office but revenue in home entertainment earnings and merchandising rights. And the profits keep rolling in year after year as the studios re-release the DVDs and Blu-rays and license property out for additional products. Three of the most profitable franchises in the marketplace today capitalize on preexisting fan bases hungry for each new installment.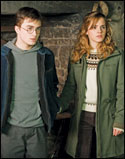 HARRY POTTER
(Warner Bros.)
Plot: Orphaned Harry Potter realizes he's a wizard at the ripe age of 11 and begins studying at Hogwarts School of Witchcraft and Wizardry in the first film adapted from J.K. Rowling's blockbuster series of novels. Over the course of the next seven films, Potter must triumph over a series of spells, challenges and puberty. In a very profitable move, Warner Bros. split the last film into two installments.
Total Investment: $1.155 billion in production costs for eight films. Worldwide advertising between 1998 and 2007 estimated at more than $390 million.
Total Return: $7.643 billion worldwide box office; $2.282 billion for U.S. B.O. Home entertainment spending for the first four films: $624 million.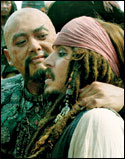 PIRATES OF THE CARIBBEAN
(Walt Disney)
Plot: Based on Disney's "Pirates of the Caribbean" theme park ride, the franchise chronicles the exploits of Captain Jack Sparrow (Johnny Depp) as he searches for his ship, attempts to lift a multitude of curses placed upon him, and finally goes on a quest for the Fountain of Youth.
Total Investment: $915 million in production costs for four films.
Total Return: $3.723 billion worldwide box office; $1.278 billion in U.S. box office; More than $860 million in home entertainment spending for the first three films.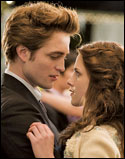 TWILIGHT
(Summit)
Plot: "Twilight" films, adapted from Stephenie Meyer's hugely popular book series, follow Bella Swan and vampire Edward Cullen as they begin a relationship that soon involves werewolf Jacob Black, resulting in a dark love triangle. Taking a page out of the "Harry Potter" handbook, the last novel will be split into two parts, with one coming out in late 2011 and the last in 2012.Total Investment: $155 million in production costs for first three films.
Total Return: More than $1.8 billion in worldwide box office and $792.3 million in U.S. box office. Over $900 million in worldwide home entertainment spending and $500 million in U.S. Additional "Twilight Saga" merchandise — approximately $650 million worldwide.
Related links:
• Investors going steady