MICHAEL WILKINSON
Recent Scores: Dealing with expectations of obsessive fans on such geek-friendly films as "Watchmen," "Tron: Legacy" and the upcoming "The Twilight Saga: Breaking Dawn — Part 1" and "Part 2," was anything but a burden for this Australian native. "It's great to feel that so many people are going to care about my work and have an opinion." Wilkinson says. "And part of being an artist is accepting that you can't please everyone all the time. You have to be true to yourself and the world you're creating with your filmmaking colleagues."
Coming Up: Wilkinson will need that attitude to keep persnickety comicbook nerds away on his current project, Warner Bros.' "Man of Steel" Superman story, which reunites him with "Watchmen" director Zack Snyder, whom he also worked with on "300" and "Sucker Punch."

MARY ZOPHRES
Recent Scores: The go-to outfitter for Joel and Ethan Coen since 1996's "Fargo," Zophres was in the middle of the brothers' remake of "True Grit" in the spring of 2010 when she got the offer for "Cowboys & Aliens." Seeing no way to prep in time for the June 2010, start, she turned it down. But director Jon Favreau was persistent and, while working nights and weekends during "Grit" (which eventually earned her an Oscar nom), she found a way to pull off "Cowboys," too. "I literally had five days in between the two movies," she says.
Coming Up: Zophres is prepping Warner Bros.' "The Gangster Squad," set in post-World War II Los Angeles. "It's totally up my alley, and I adore the director (Ruben Fleischer)," she says.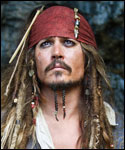 PENNY ROSE
Recent Scores: Rose has created costumes for films as diverse as "Prince of Persia" and HBO's "The Pacific," but her claim to blockbuster fame rests on the fact that she designed costumes for all four films of the "Pirates of the Caribbean" franchise. She's about to wrap work in London on Carl Rinsch's "47 Ronin." "We decided to base it on the culture and what the shapes should be — i.e., everyone's in a kimono — but we've thrown a kind of fashion twist at it," she says. "And we've made it full of color, which is quite unusual for me."
Coming Up: The British designer has already started on Gore Verbinski's "The Lone Ranger," a process in which she creates large posters for each type of character in the movie. "I like the look of something big on the wall, and then (finding) detail in it," she says.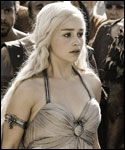 MICHELE CLAPTON
Recent Scores: Clapton, who received an Emmy nom for her work on "Game of Thrones," started her career in costumes after working in fashion. In the 80s she launched a fashion line, and in the '90s dressed stars such as Annie Lennox and Sting for music videos. Clapton's favorite part of the job is "the research and the drawing stage of it, and trying to make all of the characters and places work in my head and with the production designer and director."
Coming Up: Clapton plans to continue her work with "Thrones" in its second season. "It's something I just started that I really need to make my own," she says.