Director Brett Ratner was looking for a new composer for his upcoming action comedy "Tower Heist." Universal execs recommended Montreal-born Christophe Beck, the composer of such high-grossing comedies as "The Hangover" and "Date Night."
Ratner visited Beck at his Santa Monica studio and was stunned at the number of movie posters on the walls. "The guy looked younger than me, and I'm like, 'You've done all these movies?' " Ratner decided to audition Beck: If he could come up with a main theme, the job was his.
"I wanted it to be the quintessential New York heist movie, a la 'Taking of Pelham One Two Three' or 'The Hot Rock,' " Ratner says. "I wanted to make sure it was urban; it's got Eddie Murphy and Gabourey Sidibe. And from the first bass line, I'm telling you, he knocked it out of the park. He made it '70s without sounding dated. It's a huge score, but it's cool, sophisticated, emotional, it's got so much color. It's one of the best scores I've ever had."
Beck, 42, has scored more than 70 movies in the past 15 years. And while most of his big hits have been comedies — everything from "Cheaper by the Dozen" to "Garfield: The Movie" — the labeling can be deceptive. Comedy scoring is no longer about using the trombone to make laughing noises.
"Comedies are, I believe, more difficult than other kinds of movies because there's more of an anything-goes feeling about the music," says Beck. "A lot of times you're playing it completely straight. Part of your job as a comedy composer is exploring all these different genres for comedic effect, but the music itself is dead serious."
He cites a scene in "I Love You, Beth Cooper," in which he played a towel fight with swashbuckling pirate-adventure music that would not be out of place in an Errol Flynn film. "Date Night," another example, has as much suspense and action material as most thriller scores.
Shawn Levy, who directed "Date Night" (and four other films with Beck), says the composer's scores "run the gamut from cool to poignant to majestic. He also has a critical skill for a film composer: He listens. He hears what the filmmaker is trying to get across and he translates those intentions into musical notes."
Beck's versatility may be the result of a musical background that includes everything from rock to opera: He started playing piano at 3, performed in a band in his teens, wrote an opera at Yale and — although he considered post-grad work in musical theater — wound up in the USC film-scoring program in 1992.
"This was something I could be good at," Beck recalls thinking. "It was a really great way to make music with other people. I didn't have to deal with stage fright, writing lyrics or deciding how I wanted to look. It was a nice, behind-the-scenes music job, and it suited me perfectly."
He landed his first series (the Canadian-produced "White Fang") while he was still at USC, interned for a year with TV legend Mike Post and did several American series ("Two," "F/X," "George & Leo") until landing his breakthrough show, "Buffy the Vampire Slayer."
It was after quitting TV in 2001 that things started happening for Beck on the feature side. "Under the Tuscan Sun" director Audrey Wells, who calls his storytelling skills "transcendent," recalls their 100-piece orchestra giving him a five-minute standing ovation at the end of the sessions.
Todd Phillips hired Beck for "School for Scoundrels" in 2006 and says he hasn't looked for another composer since, including "Due Date" and two "Hangover" movies. "We start talking about tone and themes in prep, so he's already writing music while we are shooting, which is great because we rarely have to use temp tracks.
"As crazy as it sounds, with my comedies we are always going for reality," says Phillips. "The situations may be absurd, but the characters and the world that they live in should always feel as real as possible. Christophe's music always takes that into consideration. He treats our comedies as elegantly as he would treat any drama."
And while Beck doesn't think of himself as especially political, when documentary filmmaker Davis Guggenheim asked him to score his Barack Obama short films prior to the 2008 election, Beck took the job. Guggenheim then asked him to score "Waiting for Superman," the widely acclaimed doc about the failures of the American educational system.
"It had such a range of tone," Guggenheim says, "his stuff was brilliant, it worked perfectly. His music is gorgeous, beautiful, and it makes me cry."
In addition to "Tower Heist," Beck recently finished "The Muppets" and is now at work on a McG movie ("This Means War") and the Disney toon feature "Paperman," "a composer's dream," he says, as the animators are now illustrating to his music.
Says Ratner: "He's a superstar."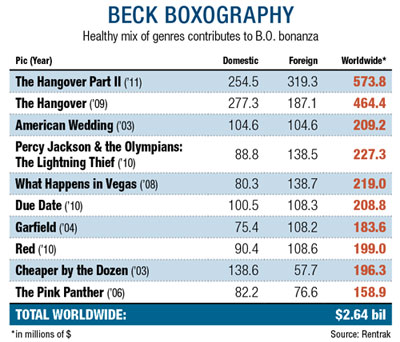 BILLION-DOLLAR COMPOSER: CHRISTOPHE BECK
Beck's green phase | Resurrecting 'Muppets' in Disney tradition | Dawn of the undead | Beck's music in his own words | Beck, private school grad, gives back