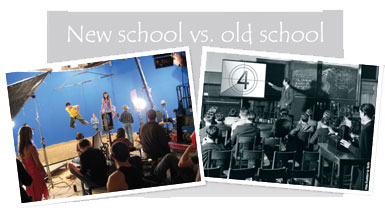 F ilm studies may be one of the youngest disciplines within academia, and yet they've gotten old-fashioned fast. Most programs follow the model established in the 1960s, balancing theory with a measure of trade-school-style practical training. But showbiz is evolving so rapidly, it's a wonder more schools aren't rethinking the foundations on which their programs are based. Here are five ways universities have adapted.
Offering new courses and concentrations
"When we all came into this business, there were six studios and three networks, and our graduates all went to work for one of them. That's just not true anymore," says Elizabeth Daley, dean of USC's School of Cinematic Arts, one of the oldest (established in 1929) and most adaptive film schools in the country.
In response to the diversification of media-related skills and employers, USC has considerably broadened the courses required. "We want every student who leaves here to know something about visual effects. Everyone needs to know something about 3D. Even in the introductory courses, students get an introduction to our motion-capture lab. We want them to start thinking, 'How can this liberate my imagination?'?" Daley says.
Industry changes typically leave universities chasing the trends, but USC tried to get ahead of the curve by launching its Interactive Media Division in 2002, focusing on videogame design and other emerging "transmedia" formats — a buzzword among the nation's film programs.
Emphasizing hands-on learning
One of the great challenges facing production-oriented programs is the sheer cost of equipment, with schools like Florida's Full Sail U. partnering directly with Avid in order to offer editing workstations to its students. Whereas most film studies majors offer history and theory in the first year, a growing number of schools are giving students immediate access to cameras.
"They start with an independent bent, and then they're taught the skills of the studio filmmakers," says U. of North Carolina School of the Arts filmmaking dean Jordan Kerner, a working producer who gave his students access to all aspects of production on his current feature, "The Smurfs." "As a conservatory, if they don't make the cut, they're not here next year."
At Chapman U.'s Dodge College, students also learn by doing. "Most (film-school grads) are really highly trained, they have a high work ethic, but it's just a tough business. Nobody is going to hire a kid right out of film school and give him a deal to make a feature," says Dodge dean Bob Bassett, who is addressing that challenge head-on by launching Chapman Entertainment, an ambitious production initiative that aims to finance five low-budget features a year, to be crewed and directed by recent alums.
"Most film programs are in the English or communications department, but they're really about looking at the art of films and asking what they say about our culture. Our focus is really on the business; coming here is like getting an MBA," he says.
Inventing hybrid programs
In some cases, the schools best positioned to adapt to changes in showbiz don't offer traditional film degrees at all. Instead, universities such as Carnegie Mellon (CMU) and Texas A&M — both top recruitment sources for companies such as Electronic Arts, DreamWorks Animation and Pixar — have created unique interdisciplinary programs that marry creative and technical skills.
"We were built from the ground up as interdisciplinary. The faculty is everything from fine artists to computer science engineers," says Tim McLaughlin, head of Texas A&M's Dept. of Visualization (aka Viz Lab). Graduate applicants must display not only a computing background but also an artistic portfolio to enroll in the program, which is based within the school's college of architecture. Through problem solving and group projects, students emerge with skills to take on technical directing jobs in visual effects, animation and vidgame industries.
According to Ralph Vituccio, an independent filmmaker who teaches at CMU's Entertainment Technology Center, a teamwork-driven masters program that pairs artists and computer programmers: "We are teaching you to work well together in a diverse environment with artists and scientists. We're teaching teamwork, brainstorming and rapid prototyping. That's not what a film school teaches; there, students choose very traditional roles and learn how to be a writer or cinematographer. Our graduates will hit the ground running. They know how to talk the tech talk and the creative talk."
Finding partners in industry
When it comes to job placement, location gives schools such as NYU and USC an immediate advantage, with students networking in the cities where they're likely to find work after graduation. To bolster their connection with non-local film schools, companies like Sony Imageworks and DreamWorks Animation have developed relationships with dozens of programs around the country.
"We're all going to these crazy places like College Station, Texas. Why else would you go there, except Texas A&M's Vizlab?" says DWA Head of Outreach Marilyn Friedman. In addition to inviting reps from top recruiters to serve on advisory boards, thereby ensuring that their courses are relevant to future employers, such schools are creating opportunities for their students to spend time in Los Angeles. "Over the first week of graduate school, CMU's ETC program brings their entire class out to the West Coast and they tour every single company — Adobe and Facebook and all the animation and visual effects houses. They're spending a lot of time getting their
students introduced to a potential path."
Offering study abroad — in L.A.
Even more popular among schools with more traditional film programs has been the introduction of semester-in-L.A. programs, which help to give out-of-staters industry access. Students hold internships while juggling relevant courses on a remote campus (Boston U. operates in the same complex as Comcast, while the U. of Texas holds classes adjacent to the Warners lot).
"All the students call this life-changing," says Andrea Asimow, director of Syracuse's L.A. Semester program. "What they realize when they're out here is you need to know more than just production or how to move a camera. We teach them how to stay in touch, and it really does create for them the thread of how to find their way back."
More from the Education Impact Report 2011:
Brave new ways to teach media | Yesterday's grads share key lessons | Film school directory | Fox topper shows real class | Media's emerging markets | Media mentor of the year | Master class | Brands sponsor student shorts