A team player, Relativity chief gives credit where credit is due
RELATIVITY EXECS


TUCKER TOOLEY & KENNETH HALSBAND
Prexy of Relativity's worldwide production, Tucker Tooley is dubbed the "lifeblood" of the firm. Kavanaugh credits Tooley's "incredible creative instinct" as he works alongside exec VP, physical & post production Kenneth Halsband, but Tooley stays tuned to the company's motto to let the creatives maintain their vision.

STEVE BERTRAM & BRIAN EDWARDS
Steve Bertram, prexy/CFO, and Brian Edwards, COO, are responsible for day-to-day operation of the outfit. Bertram, known as the "right-hand business guy," is also known as the "yin" to Kavanaugh's "yang."

RAMON WILSON
Exec veep of biz development
Ramon Wilson, works with Bertram on the financial side.

ANDREW MARCUS
Prexy of corporate development and strategy, Andrew Marcus has teamed with Kavanaugh over six years at Relativity, helping to create and close the financial structures while working with partners on Wall Street.

TOM FORMAN
As CEO of RelativityReal, Tom Forman is producing 14 series. At RelativityReal, he helps maximize the film and TV branding efforts with Kavanaugh. Current shows on the air include "Police Women of Broward County" and "The Great Food Truck Race," with "Catfish" on the grill.

ADAM KEEN
PR strategist Adam Keen bridges the gap between Relativity and the rest of the world, handling the reins on all Relativity projects. "Keen understands all aspects of the biz," Kavanaugh says.
RANDALL COX
Kavanaugh is always looking ahead to new strategies, and Rogue Life prexy Randall Cox matches his vision for the future. The digital media guru has shown that, through unique deals with YouTube, Twitter and Clear Channel, viral campaigns can not only be as successful as traditional media marketing, but cheaper, too.
HAPPY WALTERS
The well-known music supervisor-turned-Rogue Music and Rogue Sports president works closely with Kavanaugh on music in Relativity-produced projects to cross-promote, brand and leverage the company's sports and music efforts across all divisions.
BAND OF PARTNERS

BAND OF MOGULS
Relativity has key partnerships with Sony's Michael Lynton and Bob Osher, and Universal's Ron Meyers and Adam Fogelson. The companies have joined forces with Relativity to produce such films as Sony's "The Social Network" and Universal's "Mamma Mia!." Kavanaugh and Lynton have frequent "intellectual media meetings" to discuss the state of the biz, and Kavanaugh considers Meyers — or "Ronnie" to him — to be a close friend.

TED SARANDOS
Helping cement close ties between Netflix and Relativity, Kavanaugh speaks with Netflix content honcho Ted Sarandos several times a week. Kavanaugh calls Sarandos "one of the smartest people" he's ever met in the business.

TWO VIRGINS
In an exclusive deal with Virgin, Relativity has been able to plug pics with campaigns such as "Limitless" drinks on Virgin Airlines. Sir Richard Branson and Jason Felts collaborate with Kavanaugh in creating out-of-the-box, fresh content ideas that embrace both the Relativity and Virgin ideals.
PAUL SINGER
CEO of Elliott Management Corp., hedge funder Paul Singer stands as a significant investor in Relativity. The fund tops out at over $17 billion, and Kavanaugh credits him in helping "guide Relativity to operate as a large corporation and maximize value."
FRIENDS OF RYAN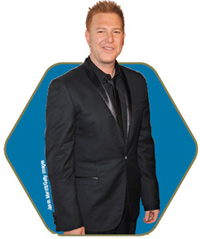 RYAN SEACREST
One of Kavanaugh's best friends, Ryan Seacrest spearheaded the ClearChannel-Relativity deal. Aside from catching up between busy scheduling conflicts, Seacrest and Kavanaugh constantly brainstorm new ways to leverage their brands and maximize the value for both.
UBER-AGENT ALLIANCE
Industry allies Bryan Lourd and Kevin Huvane of CAA and Ari Emanuel and Patrick Whitesell of WME are good friends of Kavanaugh and have been supportive of Relativity since the early days.

UNOFFICAL BRAIN TRUST
Kavanaugh's band of advisers pack a solid punch — Tom Sherak, Jeffrey Katzenberg, Rob Wiesenthal and Tom Kartsotis are willing to have their brains picked and act as mentors.
GREG O'HARA
JP Morgan exec Greg O'Hara serves as a key day-to-day adviser. "He's someone who has run and built many businesses," Kavanaugh notes.Union Bank's Bryan LaCour and Comerica's Jared Underwood, longtime colleagues, as well as Citibank's Alfred Griffin, who led the $600 million deal with Sony, are also constant resources. Other key execs include City National's Charles Heaphy and Steve Shapiro; CIT's Wade Layton and Kevin Khanna; and Wells Fargo's Christine Ball and Earl Kwak.
LEGAL ADVICE

CURTIS W. BAJAK
Legal go-to Curtis W. Bajak — or "Curt" to Kavanaugh — has flown with Kavanaugh for seven years and runs the legal biz on anything with a dollar sign attached to it at Relativity. "I probably talk to Curt 10 times a day," says Kavanaugh.

CAROL GENIS
Legal eagle Carol Genis serves as an additional advisor, and is Relativity's copyright lawyer — reportedly repping Relativity in its lawsuit against the Weinstein Co. over "The Crow" remake.