From cult survivors to corrupt cops, angst-ridden lovers to sex addicts, many of the year's most talked-about films revolved around tortured souls wracked by emotional and psychological pain. While the actors articulated this inner turmoil through their performances, the cinematographers behind these movies seized the day with the requisite lighting and composition to underscore the enveloping darkness.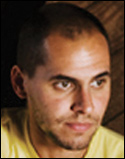 Cinematographer Jody Lee Lipes helped establish the haunting atmosphere of flashbacks that invade the present-day consciousness of the title character, played by Elizabeth Olsen, in helmer Sean Durkin's maiden feature, "Martha Marcy May Marlene." Lipes achieved this in part by lighting only 20%-30% of the cult's farm locale and underexposing to accentuate the grain and "feeling of film."
Throughout the movie, Olsen is framed in tight close-up, but instead of conventional camera placement, Lipes often used a long lens and placed the camera further away to highlight the character's inability to reconnect with the people around her. As Lipes put it, "that feeling of distance is literally a feeling of distance."
"Martha" also utilizes long takes, a preferred aesthetic that Lipes shares with the director. One interrupted shot follows Martha in and out of her sister-in-law Lucy's lake house during a bout of public paranoia. The scene posed the logistical issue of working with different light levels, but it was also "liberating for Lizzy," who could focus on her performance without worrying about recreating parts of the scene for coverage.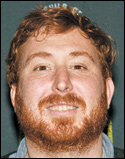 If Martha fails to escape her past, the young lovers of Drake Doremus' "Like Crazy" struggle to rekindle their romance after a prolonged cross-oceanic separation. Lenser John Guleserian gave actors Felicity Jones and Anton Yelchin the physical space they needed to bring a sense of realism to the relationship of Anna and Jacob. Simple lighting allowed the actors to improvise their blocking without obstructions, and a 135 mm lens allowed for tight shots even from a distance.
"We wanted them to be able to forget about the camera," Guleserian says. "It also adds to that intimacy because you get an extremely shallow depth of field."
This closeness is traded for colder objectivity after the difficulties of their long-distance romance. For the scene in which Anna finally arrives at Jacob's apartment after their separation, Guleserian wanted to convey emotional distance. Following them with one lens on a camera, he used "the most objective camera placement that there could possibly be."
Woody Harrelson's turn as a racist, homophobic L.A. cop prone to violence anchors helmer Oren Moverman's "Rampart." Cinematographer Bobby Bukowski used techniques including slow zooms to highlight the inner psychology of Harrelson's emotionally complex character.
"Oren is always asking me to respond and react to what Woody is doing," Bukowski says. "The zooms often are just instinct. I want to see in his eyes. I'm trying to discern the truth he's giving or what he's trying to hide."
In many scenes, the camera lingers on Harrelson's expressions as he drives through the city. Challenged to maintain the handheld approach used throughout the film, Bukowski either rode in the passenger seat beside Harrelson or drove alongside in another vehicle, rather than using traditional process trailers.
The film's use of light often contrasted L.A.'s "sequestered, cave-like interiors" and "barren desert-like exteriors," Bukowski says. To depict the "corrosive and assaultive qualities of the sunlight," he refrained from using anti-halation coating for his lens that would have reduced glare.
"What we're doing without these coatings is actually inviting flares into the lens," he says. "We were trying to use the light to invade this character."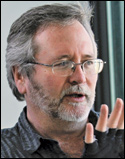 Helmer Steve McQueen's "Shame," presented lenser Sean Bobbitt with the challenge of honestly portraying the sexual obsessions of the lead character Brandon, played by Michael Fassbender, without resorting to pornography or erotica. To do this, he employed a "very frank camera" that observed but did not judge the character. For the NC-17-rated film's threesome scene, Bobbit improvised using low light level and a 100 mm lens.
"This is where a documentary background comes in very useful. You sort of divorce yourself," he says. "This is what they're doing, and we're going to watch it."
Bobbitt and McQueen have collaborated for 10 years, first on installation projects and more recently on films including McQueen's 2008 feature debut, "Hunger." And just as McQueen's photographs invite spectators to project their own thoughts on a subject, Bobbitt uses long takes to engage the audience with the characters.
"By not cutting away, you don't let the audience escape," Bobbitt says. "It seems a very natural thing for the actors to work through a whole scene in a very organic way. The audience feels like they are actually part of that."
EYE ON THE OSCARS: THE CINEMATOGRAPHER
Lensers aren't afraid of the dark | For 'Hugo,' depth adds to character | Period pics invite wide spectrum of styles | Projecting turmoil