Filmfest Munich may not have the international buzz of the Berlinale, but what it does have is the ability to mount an entertaining, even edgy, event — and reliably good weather.
With theaters around the Isar river park, and a nightly section of free open-air screenings, it's also a draw for tourists.
The fest program offers some challenging fare, including a focus on Latin American cinema, new German and French films, a Far East Focus, and, this year, a retrospective of U.S. filmmaker Tom DeCillo's works and a selection of pics from Georgian helmer Otar Iosseliani and Sweden's Roy Andersson.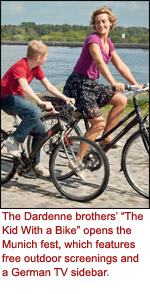 The eight-day fest kicks off June 24 with Jean-Pierre and Luc Dardennes' "The Kid With a Bike," winner of this year's Cannes Grand Prix.
The link with DiCillo is easy: The director of such films as "When You're Strange" and "Living in Oblivion" has had four of his pics premiere in Munich and he'll be on hand again at this year's event, which will unspool all his works.
With the exception of Richard Linklater, no other director has been invited more often to the fest's American Independents sidebar.
For Munich fest director Andreas Stroehl, DiCillo's works best illustrate the event's philosophy of cinema that's "digestible for a wider audience but with a unique style."
John Malkovich and Iosseliani will each get the fest's CineMerit Award.
The director describes Iosseliani as "the grandmaster of surreal humoristic cinema." The 77-year-old onetime student of mathematics and music has been making movies mostly from his chosen home of France since the 1980s, with pics such as 1985's "Favorites of the Moon" and 1975's "Pastorali" set for screening in Munich.
Fest is also honoring Andersson with a retrospective that leads the showcase on Sweden, which will present a dozen works from up-and-coming filmmakers from the Nordic country. Andersson's oeuvre unspooling at Munich includes such features as "Songs From the Second Floor" as well as his commercial spots.
Latin America, a feature region some years ago, has now been established as a permanent section of its own at Munich, dubbed Visiones Latinas, along with American Independents, Focus on the Far East and New French Cinema.
Showcasing rising stars, the New German Cinema sidebar has gained a strong reputation as a reliable talent picker: Past winners include Soenke Wortmann ("Pope Joan") and Hans Weingaertner ("The Edukators").
There's also a focus on German telepics, an appropriate touch given that the Teutonic TV business is centered in region.
Stroehl has cultivated this advantage for the special guests, too, with a regular raft trip for filmmakers and actors on the Isar from the Alps to Munich's Gasteig cultural center, the home of the festival.
"You need to offer something they can't get elsewhere," he says.
RELATED LINKS:
• Munich topper had built strong fest