Could this year's homegrown offerings at the London Film Festival match the impact of the 2010 edition, which included "The King's Speech"? London Film Festival artistic director Sandra Hebron, in her swan song after nine years in charge, hopes so.
"We have been criticized in the past for not showing enough British films, but our principle has always been that they have to be good enough," says Hebron, who decided not to reapply after her job merged with that of running the BFI Southbank cinemas to create the new title BFI head of exhibition. (The BFI subsequently hired Clare Stewart from the Sydney Film Festival for the challenging post.)
"There have certainly been some years when it has been much harder to find enough high-quality, high-profile British films," Hebron adds. "But last year was great, and this year if anything is even stronger. I'm hoping that will sustain itself in the future, but that depends on the funding."
Of the 15 new films in the most glamorous gala slots, nine are wholly or partly British, although only five have British directors and just one, "The Deep Blue Sea" by Terence Davies, was entirely shot and set in Blighty. Multinational pics such as David Cronenberg's "A Dangerous Method," Roland Emmerich's "Anonymous," Fernando Meirelles' "360" and Madonna's "W.E." reflect the cosmopolitan nature of the U.K. film industry.
The main Film on the Square section, which takes place in the flagship West End theaters around Leicester Square, includes the world premiere of Marc Evans' "Hunky Dory" and the Euro bow of Nick Murphy's "The Awakening," while the New British Cinema sidebar showcases a dozen low-budget pics, mostly also world premieres.
"That section has always been mostly about first- or second-time filmmakers, and again it's a strong year," says Hebron. "Some years, we have only had eight titles."
One continuing trend is the blurring of fact and fiction, with three pics — Carol Morley's "Dreams of a Life," Richard Jobson's "The Somnambulists" and Simon Pummell's "Shock Head Soul" — making dramatic experiments with the documentary form.
But Brit cinema is far from the only story at this year's event, which will screen 204 films from 55 countries. The U.S. is making a comeback after a light presence last year, with galas for Alexander Payne's "The Descendants" and George Clooney's "The Ides of March," plus 14 more U.S. pics in Film on the Square from the likes of Jonathan Demme, Richard Linklater, Gus Van Sant, Miranda July and Oren Moverman.
The fest has sections for French, European and World cinema, but over the past decade Hebron has promoted more foreign fare in Film on the Square, once exclusively English-speaking.
"By positioning something in Film on the Square, we are telling people that a film is significant enough to appeal to a reasonably large audience," she says.
Distribs pay close attention. Her selection of "Alps" by Greek auteur Yorgos Lanthimos encouraged Artificial Eye to buy it. Last year, her advocacy of "Blue Valentine" and "Meek's Cutoff" helped drive U.K. deals. This year, she sees Frederick Wiseman's French doc "Crazy Horse" and U.S. indie comedy "Terri" by Azazel Jacobs as the hottest sale prospects.
"If we put something in our program, particularly in Film on the Square, distributors know it's going to get a launch," Hebron says. "They know we've watched 4,000 films, and there's a reason why we've selected it."
Distribs are also increasingly using London for international press junkets, as well as testing the waters for their potential BAFTA and Oscar contenders. Last year's cool opening night reception for "Never Let Me Go" and the heat for "Black Swan" led Fox to rethink its U.K. push for both films.
HIGHLIGHTS
A bumper crop of British cinema dominates the 55th BFI London Film Festival, which runs Oct. 12-27.
From opening night with "360" to final curtain with "The Deep Blue Sea," the fest is more packed than usual with high-profile U.K. pics, including Steve McQueen's "Shame," Lynne Ramsay's "We Need to Talk About Kevin," Ralph Fiennes' "Coriolanus," Michael Winterbottom's "Trishna" and Andrea Arnold's "Wuthering Heights."
Fest artistic director Sandra Hebron picks and comments on some personal highlights from her farewell edition atop the fest: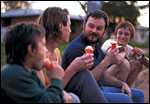 'Snowtown'
Justin Kurzel (Australia)
"An incredible piece of work."
'Into the Abyss: A Tale of Death, a Tale of Life'
Werner Herzog (U.S.)
"Important and powerful, ostensibly about the death penalty, but because it's Herzog, much more than that."
'A Dangerous Method'
David Cronenberg (France, Ireland, U.K., Germany, Canada)
"I'm a huge supporter, because I have a particular interest in the subject."
'Drei Leben'
Christian Petzold, Dominik Graf, Christoph Hochhausler (Germany)
"Marginalized at Berlin, but good to see something interesting coming out of Germany."

'The Waves'
Alberto Morais (Spain)
"A really lovely Spanish film that I saw almost accidentally."
'Two Years At Sea'
Ben Rivers (U.K.)
"It's an artist's film, almost non-narrative, but I would urge as many people as possible to see it."
'This Must Be The Place'
Paolo Sorrentino (Italy, France, Ireland, U.S.)
"A guilty pleasure, it's got 'cult film' written all over it."