It is one of those perfect early autumn London afternoons. And Robert Downey Jr., on a rare day off from shooting "Sherlock Holmes: A Game of Shadows," is savoring being just a husband, waiting for his wife, Susan, at the luxury Bond Street boutique Louis Vuitton.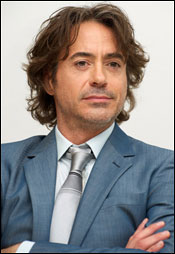 Relaxing outside Susan's fitting room, the iron man Downey comments that he is surrounded by "more silk than it took the troops to land at Normandy." But the action hero delights in his life these days.
"I just couldn't be any happier," he says. "I'm in a bit of a sweet spot now, creatively and all that stuff. And I have the great fortune of watching the missus try on cocktail attire for Sting's 60th birthday party."
At this moment Susan appears in a glam Vuitton creation.
"Honey, I think that's gorgeous. But isn't it a little too blowsy on top?" critiques Downey, the would-be-stylist. "You could try a size 36, but then you do want to be comfy."
The Downeys are expecting their first child in February and Susan's concern is that she might look a bit too pregnant.
"Sweetheart, it's not obvious," he reassures. "It's obvious to you. Just don't turn to the side."
These days, Downey is catching a good set of waves with the upcoming "Avengers," as well as the "Iron Man" and "Sherlock" franchises going strong. And there's the American Cinematheque award.
Susan reappears. "Honey, I love that dress and I love that dress with those shoes," says Downey approvingly, like every savvy spouse. "You should have that for the housewarming the next day. Now find something to wear at night."
Back to business, Downey continues, "Sooner or later, if you pull the one-armed bandit enough, you're going to come up with gold bars. And now it just feels, at least for a little while here, that the machine is fixed.
"I certainly don't want to look this gift horse in the molars," he continues dryly. "I definitely had plenty of years of self-imposed purgatory, but I'm hot for the next 18 months or so and I should capitalize on that. I'm coming up on 50 and I want to do more. And the franchise I could stay in love with indefinitely is 'Sherlock Holmes.' "
Downey's Holmes returns this Christmas with a punched up, action-packed opening sequence that makes good use of the actor's own strengths in the martial art of Wing Chun Kung Fu — a Sherlock and Downey pugilistic fave.
"There are many correlations between Holmes and Robert," says "Sherlock" helmer, Guy Ritchie. "It's that troubled genius who becomes less and less troubled."
Directors concur that whenever Downey wraps his arms around a character, the star becomes that character.
"It's almost as if he's reincarnated, in a hypnotized state," Ritchie says in admiration. "He just starts channeling a personality. You just think. 'How can he know those words?' Only if you were that person could you understand those nuances. It just comes out of him. It's effortless."
"The Avengers" writer-helmer Joss Whedon calls the actor "electrifying, the most riveting guy on the screen. He takes such care not just with his character, but with everybody. By the time you put it all together, he's comfortable enough with the narrative that he can go in there and give you what you need. And then he can play with any variations you want to throw at him."
Whedon recalls one particular scene: "It was written very simply and Robert's like, 'Can we do more with this?' So while he was getting made up, I wrote 10 variations. He looked at them and said, 'Well, a little bit of this. A little bit of that.' After we shot it, he said, 'Are you sure you got enough? Because it wasn't cheap to fly me out here.'"
Jon Favreau directed Downey in the two "Iron Man" pics, but the helmer's favorite Downey perf is actually the one in "Tropic Thunder," in which he plays an actor doing black face. "When he first showed me the make-up test, I said, 'Are you sure this is a great idea?' " recalls Favreau. "But he just tears it up whenever he's on screen. Every minute of every day, he's somebody who doesn't ever want to walk through something. And it was like a game of chicken to show him that I was willing to go as far as he was."
That Downey way constantly surprised the "Tropic Thunder" helmer. "Robert is very cynical and sardonic while always giving 200% and being brilliant at the same time," says Ben Stiller. "He sees the humor in the obsession with minutiae that filmmakers have, and will at once give you shit about it, and then indulge you with a mind-blowing performance. I love the scene in 'Black and White' where he got Mike Tyson to slap him. Extremely brave improvising."
"Home for the Holidays" helmer Jodie Foster picks Downey's title turn in "Chaplin" as her personal favorite. "Could anybody else in the world have given that performance?" she muses, going on to analyze, "Robert is someone who is extremely brilliant but who is suffering because he's almost too smart. There's a lot of hurt behind that. And that came out in 'Chaplin' and even in 'Home.' He's somebody whose mind is, in some ways, torturing him."
Of his own movies, one of Downey's favorites remains Shane Black's little-seen comedy "Kiss Kiss Bang Bang" from 2005. Black remembers a few serendipitous moments during that production. "There were a couple of instances in 'Kiss Kiss Bang Bang' where we had never called 'action,' but the camera was already rolling. It was just Robert getting ready and psyching up for the scene. It's him in character. It's him joking with the people around him. Then in the editing room, we said, 'Oh my god, let's use that,' " Black says. "He brings out the best in people. That's why other actors want to work with him. They know how on his game he can be."
Among those fellow actors is "Sherlock's" Dr. Watson, Jude Law, who describes the Downey/Law on- and off-screen chemistry as "pure magic." "Robert loves other people's ideas and will feed off that. What's key is that he leads you along and encourages you to be bold and brave."
Downey co-"Avenger" Chris Hemsworth agrees. "Robert operates about 10 steps ahead of everyone else. The energy coming out of him when he's acting could power a small city, that being said, I've never felt more supported," says Hemsworth. "We finished shooting a scene together and I think he could see I was feeling uncertain about it, so he came up and said, 'Hey, I'm going to save you about 25 years of constipation and let you know that you've got it. You've fucking got it. Now relax.' "
"Due Date's" Zach Galifianakis recalls, "Robert supported me when the two of us worked together. Not being too sure of myself, Mr. Downey was there to help guide me out of my lack of confidence — even though when he suggested that I needed acting classes, it was in front of 75 extras."
But for "Iron Man 3" Scarlett Johansson, it was all about that famous Downey unpredictability. "He possesses a quality that is both self-assured and off the cuff, something that is almost frighteningly exciting to work opposite," she says. "He's an enigma, a sort of verbal and emotional magician."
The collaborators' many kudos aside, Downey says there are three things that are making him and his wife very happy. "One, is that we're expecting in late February. Two, is that we've adopted some stray kittens. And three, is our production company, Team Downey."
The company has a first-look deal with Warner Bros. "When we founded it in 2009, Robert and I started putting together ideas of the types of movies that we wanted to do. They are stories driven from character," says "Sherlock" producer, Susan Downey. "We're not looking to do the passion project. We feel that you can have a bigger commercial idea and still have a great character story."
Those projects include "Yucatan," the saga of Hunter Scott, who researched the sinking of the USS Indianapolis World War II and helped exonerate its captain. "You know how development is," Downey quips. "We love all our kids, but we're not sure which one will
go to college first."
Susan praises her husband's perspective as "always fresh, unusual. He never grows up. He's a real Peter Pan."
The conversation has moved to the Downeys' hotel suite, and Robert emerges from the bedroom for a day's outing dressed in an icy pink blazer, burgundy slacks, matching burgundy Nike high tops and a powder blue Barcelino hat, bringing to mind more Tinker Bell than Peter Pan.
"Now, how many people could pull that off?" Susan asks with a laugh.
On the set, Susan points out that there are moments when it can be a little frustrating working with her husband. "Sometimes you want to hit a stop or a pause button," she says. "The pause button because you want to catch up with the ideas. The stop button because he's just changing it to change it."
"The missus always reminds me that I can either lift or soil the feeling on the set with my attitude," responds Downey. "More often than not, I'm a pretty positive guy."
The upcoming American Cinematheque honor has caused the star to reflect on "Chaplin" and working with Richard Attenborough.
"Probably of anybody besides my dad, I would say Dickie is the one I learned the most from, who influenced me the most. Not just as a director but also as the kind of man he is — his great attitude.
"I remember there was this particular take that had everything — the framing, the lighting. Everything worked out just for a second," Downey recalls. "And then Attenborough called, 'Cut!' And came over crying and hugged me and said, 'You know, that was him.' "