GREGOIRE MELIN
Energetic and bold, Melin is on top of his game with Kinology, his shingle that reps up-and-coming French and international genre auteurs, including Pascal Chaumeil ("Living Is Better Than Dying"), Jalmari Helander ("Rare Exports"), Rodrigo Cortes ("Emergo"), as well higher-profile English-language films such as Juan Solanas' sci-fi romance "Upside Down" and Robert Pattinson starrer "Cosmopolis."
"I follow my instincts and look for innovate films from around the world," says Melin, who launched Kinology three years ago after spending a decade in international sales at Gaumont and EuropaCorp. One of his latest finds: Everardo Gout's Mexico-set thriller "Days of Grace," which plays at Cannes. "We get more and more artistically involved in projects, we look at the script and work very closely with the producers and distributors on the conception and marketing of films." Melin is bringing four high-profile pics to Cannes, including a sprawling English-lingo actioner helmed by a French heavy-hitter that he's keeping under wraps till the fest.

PABLO CRUZ
Few producers would have the cojones of Canana's Cruz, with partners Diego Luna and Gael Garcia Bernal to produce "Revolution," which celebrated Mexico's Revolution by questioning its achievements. Hip, hardworking, Cruz has his finger firmly on the pulse of the market. He pioneered day-and-date releasing in Mexico; he's also introduced innovation in docs, VOD and genre distribution in the country, while regularly producing Cannes players — this year, it's action thriller "Miss Bala"; in 2010, it was Luna's B.O. hit "Abel." Next step: "Connecting with Mexican audiences Stateside, bringing them more sophisticated subjects," he says.

GIAMPAOLO LETTA
Medusa, Italy's top movie outfit, is flush with cash from local hits and making the leap into the international production arena as a co-producer of Paolo Sorrentino's Sean Penn starrer "This Must Be the Place" and main backer of Woody Allen's next Rome-set project, "The Wrong Picture." Medusa has also broadened its horizons by pacting with Victor Loewy's Alliance Films to jointly acquire and co-produce movies that will give both companies multi-territory deal heft. Hard-working and mild-mannered, Letta is looking to expand his company's reach beyond national confines.

ADRIAN GUERRA
Preternaturally accomplished at age 27, Guerra has produced Rodrigo Cortes' Sundance hit "Buried" and now has Cortes' Parlay Films-sold "Red Lights," with Robert De Niro and Sigourney Weaver, in post.
Barcelona-based, but often Stateside, he brings U.S. market perspective to production opportunities in Europe, and his European financing knowledge to U.S.-style projects. He's also got Venice Horizons player "Guest," and the Kinology sold sci-fi thriller "Emergo," now in post, on his slate.

OLLIE MADDEN AND PAULA JALFON
Former Warner VP Madden and former BBC Films commercial manager Jalfon are the new team at Kudos Pictures under exec chairman Stephen Garrett. Kudos, part of Elisabeth Murdoch's Shine Group, has a joint venture with New Regency to create larger international movies, dubbed Shine Pictures.
Madden joined last May as creative topper; he previously worked on "Sherlock Holmes" at Warner.
Jalfon came aboard as senior VP, production, in January to drive the packaging and financing of its slate. She was poached from the BBC after helping to put together the upcoming Kudos pic "Salmon Fishing in the Yemen." The Kudos/Shine development slate is described by Garrett as "intelligent genre with a twist," and includes James Gray's Euro thriller "The Grey Man," a sequel to "Eastern Promises" and an adaptation of Scandi prison bestseller "Three Seconds."
AGNIESZKA ODOROWICZ
Head of the Polish Film Institute (PSIF), Odorowicz manages an organization with an annual budget of $57 million and a revolving fund targeted at features of around $35 million. The past six years, she says, has seen a big increase in movie production from an average of 22 a year to 60 now. Debuts, animation and documentary have all benefited as well as Poland's first 3D feature, Jerzy Hoffman's "The Battle of Warsaw 1920," which will be released in September.
Projects promoted at Cannes by PFI include Roman Polanski's "God of Carnage," Jan Komasa's Warsaw 1944 uprising film "The City," Andrzej Jakimowski's "Blind Watching" and Katarzyna Roslaniec's "Baby Blues."
STEFANO MASSENZI
Lucky Red acquisitions and co-productions exec Massenzi mounted Paolo Sorrentino's $28 million "This Must Be the Place," which is among Europe's biggest English-language co-prods and unspools in the Cannes competish. He is among Italy's most knowlegeable execs when it comes to tapping into European soft money, co-production deals and the country's recently introduced tax credits for international productions. Lucky Red's recent releases include "Incendies," "The Kids Are All Right," "Machete" and anti-Berlusconi docu "Silvio Forever," which unspools in the Cannes mart.
On the acquisitions front, Massenzi will be seeking titles with a hook like Lucky Red's recent buy, "3D Sex and Zen: Extreme Ecstasy."
AMANDA NEVILL
Nevill's duties as director of the British Film Institute have increased tenfold since the org has taken over the distribution of public coin and lottery funding for the Brit pic biz from the now-defunct U.K. Film Council. Nevill, who has served as BFI director since 2003, has nurtured the charitable org under a remit of a more cultural context rather than a business one. She has been responsible for revolutionizing its ageing library and research facilities, spearheading the London Film Festival and rebranding the National Film Theatre to BFI Southbank, and thus increasing its auds. But as for the responsibilities woven into the new structure, Nevill is more than ready for the challenge. "The film industry is one of those wonderful things which only succeed when you have the perfect marriage between creativity and financial acumen," she says. "Bringing together the Film Council and the BFI brings together the two strongest elements in that context. Different times need a different solution."
PATRICE THEROUX
When Theroux was tapped to head Entertainment One's new filmed entertainment division in 2007 (at the time the outfit was a Canadian video distrib), his mission was to not only launch theatrical distribution in Canada, but also expand the company internationally and spearhea
d corporate acquisitions to take the company to new territories. Fast forward to 2011 and Theroux's aggressive strategy has hit the global mark as the company has distribution operations in Blighty, Benelux, the U.S. and most recently, Australasia, after having acquired Kiwi/Oz distrib Hopscotch in April. "We're always looking at ways to increase our presence internationally," says Theroux. "Any one of the aspects that we operate, whether it's domestic or international, we want to improve upon. We want to own rights and control rights on the most global basis possible."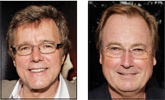 NIGEL SINCLAIR AND GUY EAST
Sinclair and East comes to Cannes with a revved-up Exclusive Media Group. The sales-financing-production outfit has backed George Clooney's directorial effort "The Ides of March," which Sony picked up pre-AFM, produced and fully financed Miley Cyrus pic "So Undercover" and produced "Let Me In" and the forthcoming Daniel Radcliffe starrer "The Woman in Black." Exclusive also has set up an acquisitions fund looking to acquire third-party productions and pay guarantees of up to $20 million per pic. "As ever, Cannes for us will be about aligning ourselves with stellar projects from top notch filmmakers — films we can finance, sell internationally or help produce," says Sinclair.
"When we started, the market was in a difficult financial climate and a lot of distributors were not in the mood to pre-buy," says East. "We've tried to align ourselves with producers and we've worked hard on development with stars and, as a result, we've had an exceptionally high rate of pre-sales. The market has shifted."

DANNY PERKINS
This will be the first Cannes for Perkins as chief exec of Optimum Releasing after many years as second-in-command to founder Will Clarke. Perkins has grown with the company following its sale to StudioCanal five years ago, running the day-to-day U.K. distribution operations and then taking over the top job last summer when Clarke departed for new pastures. He's now leading the charge into production and bigger acquisitions, fuelled by StudioCanal's powerful international sales and distribution network.

MATTHEW STILLMAN
Founder and CEO of Stillking Films, the leading Prague-based production and sevices company with offices worldwide, Stillman is feeling more confident than this time last year about business thanks to the introduction last year of a government-backed production rebate worth 20% of local spend in the Czech Republic.
Stillman, whose company has provided services or co-produced a host of international tentpole movies, says: "We are currently completing 'Mission: Impossible 4'; we will soon start production on 'Missing' with Ashley Judd for ABC and 'Snow White' for Universal."
Several other projects are expected to confirm shortly subject to the extension of the Czech rebate fund.

CHRISTINE LANGAN
Heading up one of the three major public coin pots in Blighty, there's not an aspiring Brit filmmaker seeking who doesn't know Langan's name. Having been with the BBC since 2006, Langan became creative director of the films division in 2009, where oversee commissioning, development and production of the whole slate. Langan, who made her name at Granada producing Blighty's hit TV show "Cold Feet" and then went on to produce pics such as "Dirty Filthy Love" and "The Queen," has a £12 million ($19.5 million) annual budget through the BBC. Recent pics backed by BBC Films include Cannes competition selection "We Need to Talk About Kevin," Lasse Hallstrom's "Salmon Fishing in the Yemen" and Anthony Hopkins starrer "360," penned by Peter Morgan.

TOMAS ESKILSSON
Eskilsson, head of Scandinavia's leading regional film fund and equity funder, Film i Vast, a key partner in the films of Lars von Trier and other top Scandi directors. Eskilsson is now moving further into the international business with plans for everything from edgy arthouse project to U.S. co-production as interest in Scandi film and filmmakers increases.

LISBETH SAVILL
London-based media lawyer Savill's legal advice has impacted both sides of the Pond and has seen her work with major studios, U.S. indies and U.K. and European distribs and shingles. Savill put together the financing and distribution arrangements for "The King's Speech" and "An Education" and she reps the Weinstein Co. on financings for upcoming pic "My Week With Marilyn" in addition to other pics for the distrib. She was recently named one of the trustees to the BFI governing board, where she will join the likes of Warner Bros.' Josh Berger and Big Talk producer Matthew Justice to increase representation of people closely involved in filmmaking.- Diana Lodderhose

AARON RYDER
When Ryder joined Glen Basner's newly launched FilmNation Entertainment in 2009 as prexy of its production arm, he had already racked up some impressive production credits during his stint at Newmarket Films including "Memento," "Donnie Darko," "The Prestige" and "Monster." At FilmNation, Ryder has ushered in projects with stars and sellable clout including thriller "House at the End of the Street," toplining indie It girl Jennifer Lawrence, Luke Evans starrer "The Amateur American" and John Cusack topliner "The Raven" a thriller set in the last days of Edgar Allan Poe's life.

LISA WILSON
With Graham King expanding his international presence, it was a no-brainer for him to tap seasoned exec Lisa Wilson as president of international distribution at GK Films in September 2008. Since then, Wilson has spearheaded sales for "The Tourist," "The Young Victoria" and "Edge of Darkness" as well as Martin Scorsese's "The Invention of Hugo Cabret" and "The Rum Diary" with Johnny Depp.
Wilson also launched Parlay Films, a company set up to handle international sales for third-party pictures outside the GK Films brand. At Cannes, in addition to her GK Films titles, Wilson will be handling sales for a Parlay slate that includes "Arbitrage," starring Richard Gere and Susan Sarandon; "The Words," a drama in pre-production starring Bradley Cooper and Jeremy Irons; and "Red Lights," a paranormal thriller from Rodrigo Cortes ("Buried") toplining Robert De Niro and Sigourney Weaver.

JONATHAN SEHRING
IFC has always been an enthusiastic buyer at Cannes, and this year, Sehring comes to the Croisette with more enthusiasm than ever as president of Sundance Selects/IFC Entertainment. Launched
in January, Sundance Selects' upcoming slate includes new works from Errol Morris and Wim Wenders.
"We are excited to be going into this year's Cannes Film Festival as our first with the Sundance name attached to our distribution label for prestige films," he says, adding that the unit's goal is to build on the Sundance brand's image as a purveyor of the best in American indie, foreign and documentary films.
Last year, Sehring's team was a major acquisitions force in Cannes, picking up titles such as including Bertrand Tavernier's "The Princess of Montpensier," Xavier Dolan's "Heartbeats," Antoine Blossier's "Prey" and Abbas Kiarostami's "Certified Copy."
He's certain to be in the buy mode at Cannes.