Forget football, house prices, politics.
As the international film business sweeps this week into Cannes, one simple question prevails: What films could turn a profit?
Star directors, genre pics in any budget range, animated fare and classy English-lingo features have hit the B.O. targets in the last 12 months. But even if a film fulfills any of these criteria, sales agents and distribs stress that it's the demand of the bottom line that drives a deal. Markets must be studied carefully now more than ever to ensure the best fit and price.
So what works? At the Cannes market, candidates are emerging.
Focus Features Intl. will look to make a splash with Tom Hanks starrer "Cloud Atlas," an epic, period-spanning story adapted from a bestseller and directed by Lana and Andy Wachowski and Tom Tykwer. IM Global is launching some bigger titles as well as a slew of lower-budgeted pics through its Octane label, including James McAvoy starrer "Welcome to the Punch" and James Wan's "Spectra," both budgeted at $10 million.
From Europe, Wild Bunch will unveil films from "the top three English directors," says topper Vincent Maraval — Ken Loach's "Angel's Share," Stephen Frears' "Lay the Favorite" and James Marsh's "Shadow Dancer," plus Nicolas Winding Refn's "Only God Forgives." It's got competition screener "Polisse" on its slate, which is garnering healthy buzz.
StudioCanal was in discussions to take international rights, including France, U.K. and Germany, on more U.S.-produced thrillers, following Stefan Ruzowitzky's Berlin hit "Blackbird."
But as sales agents talk their Cannes talk, one of the best indicators of recent success remains the 12-month box office results of independent films.
While indies racked up some healthy results last year, there's a caveat: Overall box office can be skewed by two or three territories, says Summit's David Garrett, pointing to his shingle's "The Ghost Writer." Polanski's huge following in Poland, Spain and France contributed $2.6 million and $7.4 million and $9.1 million, respectively, repping a 38% chunk of its to its $58.2 million international box office.
Buyers and sellers must study the myriad complex factors that impact an individual territory. But there are some good bets.
Select indie family fare, often animation, makes a far stronger B.O. showing than often imagined.
Ben Stassen's animated $25 million 3D turtle tale "Sammy's Adventures" has grossed $75 million outside North America, and counting.
"We have proven you can build awareness and create a success out of Europe which then allows you to establish a big brand around the world," says StudioCanal's Harold Van Lier, which handled sales on the film.
The $30 million "Animals United" is on course to take $80 million-$90 million, says Constantin's Martin Moszkowicz, which produced the toon.
Genre features do well across the budget spectrum.
Benefiting from Blighty's homevid market, which hasn't declined as much as elsewhere, "action and horror are still the two safest (film types) in terms of also doing well on DVD," says Alliance Films-Momentum Pictures' Xavier Marchand.
Though seldom selling above 400,000 DVDs, nor acquired for primetime broadcast, "in general, low-budget genre films are very profitable" in France, echoes Wild Bunch Distribution's Jerome Rougier.
American and English-language arthouse crossover titles (think "The King's Speech," "Black Swan," "The Kids Are All Right") have picked up larger audiences than in recent years.
"These have been an arthouse circuit driver, whereas smaller arthouse films have been squashed," says Stefano Massenzi at Italy's Lucky Red.
Indeed, some of Cannes' most cash-flush buyers will have handled "The Twilight Saga: Eclipse" (Spain's Aurum, Blighty's eOne, Gaul's SND, Germany's Concorde) or "The King's Speech" (DeAPlaneta, Momentum, Wild Bunch, Senator). Italy's Eagle Pictures, bought both. No doubt they'll be on the hunt for more like it.
Top 2010-11 indie grossers include mid-budget fare: EuropaCorp's $44 million "From Paris With Love" took $48 million internationally.
But bigger-budget films usually took more at the B.O.: "The Book of Eli" grossed $66 million abroad, while "Sanctum" nabbed $61.7 million. Those results — while not blockbuster-sized — will only encourage many distributors' faith in high-bracket productions.
"Overall, there are more medium-range bombs than higher-budget bombs," Moszkowicz says.
But turning a profit on big-budget films is no slam dunk. The key, says Maraval, isn't about whether a film is big or small, "it's about having the right budget for the economy of a film."
Indeed, surveying prices paid on indie releases in France from June 2009-April 2010, Metropolitan Filmexport's $4.9 million minimum guarantee on New Line's "Ghosts of Girlfriend Past," which grossed just under $2 million in Gaul, looks like a bad deal while the $2.2 million MG Mars paid for "Agora" (gross: just over $2 million) and the $1.9 million MG it paid for "Away We Go" (gross: just under $2 million) looks steep nonetheless.
For FilmNation's honcho Glen Basner, sales agents should work "from theatrical, judging whether films are financially successful for everybody along the food chain."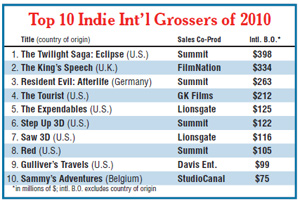 Yet theatrical isn't necessarily where the profits are, Maraval argues; P&A costs can cancel out distributors' rentals.
Maraval cites "Nomad (The Warrior)," which went straight to DVD in France and sold 100,000 units. Picked up by paybox Canal Plus, it turned a $1.4 million profit.
As the indie distribution sector emerges from recession, it's still wracked by long-term headaches.
In Germany, says Moszkowicz, "You can lose your shirt just releasing a small-budget film."
P&A for films in the $10 million budget-range can reach $2 million-$3 million; a $2 million movie can incur such costs in the $2 million range.
In Blighty, P&A is part of a bigger equation. Its indie distribution sector is one of the most crowded, but film rentals among the lowest: under 30%.
Says Marchand: "With multiplex films, you're looking at spending anywhere from £1.5 million to £3 million ($2.5 million to $5 million) on P&A. With low film rentals, you have to hit £9 million ($15 million) box office just because of P&A."
The indie sector's travails have multiple knock-ons effects, not all of them consistent.
On one hand, says Optimum's Danny Perkins, numbers are so tight nowadays, with lower revenues from home entertainment, that keeping overall costs down makes all the difference between acquiring or making a film or not.
With budgets being driven down, adds IM Global's Stuart Ford, the talent marketplace has acknowledged what's going on in the indie sector and is asking for less money, noting that it's been "a gradual process over the past couple of years, (as) talent backend deals have become entwined with the indie model."
Yet the Cannes market will still see higher-budget pics.
"Bigger films help you engage with broadcasters, DVD retailers and cinemas for theatrical," Perkins says.
But on big films still on the open market, bidding wars "blow prices out of all proportion," one distributor says.
Even in arthouse. "In France, it's a war between distributors for the most buzzed-about, interesting films: Prices often get outrageous," says ARP Selection's Michele Halberstadt.
Bidding wars roil distribution. But they occasionally end happily enough. A battle for "Paranormal Activity" ended with Wild Bunch Distribution paying its asking price of $770,400. It went on to gross $9.7 million in France.
And at Cannes, bidding wars are part of the DNA.