Movie news websites have become the cool new way to "geek out," which, as TrailerAddict.com founder Ryan Parsons explains, means to "get amped up," not necessarily to be a geek. And there's one thing all sites geek out for: trailers. Behind-the-scenes featurettes and exclusive interviews round out content, but the trailer is the holy grail. Below, we spotlight a few select trailer-focused sites and examine their features, design and convenience.
ComingSoon.net
All things movies, ComingSoon offers movie news (including specific categories on the homepage for "horror movie news" and "comicbook movie news,") exclusive interviews, trailers, reviews, photo galleries and box office and DVD sales. The site offers every TV spot, theatrical trailer and teaser available for a movie — there are 12 for "Transformers: Dark of the Moon" alone, not including clips. COO and editor-in-chief Mirko Parvevliet says ComingSoon concentrates on letting its audience form its own opinions. "We don't give our own thoughts on the content as we would rather they tell us, their fellow moviegoers, and the studios what they think," he says. That mentality seems to be working; the site gets 3 million unique visitors a month.
Bad Buzz: While they're featured on the homepage, trailers aren't as visually appealing once you veer off of it and into the trailers tab. The page is organized alphabetically and by date, but offers no thumbnails.
Social media measure: About 100,000 likes on Facebook, about 21,000 Twitter followers.
Movies.com/Fandango
Fandango and movies.com are sister sites under the Comcast umbrella, with movies.com offering movie news, reviews and trailers, and Fandango selling tickets. Fandango spokesman Harry Medved says exclusive, in-depth content is what audiences today demand. "The more exclusive the better," he says. "We debut trailers, we get the first look at posters. If a trailer debuts we see big traffic boosts." But, he says, simply posting a trailer is not enough. "Movie sites have to go behind-the-scenes and in-depth," he says. "They have to be the audience's best friend telling them about the movie."
To that end, the sites are also smart about what's working, and use each other to that advantage. "We can tell there's nothing hotter than 'Harry Potter' right now," Medved says. "It's 53% of our ticket sales on a daily basis." Medved says studios have gotten smart about using the web — that's why Fandango gets the exclusive trailers. "We're offering people a comprehensive experience," he says. "You can find out about a movie, read a review, see user comments and buy the tickets right there." Fandango is also getting smart about going mobile; the site sells as much as 10% of its tickets on mobile devices, and is the No. 3 top mobile shopping site (behind Amazon and eBay), according to Nielsen. It's also stoked about its new iPad app.
Bad Buzz: Movies.com is just getting started on social networking with newly launched Facebook/Twitter pages.
Social media measure: Movies.com: about 15,000 likes on Facebook, about 700 Twitter followers; Fandango: about 760,000 likes on Facebook, about 27,000 Twitter followers.
RottenTomatoes.com/Flixster
For president and CEO of Flixster Steve Polsky, the marriage of Rotten Tomatoes and Flixster has meant taking trailers mobile. "Flixster's mobile app is taking off, and that applies to trailers," he says. "Trailers are the best form of how to express a movie, and now they're on demand and more accessible than ever before." Flixster is the leader in mobile across movie sites, Polsky says, and is expanding; Flixster is developing an app for TV and used a trailer channel as part of test launches. Flixster's 25 million users per month — a number the company throws out when combined with mobile hits — included with what Polsky calls Rotten Tomatoes' "iconic" status in terms of critical assessment make them a potentially dynamic duo. Tomatoes offers reviews, fun galleries and trailers, news and more.
Bad Buzz: Flixter's site lacks content, especially compared to Tomatoes'. Combining into one site, as they've done with apps, could be a critical move.
Social media measure: Rotten Tomatoes: about 78,000 likes on Facebook and about 380,000 Twitter followers, Flixster: about 23,000 likes on Facebook and about 5,000 Twitter followers.
TrailerAddict.com
Hate having to sit through commercials before a movie? So does TrailerAddict.com founder Ryan Parsons, who keeps trailers ad-free on his site. He also makes trailers easy to find; they're browsable alphabetically, via actor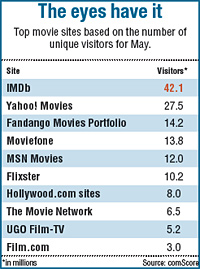 name, festival, genre and a myriad of other categories. Back in 2004, Parsons recognized that people loved watching trailers far more than reading the blog posts he was writing about movies, and decided to take that love to the next level. "People love trailers," he says. "There is not a single person who doesn't know at least one other person who hates arriving to the movie theater late at the risk of missing any of the opening previews. This sort of dedication continues online."
Now, TrailerAddict streams about 15 million videos per month with 3 million monthly unique visitors. The homepage is straightforward: trailers are at the top, viewable by thumbnail, searchable and clickable by alphabet and page. At the bottom, a Movie News box is available, but Trailer News is also present, and Trailer Awards gives viewers the most current rankings on which trailers are most viewed, talked about and embedded, along with top b-roll clips. Some behind-the-scenes footage and interviews are featured on the site, though Parsons says they don't fare as well as the golden goose: trailers. A purist at heart, Parsons recognizes that the beauty of trailers is that they are a complete entertainment experience all their own, even if the movie is not.
"I can't even count how many films ended up being bad, even though the trailer was amazing," he says.
Bad Buzz: TrailerAddict is what it offers: trailers, but if other sites offer the same trailers it has plus additional content, it may become easy to pass by.
Social media measure: About 15,000 'likes' on Facebook, about 16,000 Twitter followers.
Trailers.Apple.com
A clear winner when it comes to Twitter followers, Apple has utilized simplicity and its name to snag exclusive trailer premieres. The home-page features trailers and exclusive featurettes only — it's all video except for a Showtimes tab at the top — and trailers are categorized by how recent they are, whether they're exclusive, HD, most popular, genre and studio. Featurettes are only present on the page's top banner. The site also features a trailer Summer Movie Guide.
Bad Buzz: The page's simplicity makes trailers easy to find, but offers audiences no guidance on what to look for. No opinions, reviews or news means viewers don't know what films everybody's talking about.
Social media measure: About 1.7 million Twitter followers.
Yahoo! Movies
A January comScore study put Yahoo! Movies as the No. 1 movies site in the U.S., having grown by 6.9% since December alone, though by May it had slipped to No. 2 behind IMDb. The site offers movie news, showtimes and tickets, making it a one-stop shop for moviegoers. Trailers, clips, news and photos are also available. Users with Yahoo! IDs can utilize My Movies, a tab that allows them to rank, recommend and review films and build a profile with "movie likes and dislikes."
Bad Buzz: Visually, the site is simplistic. Colors are basic, bordering on drab.
Social media measure: About 480,000 likes on Facebook, about 66,000 Twitter followers.
ART & BIZ TRAILERS/THE GOLDEN TRAILER AWARDS
Hitting the mark | Trailer shops cue music | Sound gardens | Where trailers are the star attraction | Kicking off summer a year early | Golden Trailer kudos: short and sweet | Golden Trailer nominations | Overseas trailers more permissive | The hit list