Pixar celebrates its 25th anniversary this year. How well do you know the toon studio's history? Here's a crash course to the company's first quarter century — by the letter:
A John Lasseter joined Lucasfilm's Computer Division in 1984 before it became Pixar. His first CG assignment was the short film "The Adventures of Andre and Wally B.," which debuted at Siggraph..
Popular on Variety

B Pixar's second feature, "A Bug's Life," recasts "The Magnificent Seven" as insects. The 1998 release went on to earn $363 million worldwide — not bad for the studio's least successful toon.
C While Lasseter often serves as the face of Disney/Pixar, much of the technical and day-to-day operations are overseen by Ed Catmull, the computer whiz who hired him during the Lucasfilm days.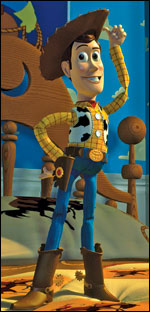 D Pixar's connection to Disney dates back to 1991, when the studio signed a three-film contract that began with "Toy Story." The Mouse House extended the deal for 15 years, before finally acquiring Pixar outright in an all-stock deal valued at $7.4 billion in 2006.
E Though spun off in 1986, Pixar continued to lease space from Lucasfilm until 1990, when the company relocated to Point Richmond, Calif. It was not until 2000 that the studio established the Emeryville campus with which it is now associated.
F "Finding Nemo" set multiple records. The 2003 hit was the first CG toon to surpass "Lion King" as history's highest-grossing animated feature; the best-selling DVD of all time; and Pixar's own top earner until "Toy Story 3" came along.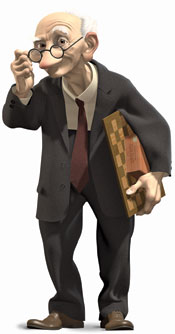 G Many Pixar characters appear in multiple films. For example, the old man seen in the "Geri's Game" short reappears as the toy repairman in "Toy Story 2." The farmer abducted by aliens in "Lifted" later became Linguini in "Ratatouille."
H With the exception of Brad Bird, the helmers on Pixar's features have all been with the studio since "Toy Story." Andrew Stanton and Pete Docter were the first animators Lasseter hired, and Lee Unkrich served as editor on "Toy Story."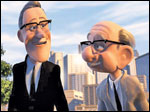 I Frank Thomas and Ollie Johnston, both members of Disney's original "Nine Old Men," mentored Lasseter. In tribute, the two old-schoolers make a brief appearance at the end of "The Incredibles."
J In 1986, Steve Jobs purchased Lucasfilm's CG division for $10 million and promptly renamed it. When he sold the company to Disney 20 years later, the deal made him the Mouse House's single largest shareholder.
K Twenty years before releasing 3D versions of the first two "Toy Story" toons, Pixar tested the format by wowing 1989 Siggraph-goers with a stereoscopic short film called "Knick Knack," in which a souvenir snowman falls for a bikini-clad Miami tchotchke.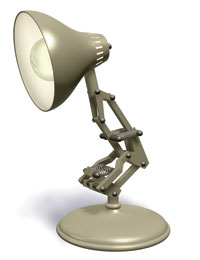 L The lamp in the Pixar logo hails from a short film called "Luxo Jr." which Lasseter used to demonstrate how inanimate objects could be imbued with life and personality.
M One of Pixar's major innovations in the toon field was eliminating the tedious "inbetweening" process of drawing every cel between keyframes, which they did by developing a program called Menv (or "modeling environment") to handle this task.
N After completing his doctorate, Catmull landed work at the New York Institute of Technology's computer graphics lab. His NYIT colleagues later became his first hires when Catmull went to Lucasfilm.
O Though AMPAS did not create its animated feature category until 2001, Lasseter won an honorary Oscar "for his inspired leadership" on "Toy Story" in 1995. Pixar has won a total of 29 Academy Awards.
P What's in a name? The word Pixar was suggested by company co-founder Alvy Ray Smith, who proposed an imaginary Spanish verb meaning "to make pictures."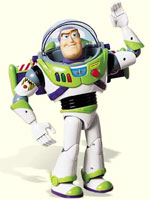 Q "When we were finishing 'Toy Story' and Pixar was going public, they were working on the 'business plan,' and I said, 'I would take a piece of paper with one word on it: Quality,'" Lasseter says.
R At the heart of the Pixar brand is a proprietary software tool called RenderMan, licensed to third parties and used to create digital vfx in everything from "Jurassic Park" to "Titanic."
S The Disney toon that made Lasseter want to be an animator was "The Sword and the Stone," which he saw as a teenager.
T Though major toy companies initially passed up the opportunity to create tie-ins for "Toy Story," Pixar found a partner in Albert Chan of a small Toronto-based outfit called Thinkway Toys. "He's since made 36 million Buzz Lightyears," Lasseter says.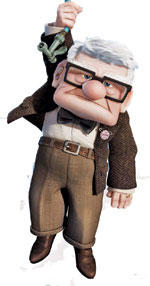 U There are 10,297 balloons used to lift the house in "Up" — something animators estimated would require a sum closer to 26.5 million.
V Complementing the work of celebrity voice actors, Pixar directors have played some of the studio's most memorable characters themselves, including Edna Mode (Bird) and "Finding Nemo's" laid-back turtle Crush (Stanton). Guess who voices "Cars 2's" John Lassetire.
W While still at Disney in the early '80s, Lasseter made his first test with computer animation: a hybrid that placed the character of Max from "Where the Wild Things Are"
in an all-CG environment.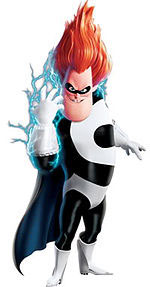 X Pixar projects evolve according to a system of internal feedback. Such suggestions led Bird to replace Xerek, the original villain of "The Incredibles," with Syndrome, whom colleagues preferred.
Y A decade before "Toy Story," Pixar survived on for-hire assignments, including commercials and vfx commissions. Lasseter oversaw work on the stain-glass knight in "Young Sherlock Holmes," the first fully CG character ever created for film.
Z "Star Wars" inspired many filmmakers, including Lasseter, who paid homage via the Darth Vader-like Zurg in "Toy Story 2." A snapshot in the end credits of "Up" depicts Carl and Russell going to see "Star Wars" together.
Variety's Creative Leadership Award: John Lasseter
Empower player | Staff finds inspiration hosting indie achievers | World's greatest boss | Lessons in excellence