While Imax Corp. is expanding rapidly in China and Russia, the Toronto-based large-format player is facing a tougher challenge in Europe's mature markets to persuade multiplex owners that installing its digital system is worth the cost.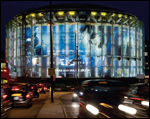 Several major Euro circuits are experimenting with Imax screens, but some are also exploring their own large-format alternatives, which they claim to match the Imax digital experience at lower cost and with greater flexibility of programming.
European exhibs are attracted by the potential of iconic Imax brand to draw bigger audiences at higher ticket prices, notably for films heavy on visual spectacle such as "Avatar," "Inception" and "Tron: Legacy."
But they question whether these splashy grosses for some titles actually translate into year-round profits, given the revenue-sharing deal with Imax, the costs of operating the system, and the requirement to program Imax films regardless of their performance.
"The jury is still out on the benefit of the investment," says Francois Ivernel, chairman of the Gaumont Pathe circuit, which has five Imax screens in France and three in the Netherlands.
"In the Netherlands, where the brand is established, there is some added value, but in France so far we see more of the constraints than the benefits," Ivernel says. "Whether there are ways of providing the customer with an enhanced image and sound that are not Imax, we are also looking into that."
In the U.K., Vue has already launched its own large-format brand, dubbed Vue Xtreme, in its London flagship and one other theater, after crunching the numbers for an Imax deal and failing to make them add up.
"It has the same quality of sight and sound as Imax, only it's a proprietary brand, with no restrictions on programming and no licensing costs," says Vue CEO Tim Richards, a Toronto native who grew up loving Imax's traditional giant screens, but is critical of the scaled-down versions retrofitted into some multiplexes.
Following strong results, Richards plans to roll out the Xtreme brand across half of Vue's 68-site loop, by remodeling the theaters to install screens significantly larger than those already in place.
Kinepolis also rejects the Imax option, arguing that its own deluxe THX-certified multiplexes in Belgium, Spain, Germany, Poland and Switzerland already deliver a premium experience across all their screen. Spain's Yelmo, which has three struggling Imax analog screens, is attempting to renegotiate its contract, and plans to launch its own large-format digital brand later this year.
Germany's CinemaxX is testing Imax on one screen in Bremen, and will decide this summer whether to roll it out further. But it is already further advanced with its own large-format system, dubbed MaxXimum 3D, which is installed in 120 screens across Germany and Denmark. Six of these also use its premium MaxXimum Sound system, which will expand to 60 screens by 2012.
"We already have a very good large screen format, but Imax is a big marketing tool, it's a well-known worldwide format that people like," says CinemaxX spokesman Arne Schmidt. "We've had good feedback from Bremen, but it depends on the film. It amused people to see 'Tron' in Imax, but 'Harry Potter 7' didn't do so well. So we might add more Imax, but we'll have to look at what films are coming to see if it is worthwhile."
Odeon UCI is Europe's most aggressive adopter of Imax, with 11 screens in the U.K., plus two recently opened in Spain and one in Italy. Chief operating officer Roger Harris says Imax is a money-spinner in the U.K., attracting extra patrons from a much wider than expected area, but unproven so far in continental Europe, where Odeon might also test its own large-format brand.
He notes that the flow of profitable Imax titles remains patchy. "There are moments, such as January to April this year, when the film slate isn't strong enough to support the investment, but there are disproportionate moments when it is."
Larry O'Reilly, Imax's executive VP, theater development, is bullish about the challenges of penetrating Europe's mature markets. "Our business in Europe is actually expanding quite rapidly. Our experience is different in each country, each territory has to prove the business model over again," he says. "We've planted the seeds, and with the slate we've got coming up, we expect the theaters to do incredibly well. Then you'll see a more rapid rollout."
CINEEUROPE:
Imax rollout hits a bump | CineEurope tackles hot topics | Sports may steal box office gold | CineEurope honorees