In the mere 2 1/2 years since its inception, the National Film Board website has taken a leading role in the digital revolution, launching an online screening room that re-envisions film distribution while exposing viewers to new hybrids of interactive media.
Those ambitions have garnered plenty of positive attention for the publicly funded org.
The Montreal-based org is venturing into territory that few others, aside from some news-media outlets, have dared to go: commissioning filmmakers and Web developers to create docu packages of interactive video, audio and still photography exclusively for the Internet.
"We're always looking to push the boundaries of creativity and see what the technology can do," says Deborah Drisdell, director general of its digital enterprises. "The NFB's mandate is to explore. We only produce things that the private sector can't and won't."
Earlier this year, the NFB was awarded an Intl. Digital Emmy for "Out My Window," an interactive chapter of its four-year documentary series "Highrise." The project peers into apartment buildings in 13 cities around the world, using still photos to create 360 degree views.
In June, the Webby Awards gave the NFB two kudos for "Welcome to Pine Point," a nostalgic exploration of a demolished mining town in northern Canada.
While its digital projects have attracted a large chunk of attention, NFB.ca was intended as more than just a way to test drive new media. The launch of the video database in 2009 was as much about necessity as it was about innovation. As Drisdell puts it, the org was, in some ways, playing catchup with its audience.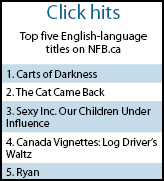 Some 80 years ago, the NFB shipped 16mm prints via sled dog to remote towns in the northern territories of Canada, but by the 1990s its films were harder to come by. Big-budget international productions dominated television airwaves while the NFB kept a lower profile on public TV, and on shelves at local libraries and schools.
"Often people would say 'Boy, I saw NFB films at my school, but where can I see NFB films now?,' " she says. "We wanted to have a definite destination where people could see the high quality programming that the NFB was producing."
Once the site debuted, Canadians were able to easily access a database of content almost instantly, no matter if they were in downtown Montreal, or in Alert, Nunavut, the northernmost region of the country.
The website now provides access to more than 1,400 productions, including such favorites as "Ryan," which won an Oscar in 2004 for animated short, and the 1988 nominated short "The Cat Came Back." Partnerships with such Internet giants as YouTube help draw outside traffic.
Over time, NFB.ca has expanded accessibility, introducing apps for the iPhone, iPad and BlackBerry PlayBook devices. Plans are under way for a set-top application that will allow streaming from televisions.
The newfound convenience has attracted eyeballs from around the globe, and the NFB estimates its productions now receive about 40% of its online viewers from outside Canada, with a cumulative play count of just over 22 million, as of April 30, when factoring in its partners.
A broader reach means more exposure for Canadian filmmakers, who are often delegated to the sidelines in their own country because of a crowded marketplace.
"For any filmmaker in Canada it's always a (hurdle) to get in front of your audience because we're so close to the United States," Drisdell says.
She notes that it's even harder for a Canadian doc to grab the public's attention when it only appeals to a fraction of the population.
"Online you can reach niche audiences, and let your audiences grow," Dridell says.
Recently released NFB production "Colour of Beauty" premiered online May 11 and within days its topical glimpse at racial discrimination in the fashion industry was generating significant traffic, helped by interest from several popular blogs, which linked to the downloadable version of the film.
Such traditional media outlets as CNN and "Entertainment Tonight Canada" eventually caught wind of the chatter and dedicated airtime to the release.
"I don't think it would've been able to get that much attention if it only played at a festival," says "Colour of Beauty" helmer Elizabeth St. Philip. "Because it's still online, every now and again I get emails and calls from people about it."
NFB.ca is also utilized as a business-to-business link for international distribs. Upon request, industry players can gain access to the password-protected site and explore a slate of freshly completed films and trailers.
Since its launch, the website has jumpstarted several partnerships, including a co-op with the Brazilian Culture Minister's Audiovisual Secretariat to release docs on multiple platforms. A similar pact was made with FilmAustralia for several docs and animated shorts intended for cellphone and podcast distribution.
"I think there's a lot of people around the world who look at digital technologies and some are frightened of them (and) want to stay in traditional linear production," Drisdell says.
"We decided to look at this as an opportunity, and accept the mistakes that we might make along the way. We've been happy with the results, but it was a leap of faith."