For pros in the scripted entertainment world, the jump to making an interactive app can be a jarring one. Confusion about appropriate budgets and how to tailor the content can result in something that does more harm than good to the property it's trying to promote.
If you're tapped with overseeing or signing off on an app for an entertainment property (or even just giving notes on one), there are a few basic elements you should be looking for to ensuring its success.
Don't skimp on budget: Because apps are given out for free (or at low cost), there's often a knee-jerk decision to keep their costs as low as possible. If you're promoting a tentpole project, that's a mistake.
"Would you launch a $50,000 website for a major brand? Of course you wouldn't," says Alan Knitowski, chairman and CEO of Phunware, which has made apps for Discovery Channel, the CW and more. "But too often that's the case with apps. You should allocate $500,000 as a starting point. … You can't have a Mercedes and pay a Kia price."
The app itself should have an element that's constantly updated, whether with news or behind-the-scenes info — something that keeps users coming back to it after their first look.
Also, give users a place to gather. Community is important to any entertainment property, and while outlets like Facebook and Twitter are important, why send people away from a brand experience you control? Instead, import that data into the app and try to foster a discussion in the app itself for core fans.
Incorporate media: Clips, live streams or a podcast work. A shopping element (subtly pitching branded merchandise or perhaps previous episodes/installments on iTunes) can also spur impulse purchases and help recoup some of the investment. And adding an engaging hook, such as a game, also helps ensure people return regularly and stay excited about the brand.
Above all, never assume that an app will succeed based solely on the strength of the franchise.
"People with a great IP assume 'I'm already halfway there' and get sloppy when they're building these experiences," says Bart Decrem, head of Disney Mobile.
FOUR APPS LEADING THE WAY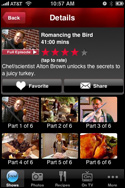 Disney Second Screen
Disney's experiment fusing the iPad with the TV is a wonderful illustration of how to blend two technologies that many see as competing. Syncing with the Blu-ray versions of "Tron: Legacy" and "Bambi," the app shows behind the scenes video, comments and more specific to what's happening at that point in the movie.
Food Network Nighttime
This iPhone app's chief purpose is to promote the network's prime- time shows, but it hooks users by including the entirety of the Food Network's recipe catalog. The included clips and behind-the-scenes photos are nice, but as users figure out how to make sweet potato souffle, they'll also get a summary of what's showing.

Mythbusters
Community involvement is crucial to this Discovery Channel show and this app connects viewers with the stars and each other, offers truly fun games that tie in with episodes (introduced by clips of the real-world results) and behind the scenes footage that keeps fans enthralled.
Super 8
Some fans preferred this app to J.J. Abrams pic. Users take pictures with specialized filters (like infrared, x-ray and chromatic). Those pictures can then be 'converted' to a movie, which can be screened in the app. It helped set the tone for the film and build excitement without sacrificing plot points.

HIGHLIGHTS

10:30
The New TV Viewing Party. Speakers: Steve Andrade, senior VP/GM digital development, NBC.com; Colin Helms, VP Digital, MTV Networks; Richard Bullwinkle, chief evangelist, Rovi; Scott Maddux, senior VP product development, Nielsen; Tyler Slocum, VP product management, DirecTV. Moderator: Andrew Wallenstein, Variety

11:15
Keynote

2:00
Monetizing the Second Screen . Speakers: Seth Ta pper, CEO , Second Screen Networks; Mark Wenger, director of devices, PayPal; Ajay Shah, CEO & co-founder, TVplus; Steve Schuler, sr. marketing manager, mobile & connected devices, Yahoo; Tr evor Doerksen, CEO & founder, Mobovivo. Moderator: Ryan Lawler, online video editor & staff writer, GigaOM.

4:30 – 5:15 pm
The Creators. Speakers: Dustin Callif, founder, Tool; Matt Kozlov, CEO, Creative Mobile Labs/CAA; Alex Barkaloff, Lionsgate; Matt Kennedy, president, 1K Studios.

Developer Track highlights

2:45
Web vs. Native Apps . Speakers: Dan Mechem, Founder, First Post Studios; Juan Reyes, CMO, BluFocus; Naushad Huda, CEO Textopoly.

3:45
Synchronized Streaming . Speakers: Joseph Baribeau, head of finance & operations, Flingo; David Jones, senior VP marketing, Shazam; Robert Gekchyan, director, product development, Technicolor; Scott Rosenberg, co-founder, Umami