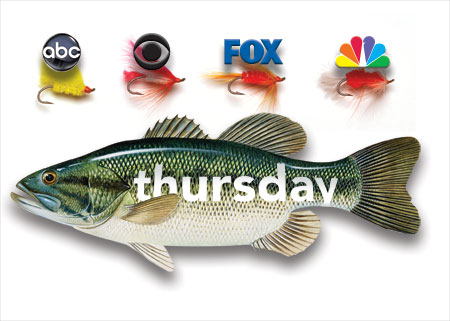 Thursdays just got a little more interesting.
Fox is on the rise with its dramas. CBS is experimenting with a "Mentalist"/"CSI" timeslot flip. NBC is itching to bring back drama at 10 p.m. And ABC is facing some likely changes on the night as well.
Traditionally the most important night of the week — the one advertisers most covet — the balance of Thursday power is shifting this season.
And that could make for some tough debate and interesting strategic decisions this spring, as the nets head toward their May upfront presentations.
For the first time in at least 20 years, all four networks have a solid performer on Thursday. Add in cable (where USA is also humming along) and at the very least, the news is good for the industry: People are watching a lot of TV on the night.
"As much as we all love crushing each other into the ground, when you're thinking about the health of the business, it's not a bad thing for everyone to have something to show," a network exec says.
"It's a good night for all of us to be healthy, and there's no better health barometer than Thursday night," he adds.
But as shows age, no one has an ultra-dominant player on the night anymore. And that leaves some webheads concerned, as the playing field evens out and the night's pecking order is far from guaranteed.
TV's top-rated network has traditionally also carried Thursday night. NBC owned the evening in the 1980s with "The Cosby Show," "Cheers" and "L.A. Law," and again in the 1990s with its mix of "Friends," "Seinfeld" and "E.R."
In the 2000s, ABC briefly took the crown when "Who Wants to Be a Millionaire" was hot, but then CBS' "Survivor"/"CSI" combo helped propel the Eye to the top of the charts. ABC leads a more competitive Thursday these days behind "Grey's Anatomy," but one hot new show on any net could tilt things in the fall.
Fox, which has won the past five seasons in adults 18-49 behind "American Idol," has only recently become a player on the night thanks to its drama duo of "Bones" and "Fringe."
Both shows, which return after a long hiatus with new episodes April 1, have given Fox its first Thursday success story since "The Simpsons" lived there for several years in the 1990s.
"One of the smartest scheduling moves of the year was Fox getting its act together on Thursday night," one rival exec said.
The drama combo is expected to come back intact next year, which would rep the first time ever Fox scheduled the same Thursday lineup two years in a row.
"This gives us a chance to build a night while the other networks start to show some leakage," Fox program planning/scheduling exec VP Preston Beckman says.
Prior to the Olympics, Fox was up 33% season to date among adults 18-49; ABC was up 2%, while CBS was down 9% and NBC (thanks to Jay Leno) was down 25%. Thursday leader CBS has seen erosion for its two franchise players on the night, "Survivor" and "CSI." ABC's "Grey's Anatomy" also has seen dropoff, and its "Private Practice" is looking wobbly enough that the drama's showrunners have just been replaced.
NBC, meanwhile, earns critical raves for its two-hour comedy block, but "The Office" still posts the only decent ratings among the four half-hours on the night.
Eye execs appear concerned enough about the night that the net is planning an experiment April 1, flipping "The Mentalist" to 9 p.m. and "CSI" to 10 p.m. There's no guarantee that will lead to a permanent change, but CBS execs wanted to at least test the waters before setting their fall sked in May.
As for the other nets, ABC isn't likely to touch "Grey's Anatomy," which still performs well once DVR usage is counted. The March 4 episode, for example, jumped a whopping 37% (from a 4.0 to a 5.5 rating with adults 18-49) when seven-day DVR viewing was added.
But the Alphabet still needs to jump-start its Thursday 8 p.m. slot. The sci-fi thriller "FlashForward" ultimately wasn't a good fit with femme-centric "Grey's" and "Private Practice," so the net will likely revert back to more compatible series in the slot.
If ABC wanted to go ultra aggressive, the net could attempt to grab the Thursday night comedy mantle by moving breakout hit "Modern Family" into the 8 p.m. slot. But such a move is unlikely, as it would hurt ABC's Wednesday night comedy block.
"That would be the ballsiest move of the year," one rival says. "But then they'll have downgraded their Wednesday."
NBC, meanwhile, is in a tight spot: The Peacock has already picked up all four of its Thursday laffers, but none of the shows appears capable of kickstarting a block on another night.
The net also has to decide whether solid midseason addition "The Marriage Ref" is a long-term Thursday player. Most rivals believe NBC will revert back to dramas on Thursday at 10 p.m., where "ER" dominated for so long.
The nets' biggest moves traditionally happen on a Thursday night. A baby Fox made a huge statement in 1990 when it moved "The Simpsons" to Thursday night opposite a weakening "Cosby Show." The message: We're here.
In 2001, CBS made a similar grand gesture when "Survivor" and "CSI" first moved to the night. The message: We're no longer an also-ran network.
And when ABC shifted "Grey's Anatomy" to Thursdays in 2006, the network sent a message to the industry that it wanted to own Thursday.
But those big moves don't happen too often. For one thing, Thursday's too important to mess with.
"One bad move and you're screwed," Beckman said. "It's a night where you look at the performance of some of these shows and you think, maybe it's time to make a move. But, if you're wrong, it could be fatal."
Beckman was at NBC during those "Must-See TV" glory days of the '90s, when the other nets basically laid down on the night.
"That Thursday night we had for a few years was in some ways even bigger than 'Idol,'?" he says. "We were doing ridiculous numbers. It was the center of everything."
At Fox, Beckman resisted the urge to put "Idol" on Thursdays — although the network did come close.
"As big a show as it was, when you put it against Thursday night competition, it's still going to take a hit," Beckman says. "Ultimately, it was working on Tuesdays and Wednesdays, and it was more fun to threaten that we were going to (move) it than to actually do it."