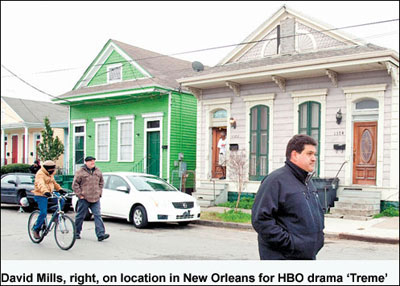 David Mills, a former journo who made the leap into TV writing with such award-winning series as "The Wire," "ER" and "Homicide: Life on the Street," died Tuesday in New Orleans. Mills was 48.
He was co-writer and co-executive producer of "Treme," which is set among musicians in post-Katrina New Orleans. The drama, which is filmed on location, bows April 11 on HBO. Some reports said Mills died of an aneurysm on the set of "Treme." HBO spokesman Diego Aldana confirmed Mills' death but did not give a cause.
In a statement issued Wednesday, HBO called Mills "a gracious and humble man (who) will be sorely missed by those who knew and loved him, as well as those who were aware of his immense talent. David has left us too soon but his brilliant work will live on."
After graduating from the U. of Maryland, Mills worked at the Washington Times and Washington Post, where a few of his stories made headlines including a 1992 interview with Sistah Souljah that ran in the Post. In the long-ranging interview following the L.A. riots after the Rodney King beating the rapper said, "If black people kill black people every day, why not have a week and kill white people?"
The ensuing outcry even drew in presidential candidate Bill Clinton who criticized her and the Rev. Jesse Jackson for inviting Souljah to speak at the Rainbow Coalition convention.
In 1994, his college buddy David Simon helped Mills break into TV as they co-wrote the "Bop Gun" episode for the second season of NBC's "Homicide: Life on the Street." It would later win an Emmy and a WGA Award.
He worked briefly on David E. Kelley's "Picket Fences" before jumping to ABC's "NYPD Blue" with David Milch. According to Alan Sepinwall, TV critic for the News-Ledger the job came about as a result of a letter Mills sent to Milch criticizing a speech the latter had made about the lack of black writers in showbiz. The showrunner liked the letter well enough to hire Mills.
He worked on some of the top-rated and award-winning series after that including NBC's "ER" and mini "Kingpin"; HBO's "The Corner" and "The Wire."
During a 1997 roundtable with Variety's Brian Lowry, Mills talked about working with such showrunners as Milch and Steven Bochco. "These are the people who are kind of making (television) a writer's medium, in the sense these writers have a distinctive writer's voice, as distinctive as David Mamet or (Ernest) Hemingway," he said. "These are shows that even the audience, I think, gets a sense of 'Wow, this is good writing.' I think that's something new since the '80s in drama, a sense of TV as great writing."
Mills also spoke about the pressure he felt to produce a level of drama that would stand apart from the crowd. "When you think of what stories to tell, and what characters to create, you have to raise the bar really high: Is this story compelling enough? Are these characters real enough? There's just so much out there — how do you stand out amid everything else that's out there in the pop culture?"
Along the way Mills won WGA awards, Emmys, a Humanitas Prize and Edgar Allan Poe kudos.
In later years Mills also maintained a blog called Undercover Black Man, which was mostly about music. The last entry he made was Monday when he posted a trailer for "Treme."